Robert Hamon, Scott Depot, West Virginia (1925 – 2003). Robert Hamon was one of the great American paperweight makers. He has a chapter dedicated to him in American Glass Paperweights and Their Makers. He made weights from the 1960s and for many years thereafter. I am a fan of his crimp flowers which he made in many forms and styles. He died in 2003 and made very few paperweight in the last decade of his life. His flower paperweights were superior to most of those of his contemporaries – clean and precise.
Over the course of his long career working with glass, Robert Hamon owned and operated several companies, including Kanawha Hand Crafted Glassware in Dunbar, West Virginia. He employed as many as 40 workers at a time.
Kanawha Glass Company started when the Dunbar Glass Company folded in 1953 and some of the craftsmen formed the new business. In 1969 they added Hamon Glass to their line. Production stopped in 1987 when they were acquired by Dereume Glass, which closed in 1989.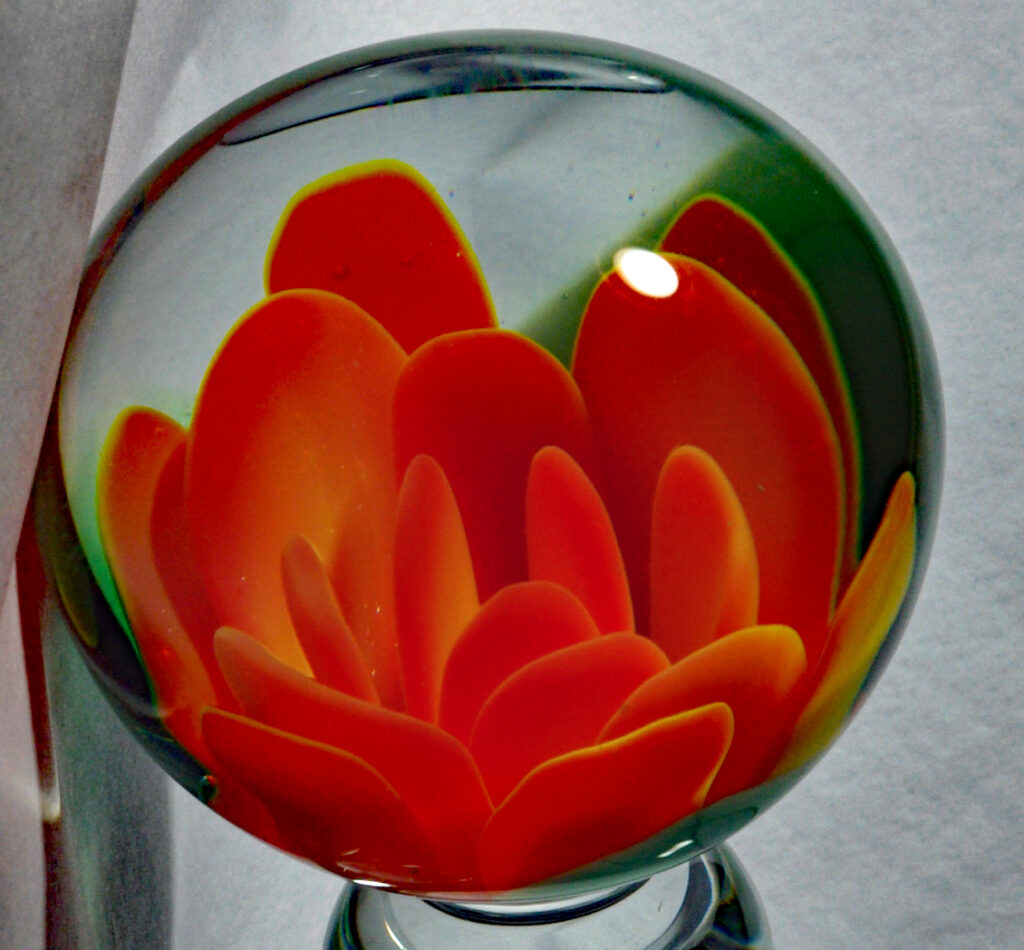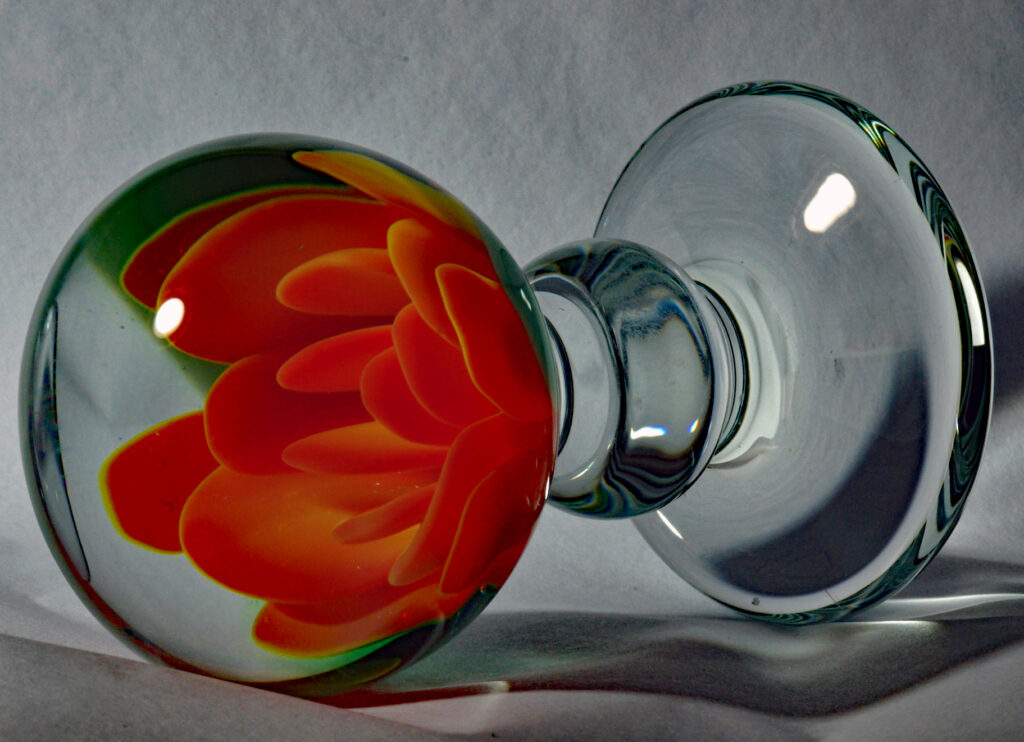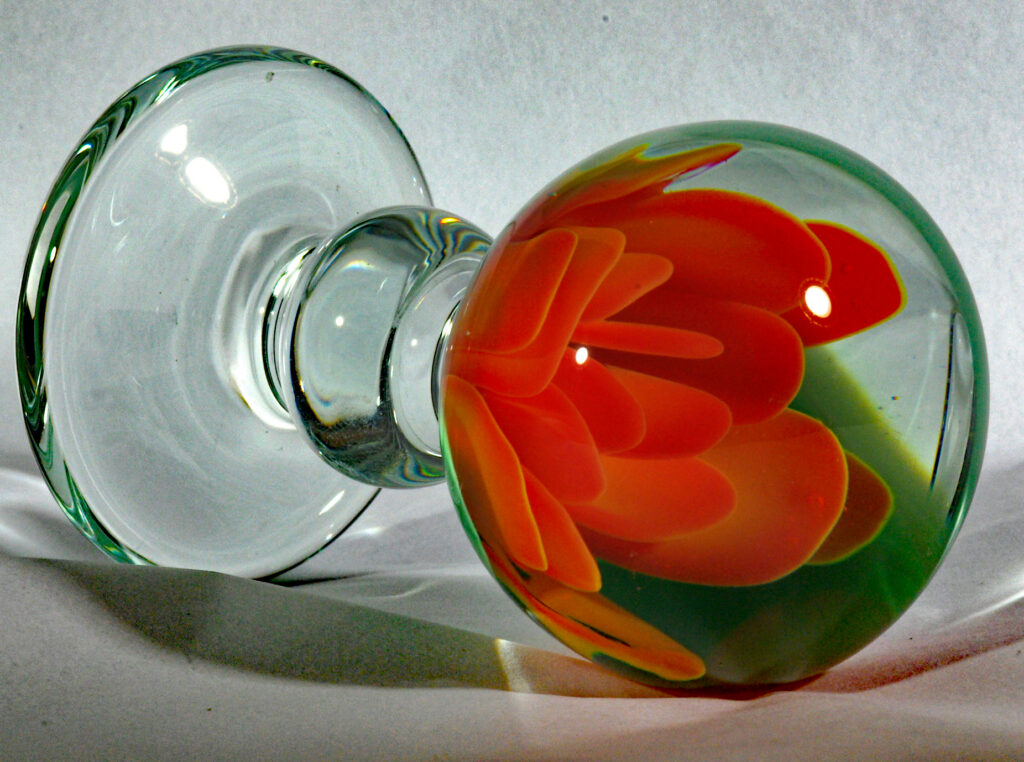 PW1769. Crimp Orange/Yellow Rose Museum Piece by Robert Hamon. Beautiful yellow and orange blossom with 3 sepals on an extra tall pedestal. Signed on the base with an "H" that is difficult to see as it was made with light frit.  2 inch diameter; 3 1/2 inches tall; eight ounces. Condition is excellent.  $75 SOLD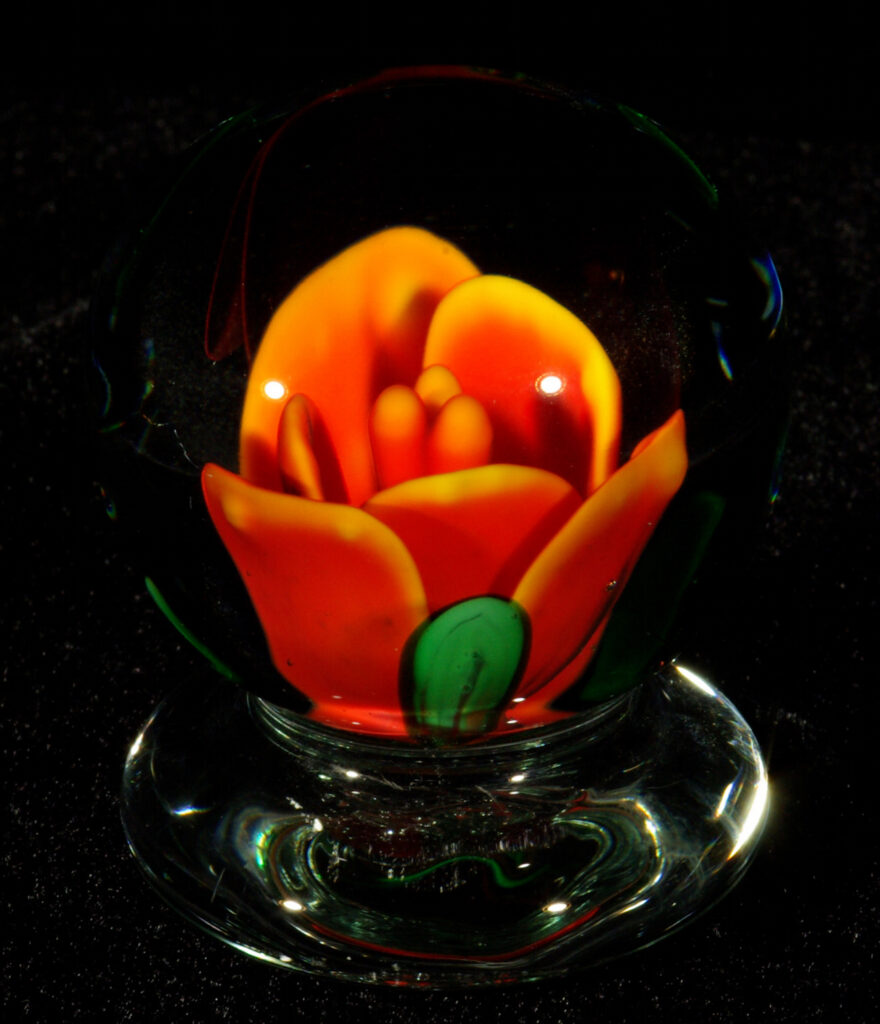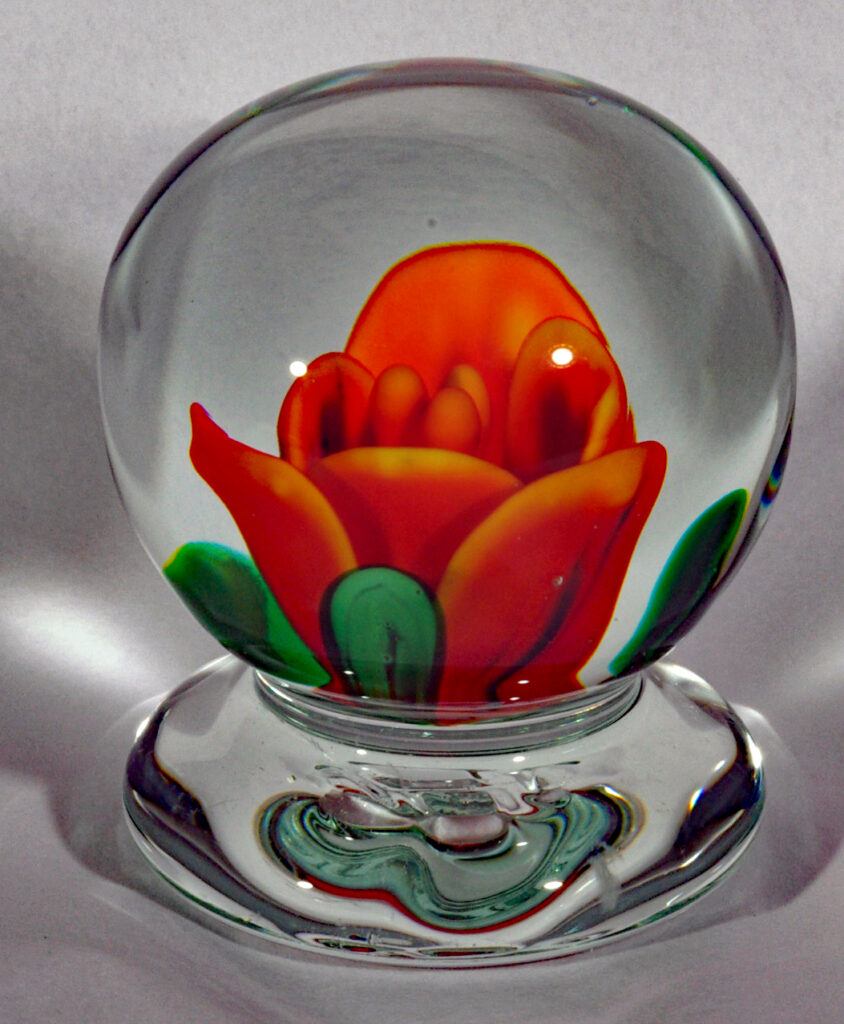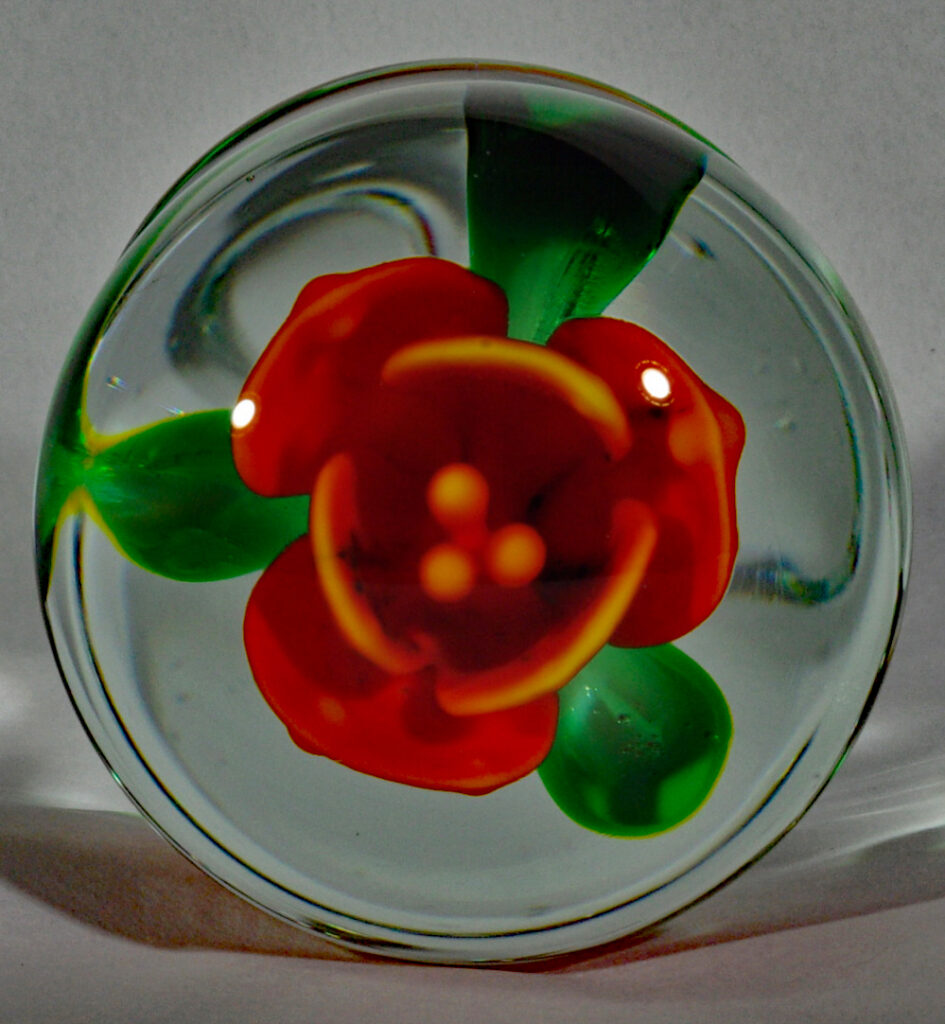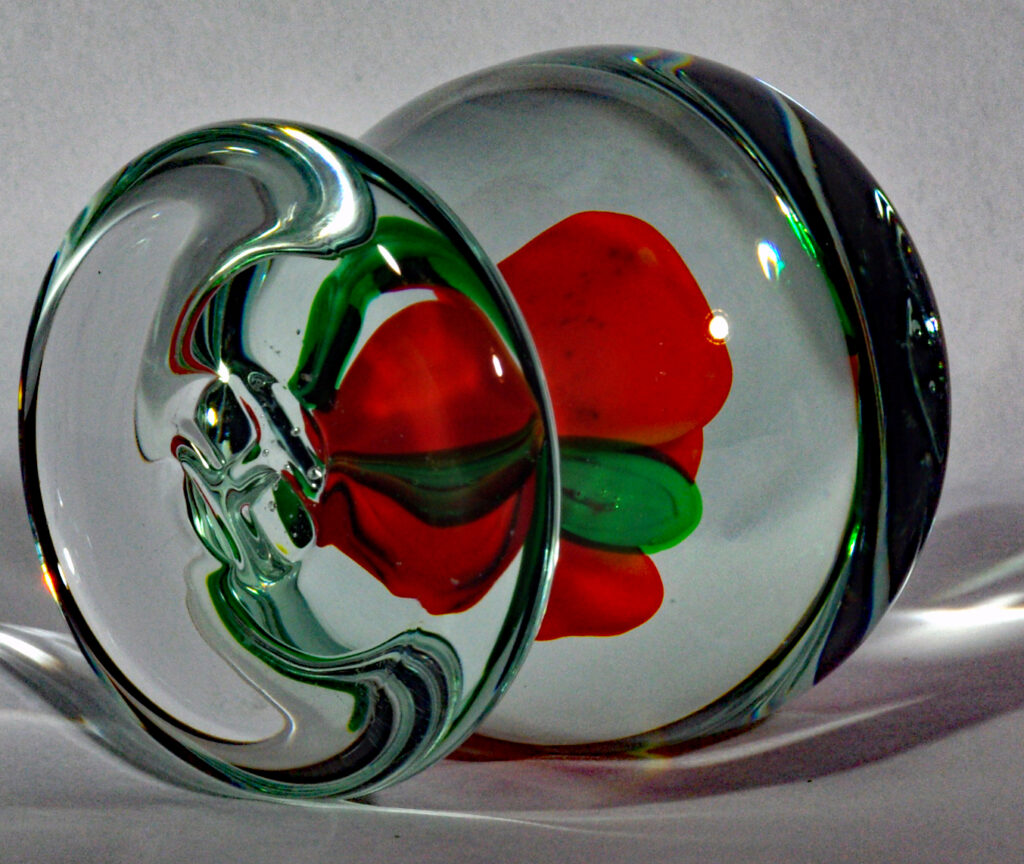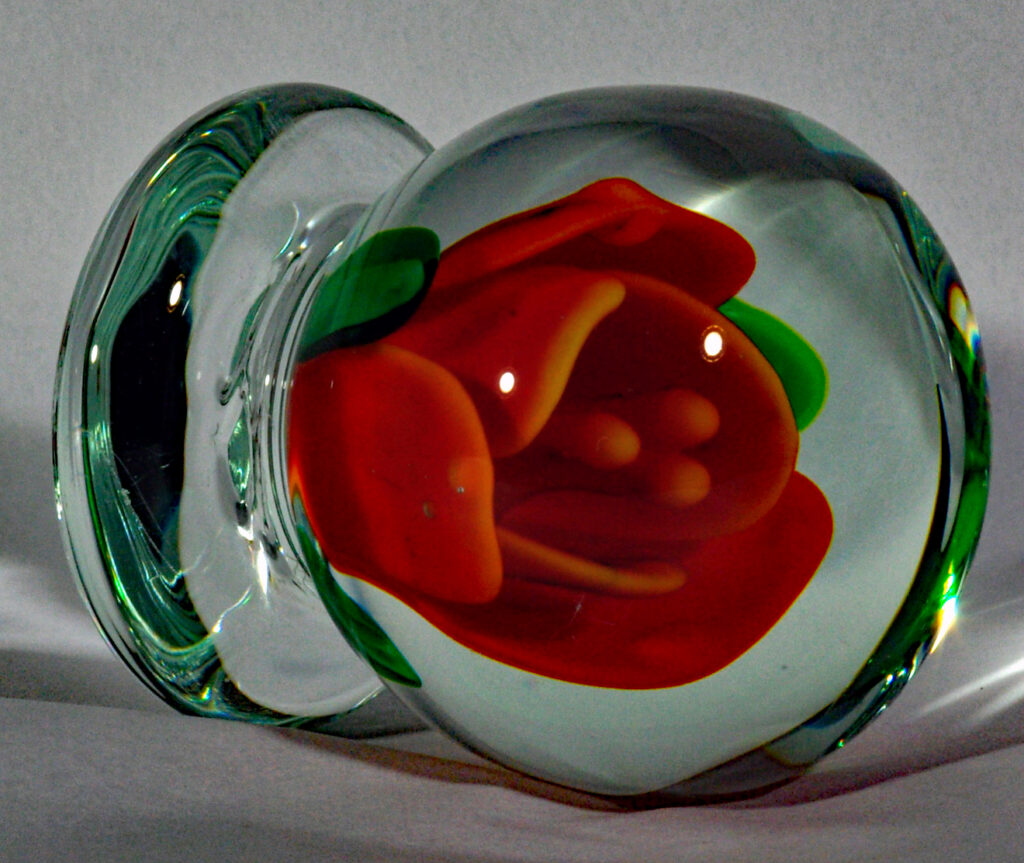 PW2010. Crimp Orange Tulip Museum Piece by Robert Hamon. Beautiful orange blossom with 3 green leaves. Rare design. Signed on the base with an "H" hot stamp. 1 13/16 inch diameter; 2 3/16 inches tall; six ounces. Condition is excellent. $75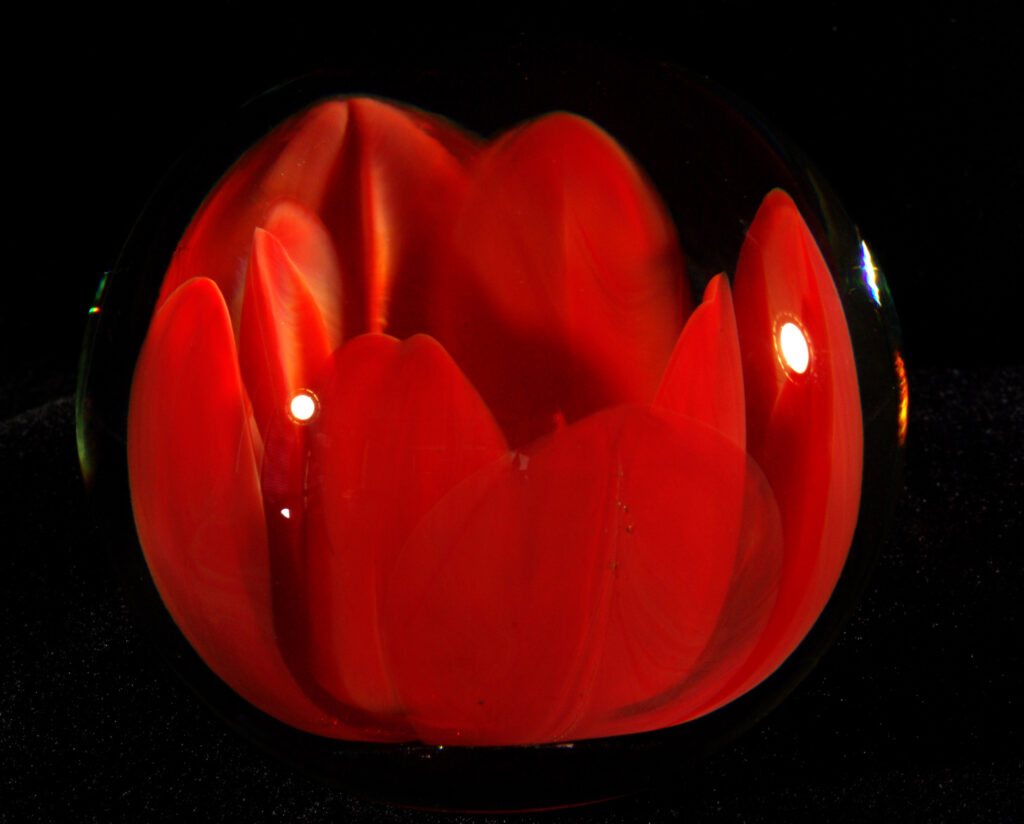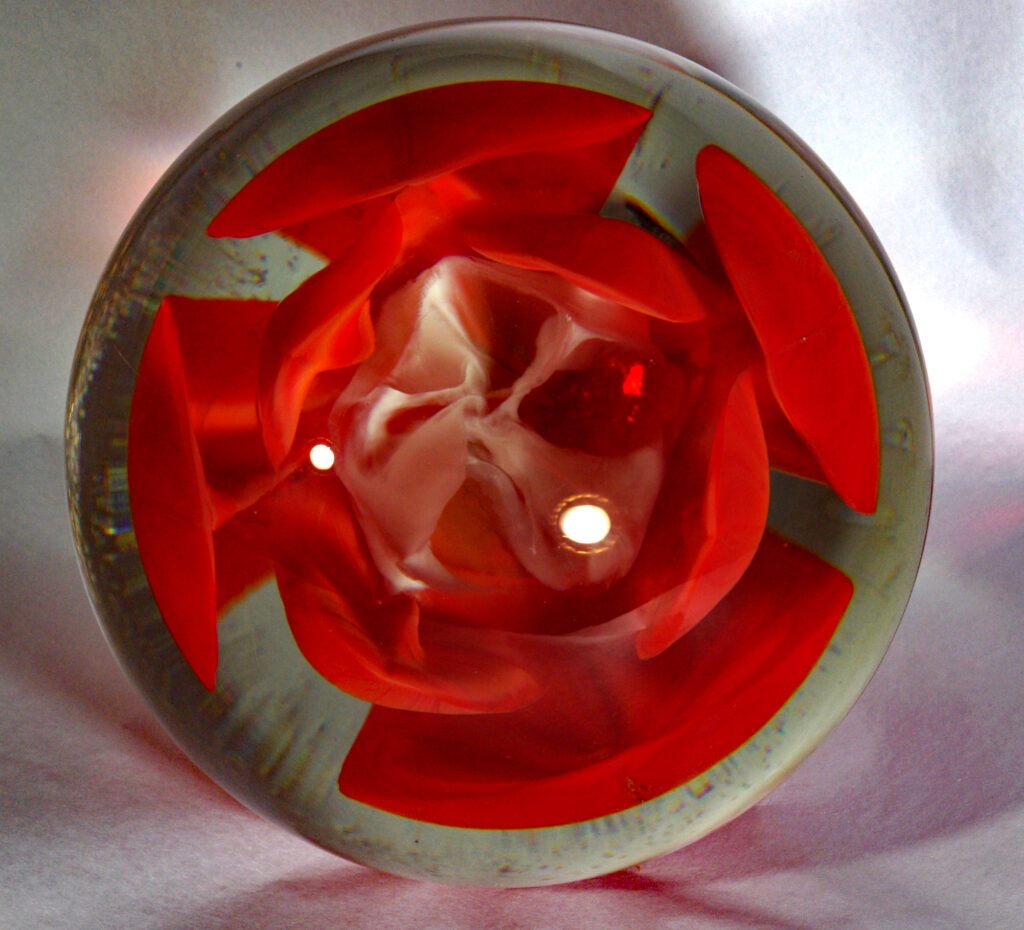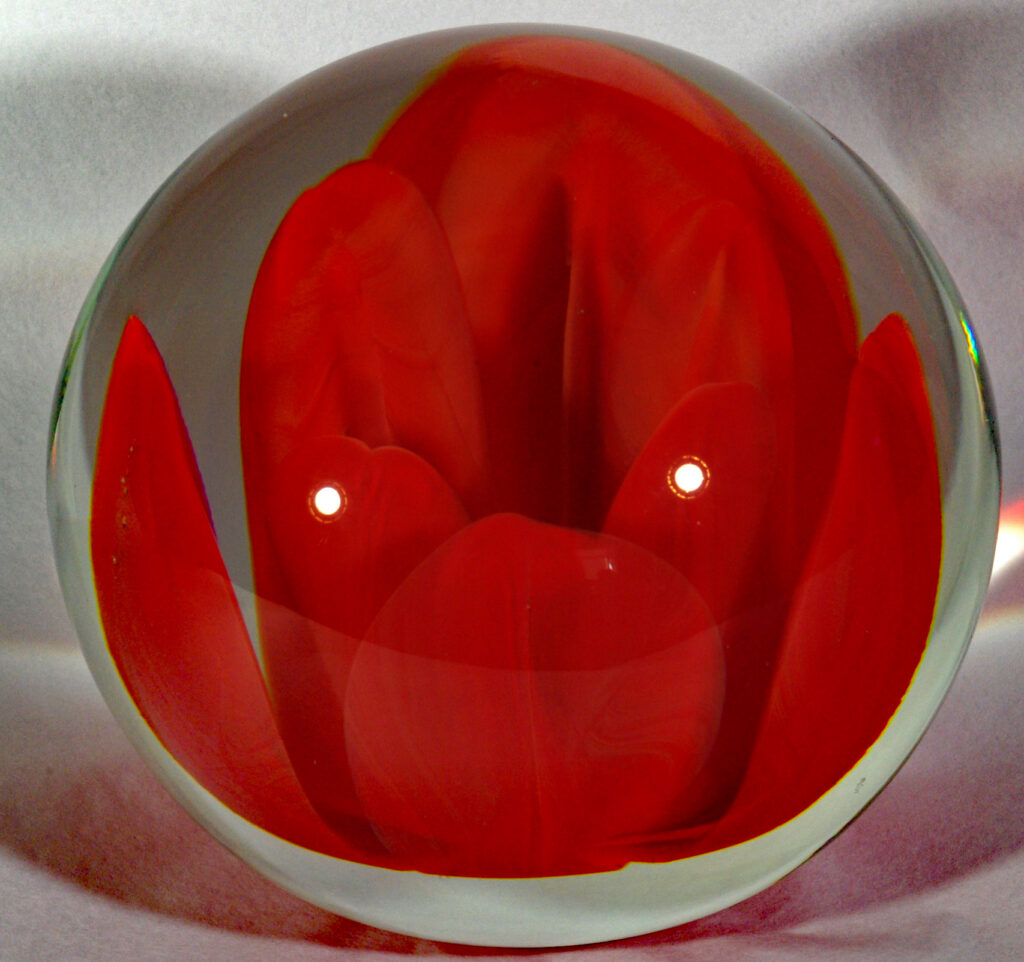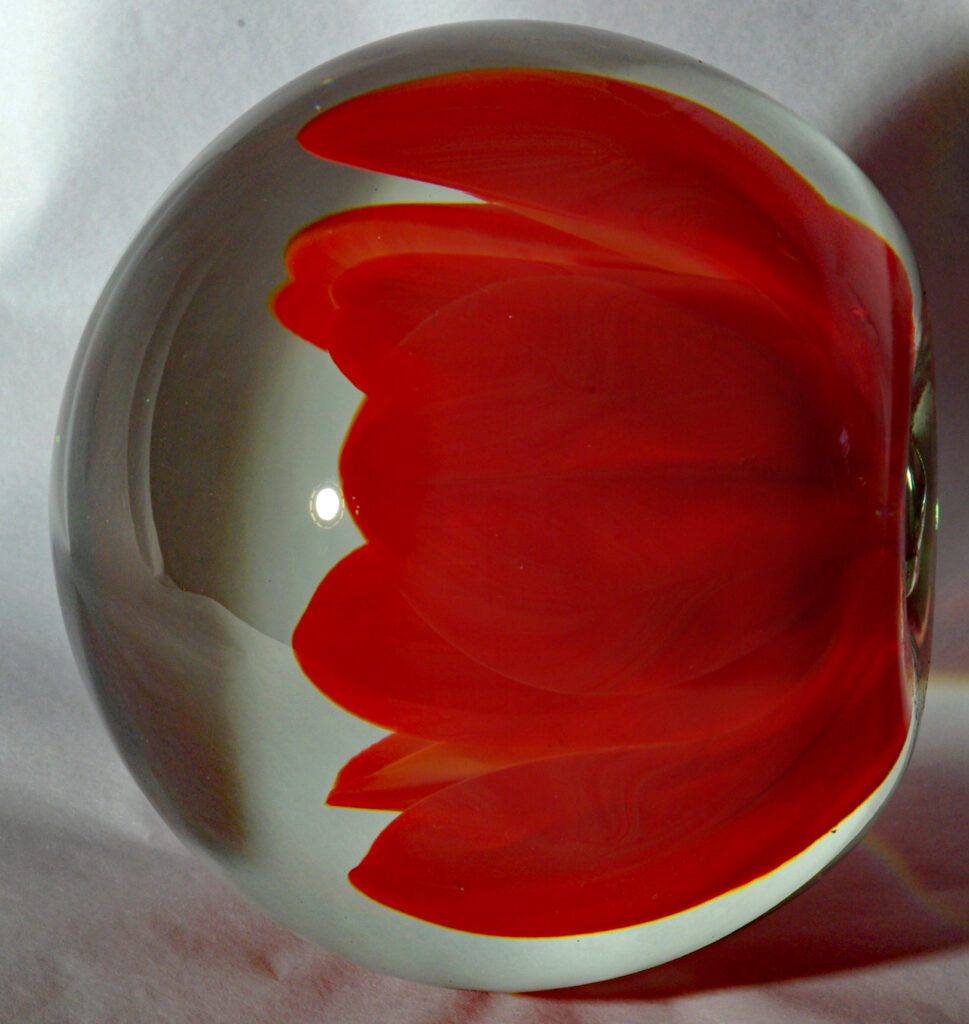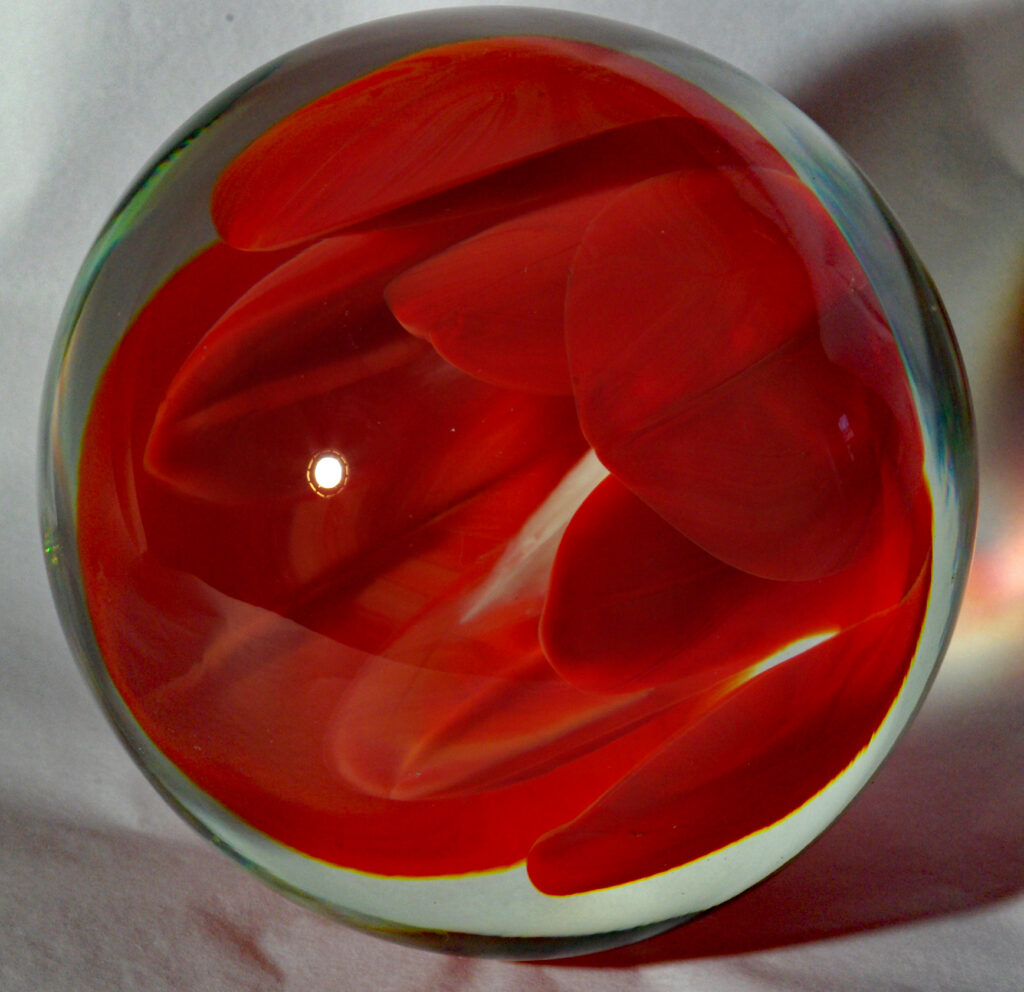 PW3084. Crimp-like Tulip Magnum Museum Piece by Robert Hamon. Remarkably well made and symmetrical with eight petals. I say crimp-like because he did not actually use a crimp device, instead building the flower from glass which accounts for the precise nature of it. Beautiful red-orange translucent glass. Sighed RH. 3 ¼ inches tall; 3 1/2 inch diameter; two pounds and one ounce. Condition is excellent with minimal shelf wear. $75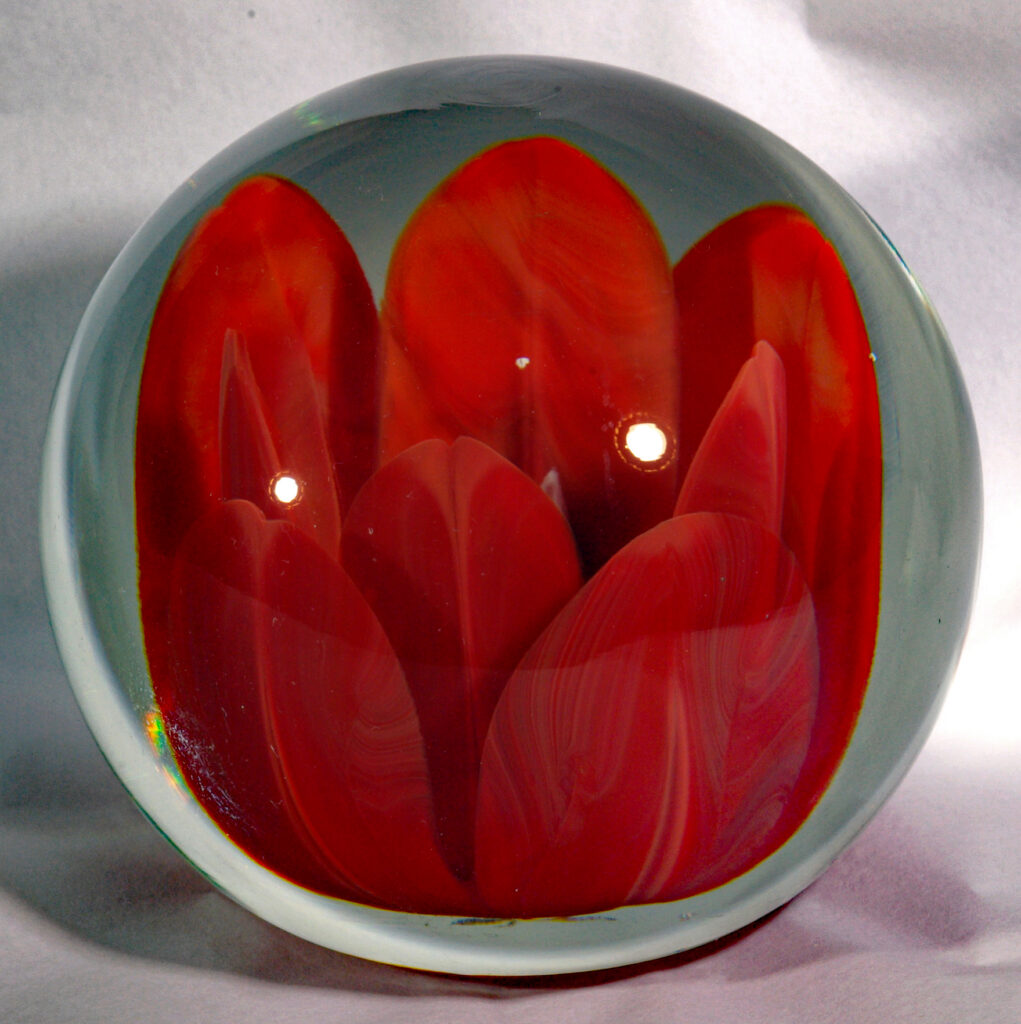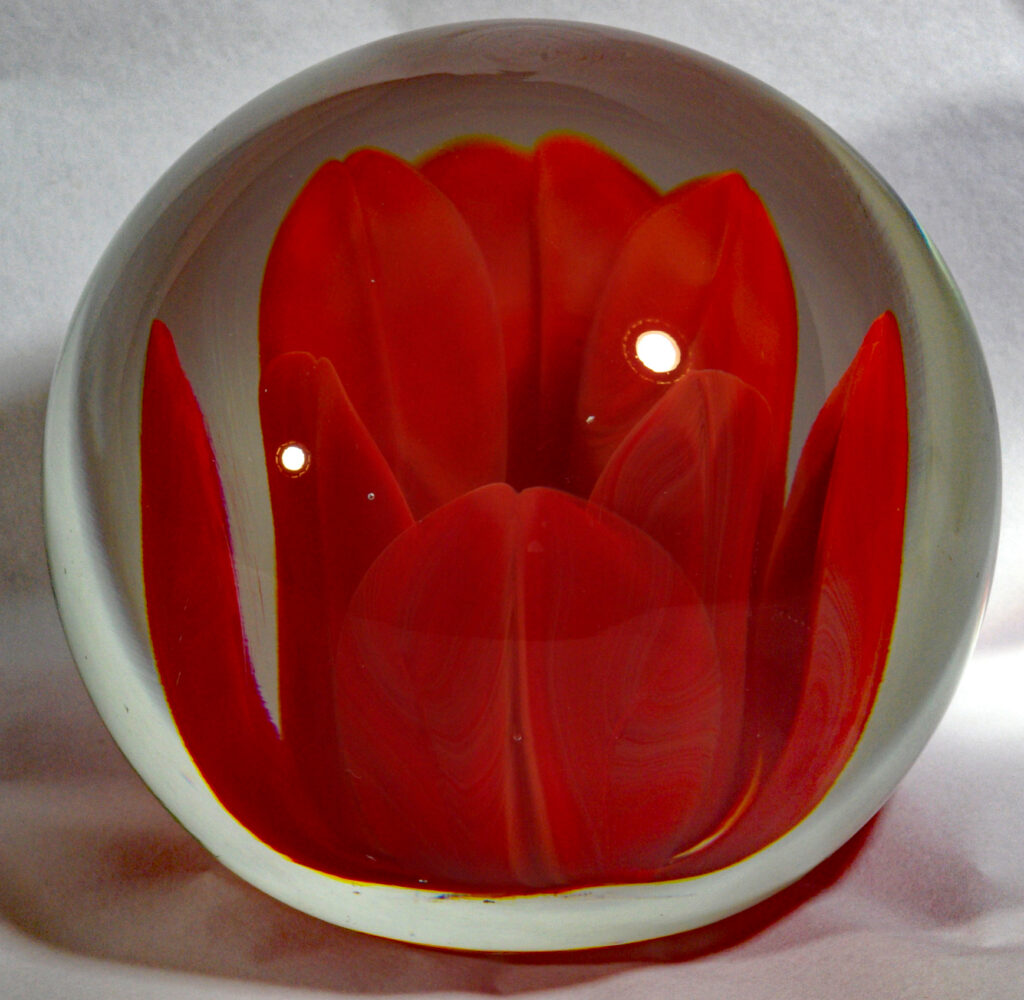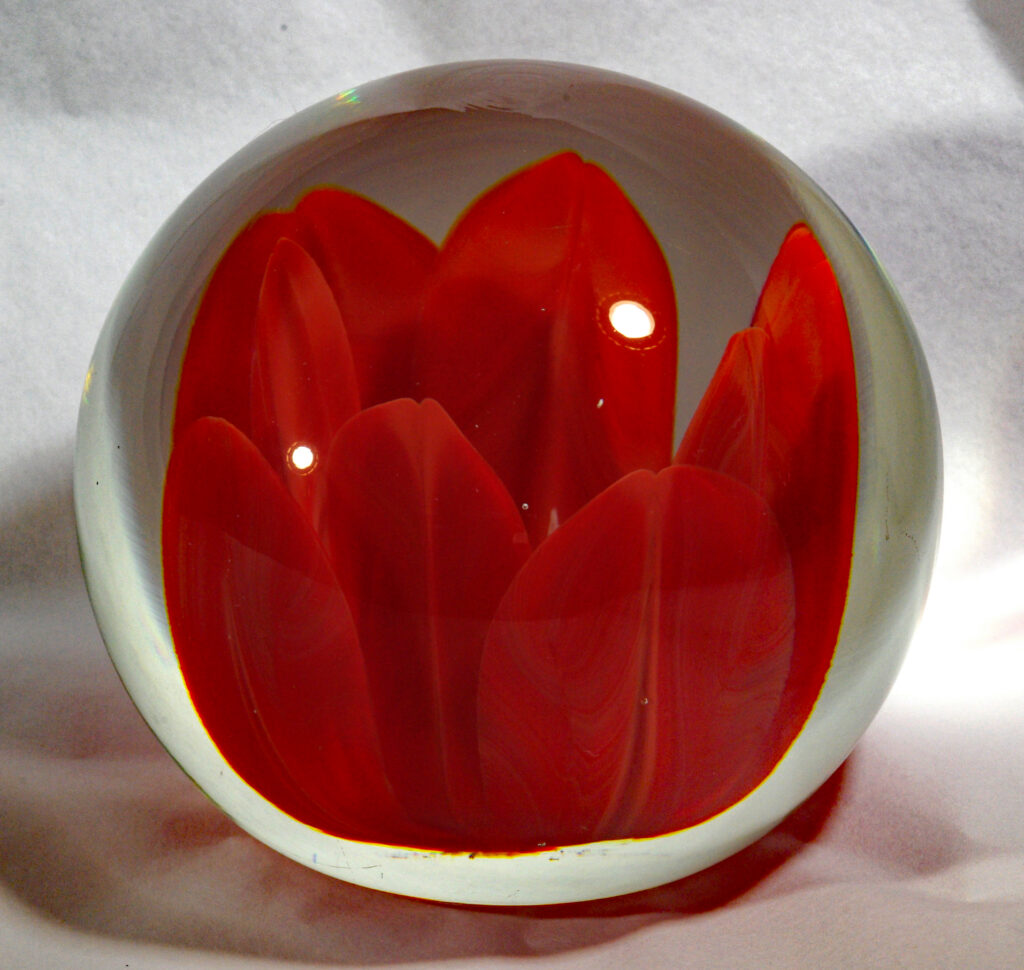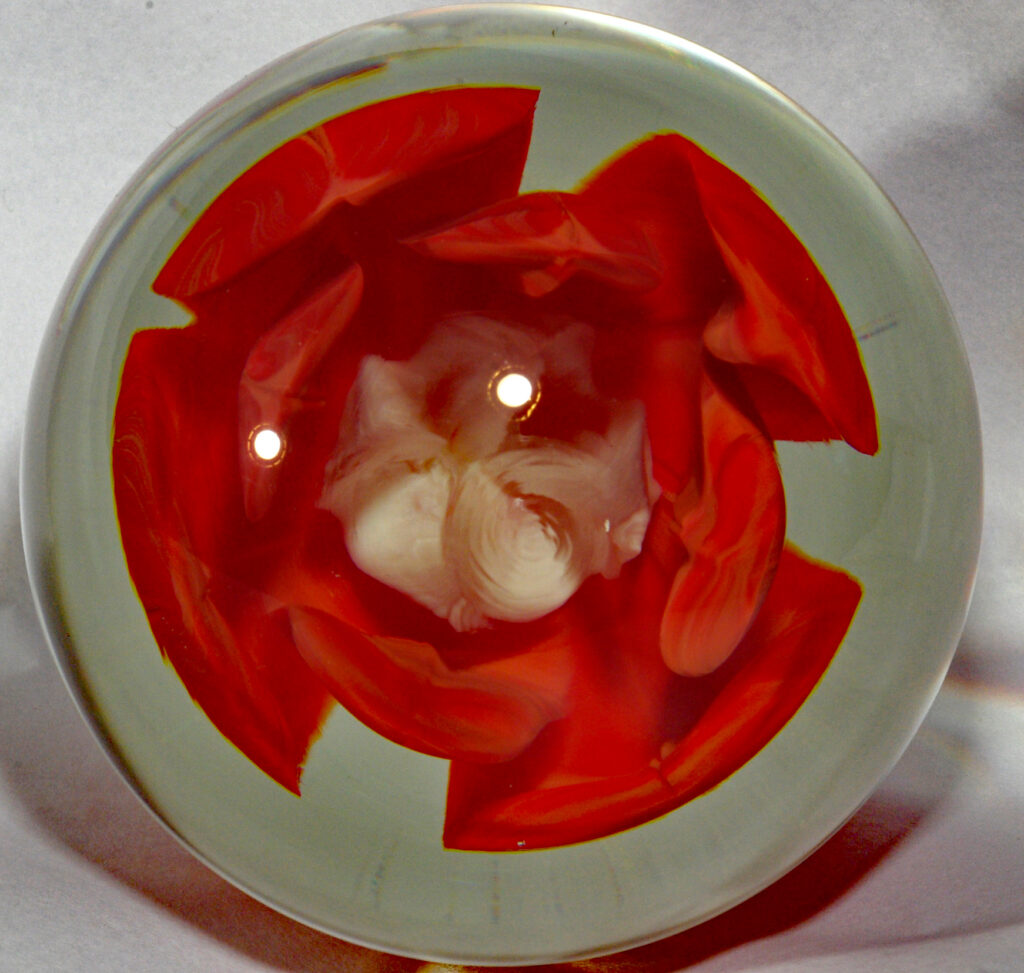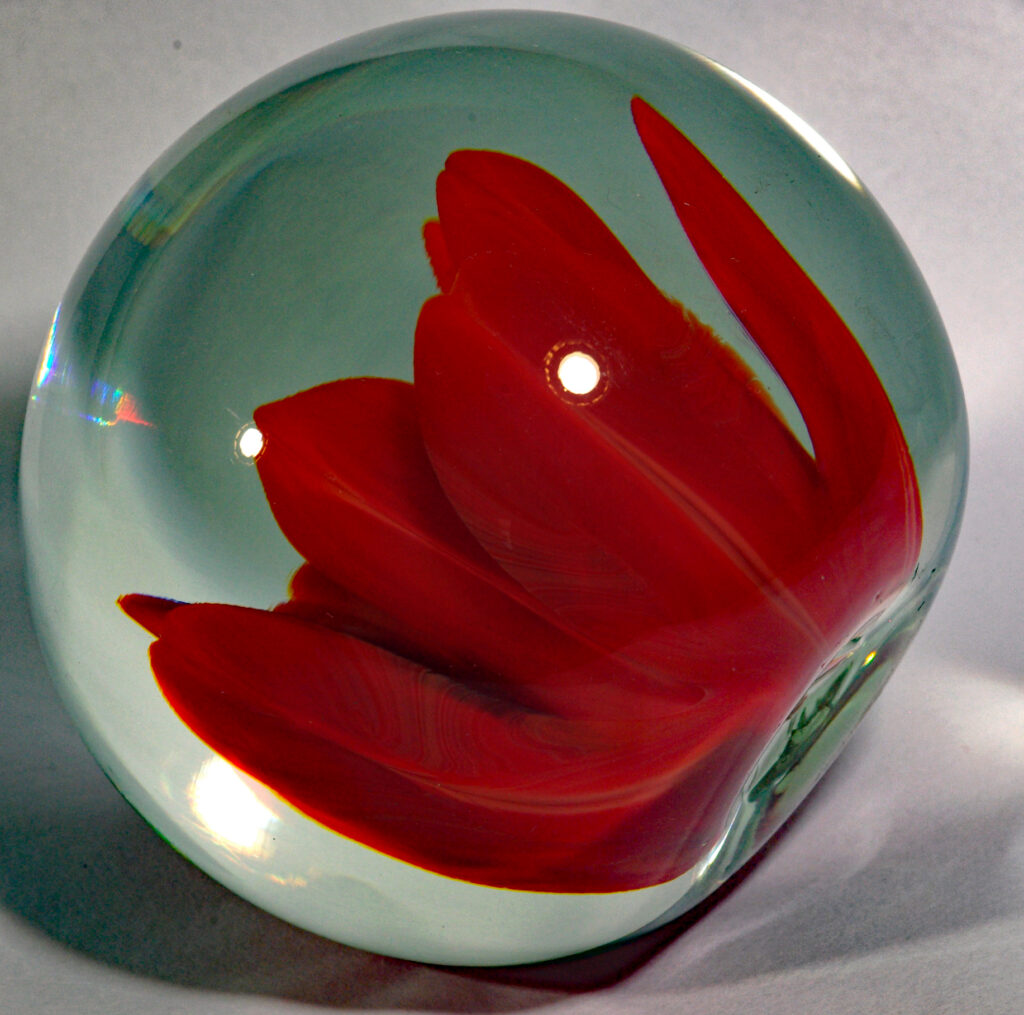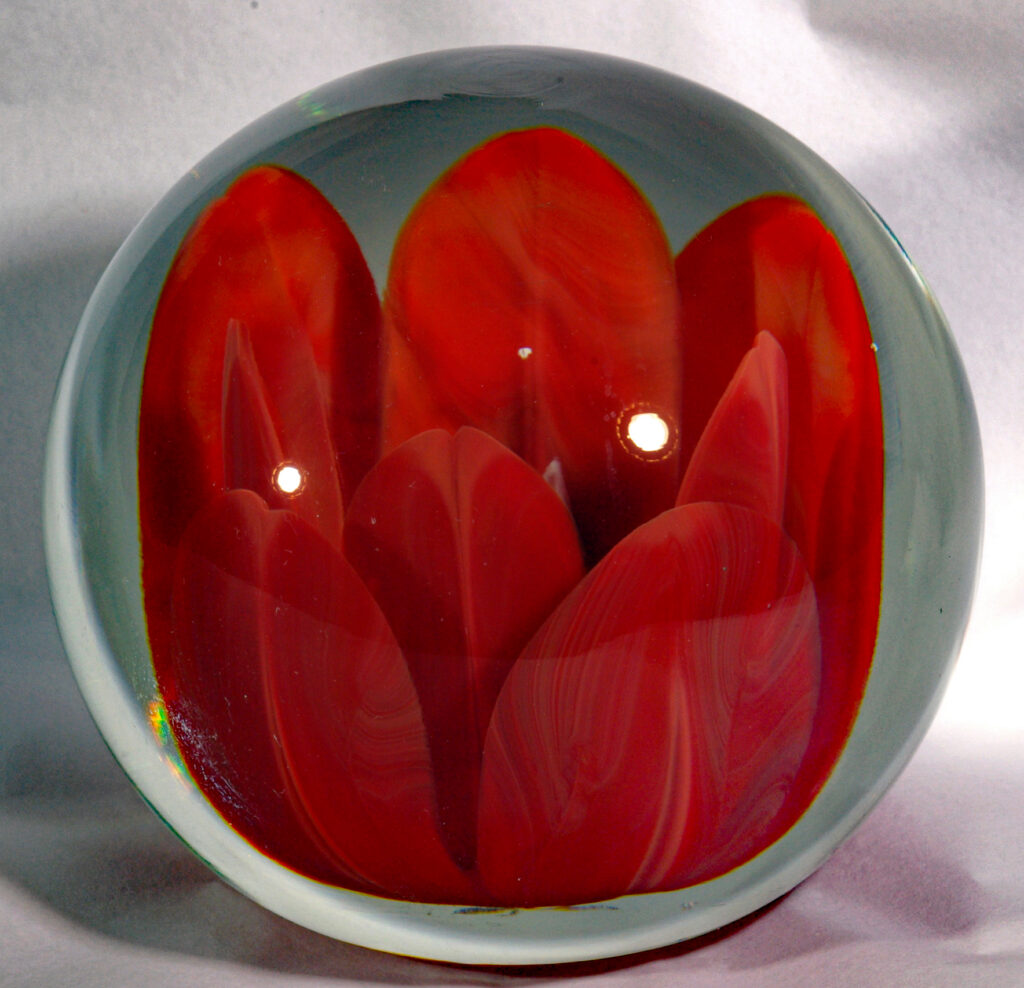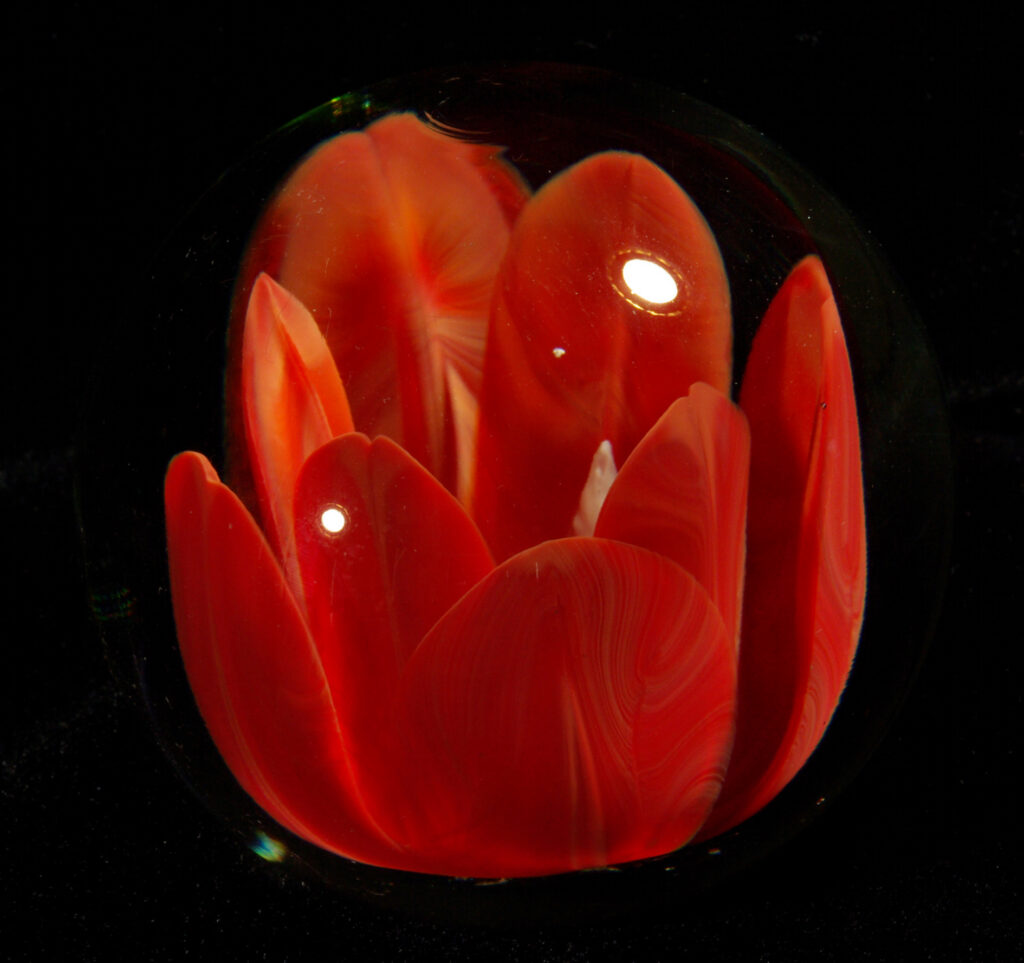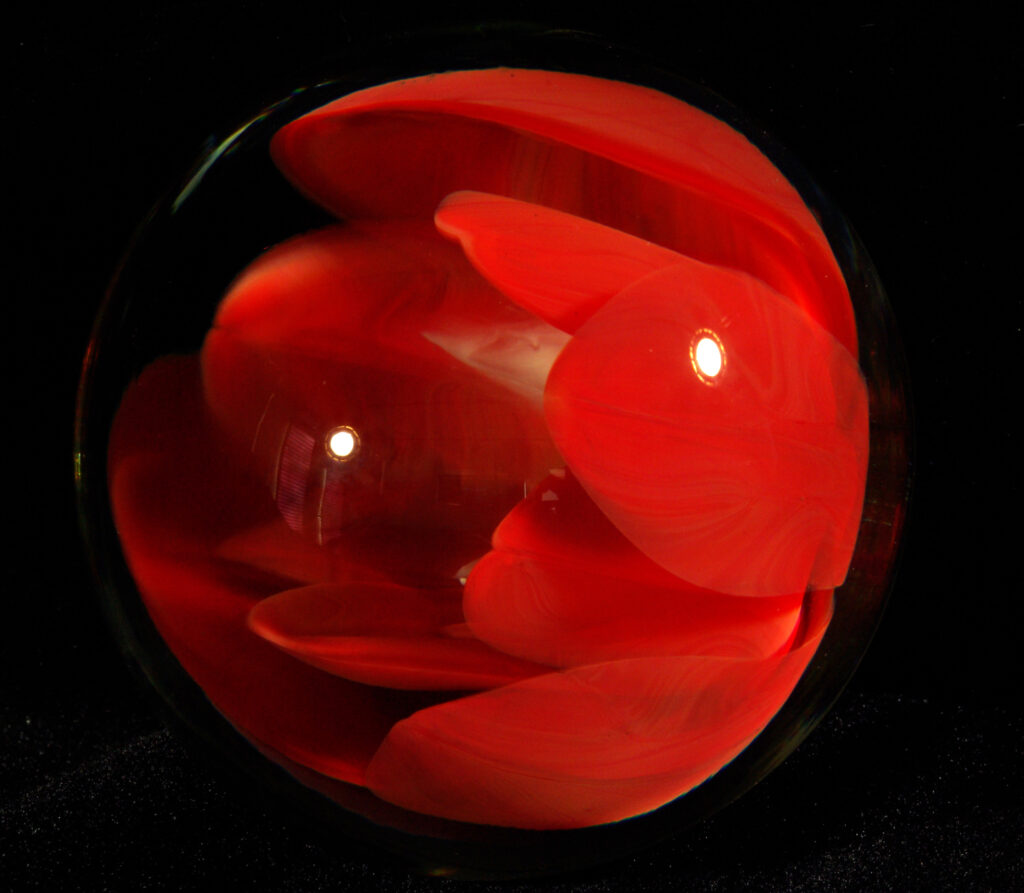 PW3171. Crimp-like Tulip Magnum Museum Piece by Robert Hamon. Remarkably well made and symmetrical with eight petals. I say crimp-like because he did not actually use a crimp device, instead building the flower from glass which accounts for the precise nature of it. Beautiful red-orange translucent glass. Unsigned. 3 ¼ inches tall; 3 1/2 inch diameter; two pounds. Condition is excellent with minimal shelf wear. $75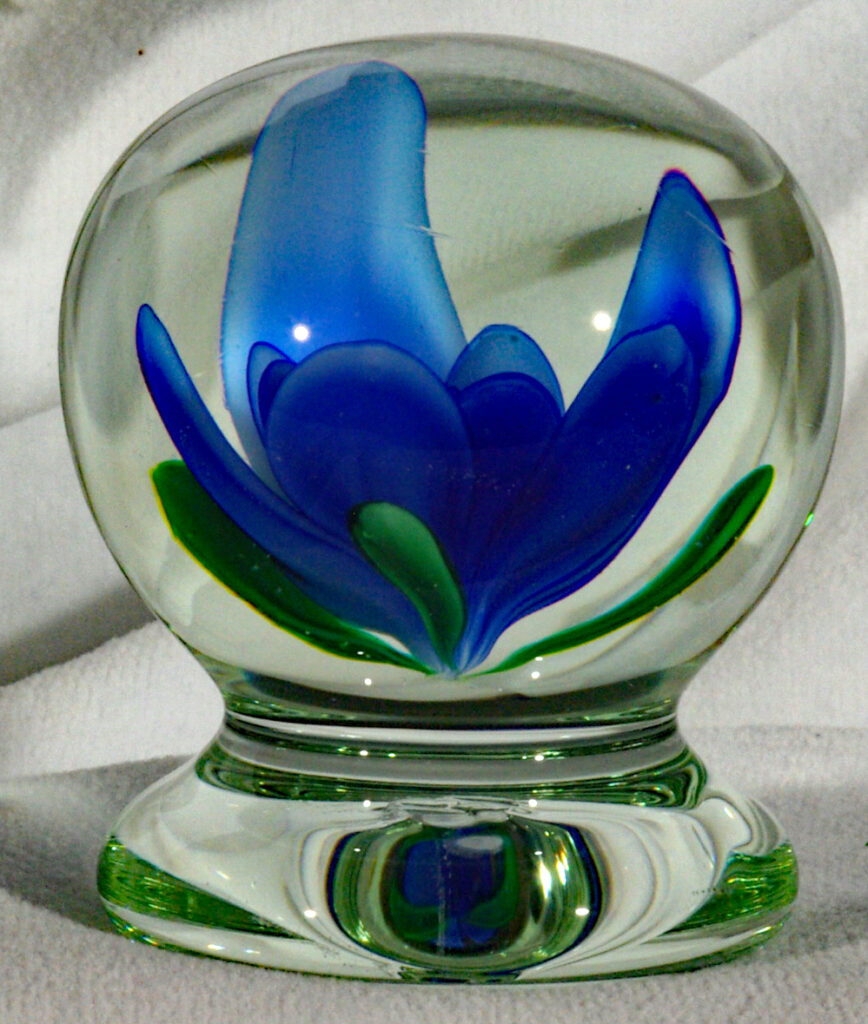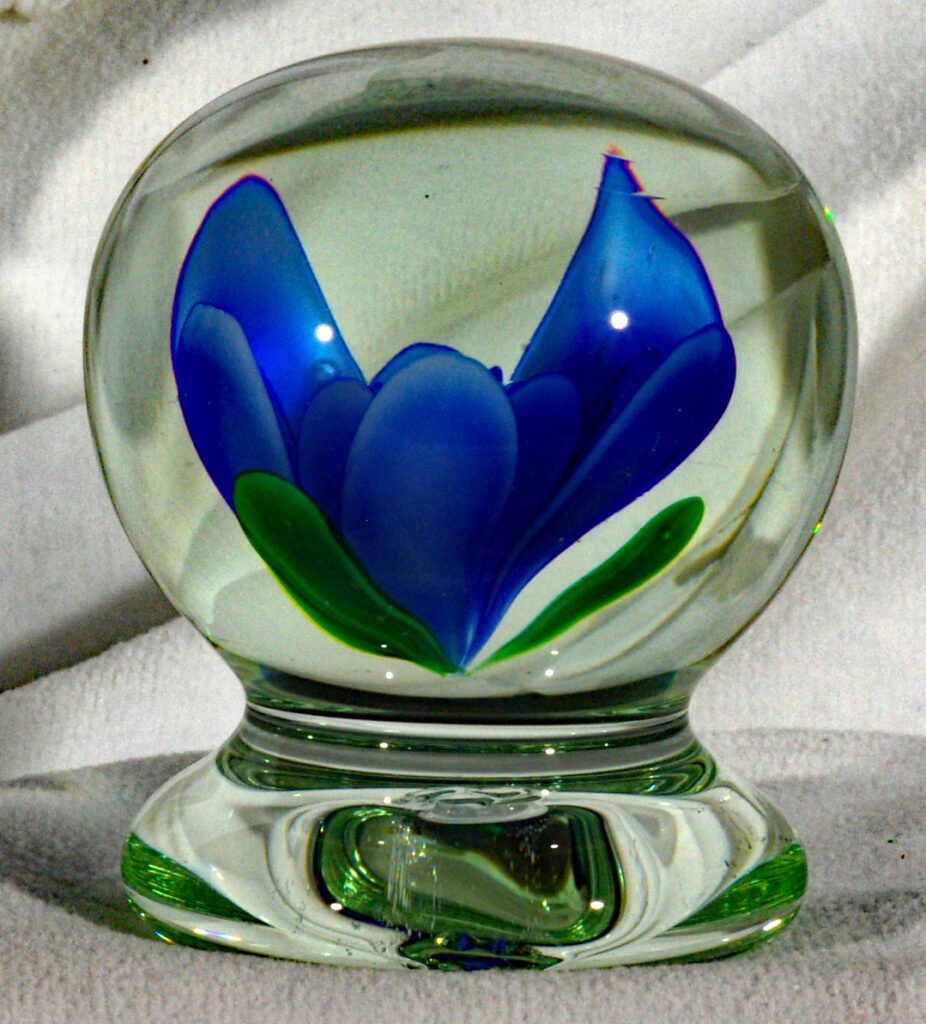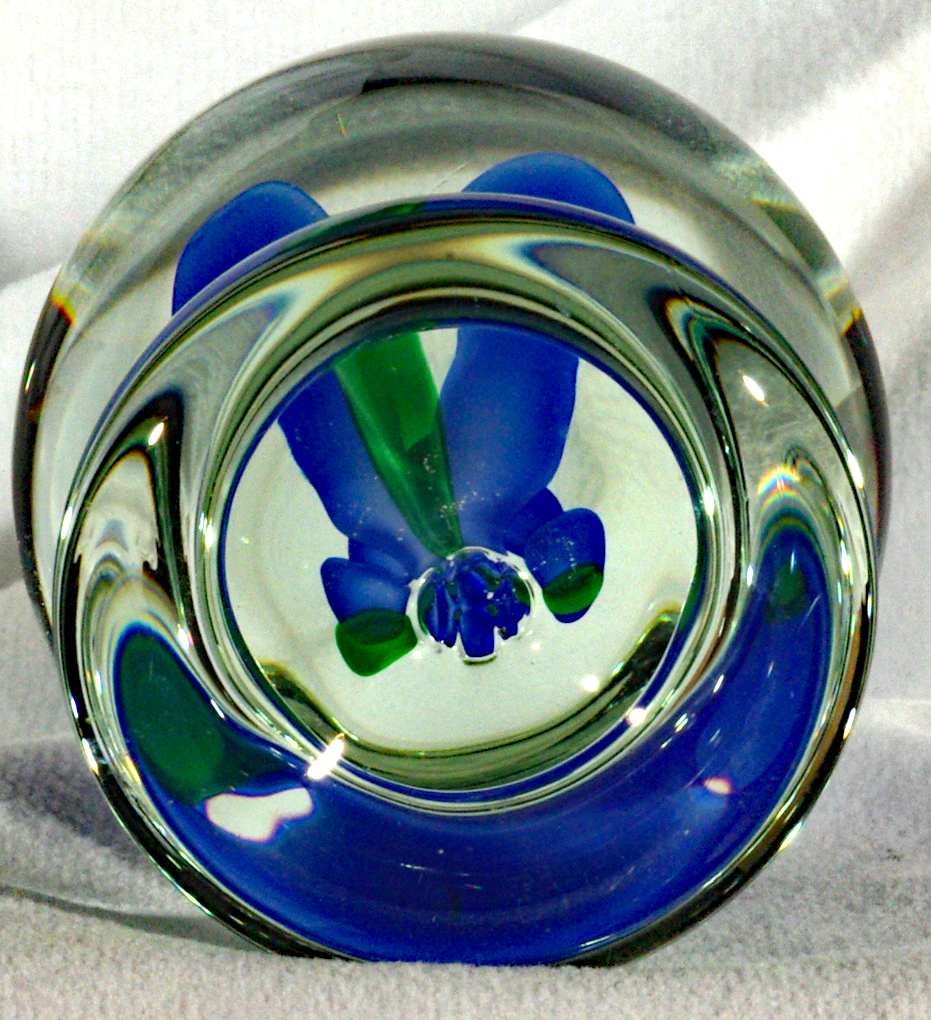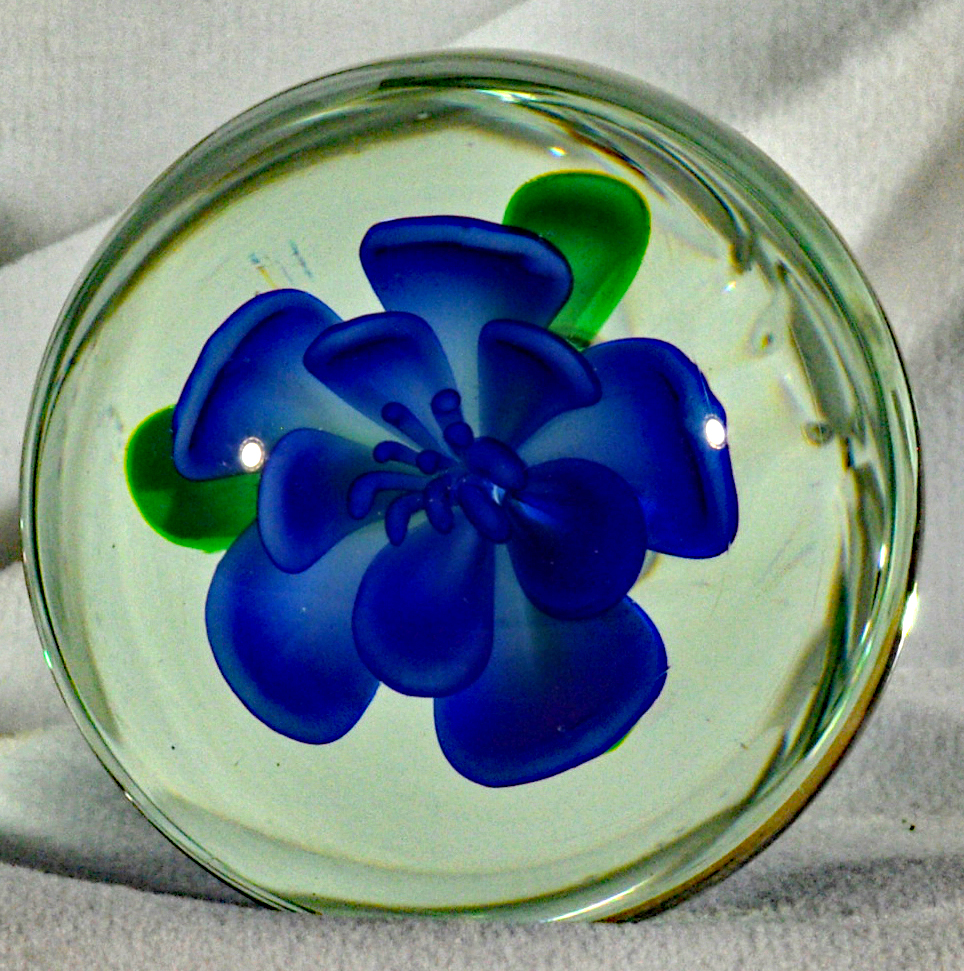 PW2296. Robert Hamon Pedestal Crimp Rose. This is a attractive, footed weight in excellent (like new) condition made by Robert Hamon and signed with a small hot-stamped "H" in the base. Robert Hamon began making paperweights in the 1960s. He died in 2003 and made very few paperweights in the last decade of his life. His flower paperweights were superior to most of those of his contemporaries – clean and precise. This is an excellent example of his work. His best pedestal crimp roses in this general size range compare well with Whittemore's and even Kaziun's. I have seen them in blue, orange, pink, and yellow. This is obviously the work of an experienced craftsman. 2 7/16 inches tall; 2 1/16 inches diameter; eight ounces. $75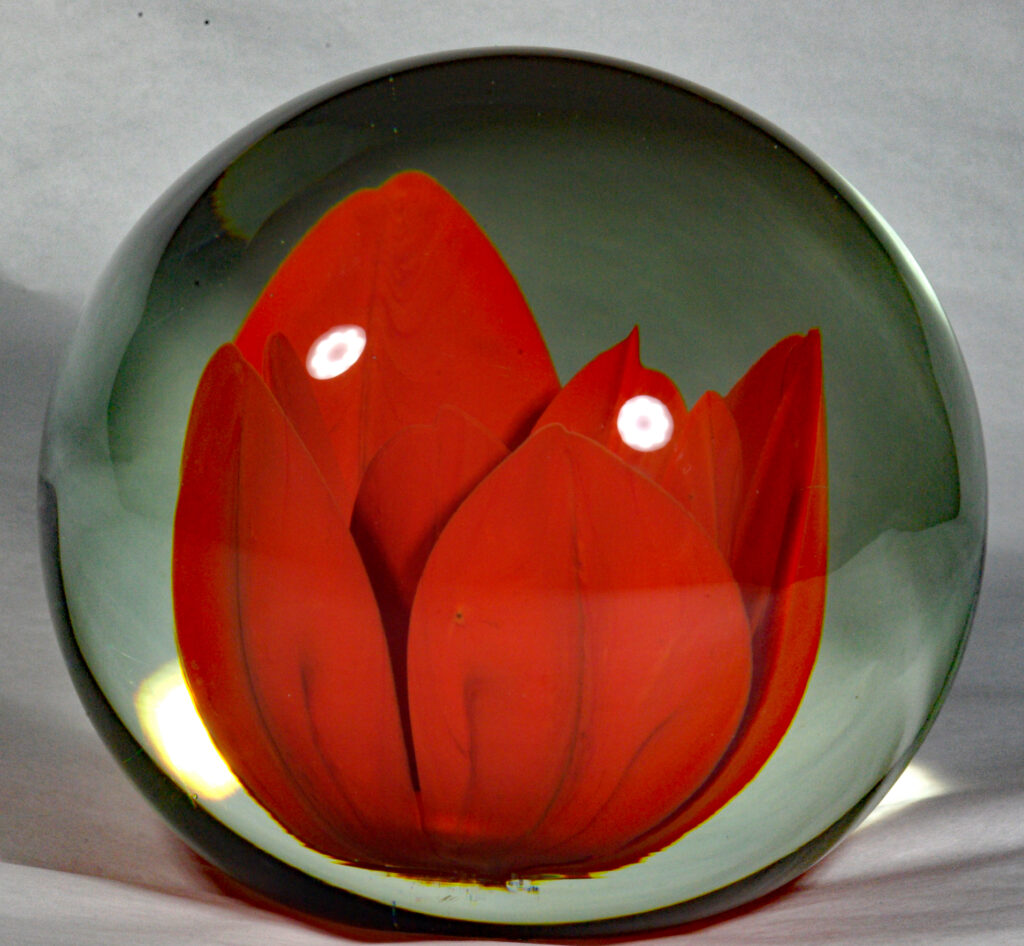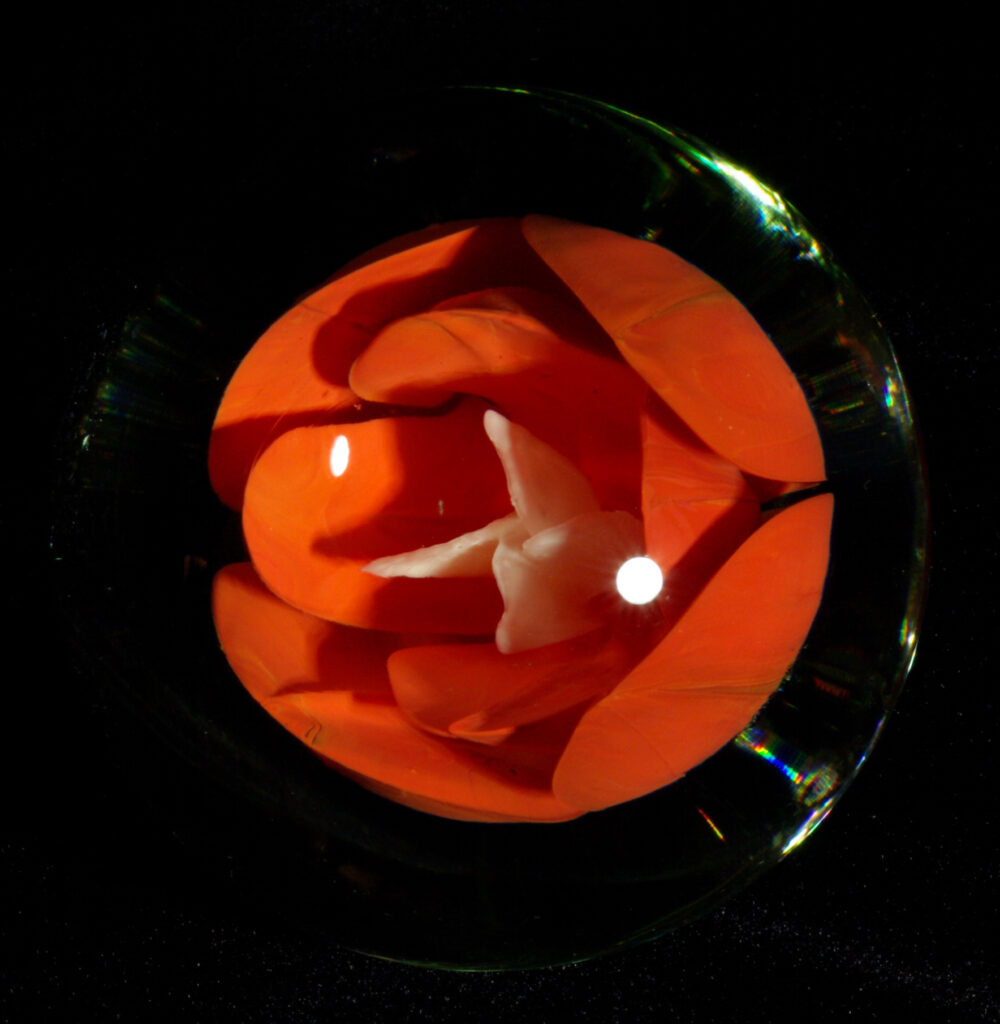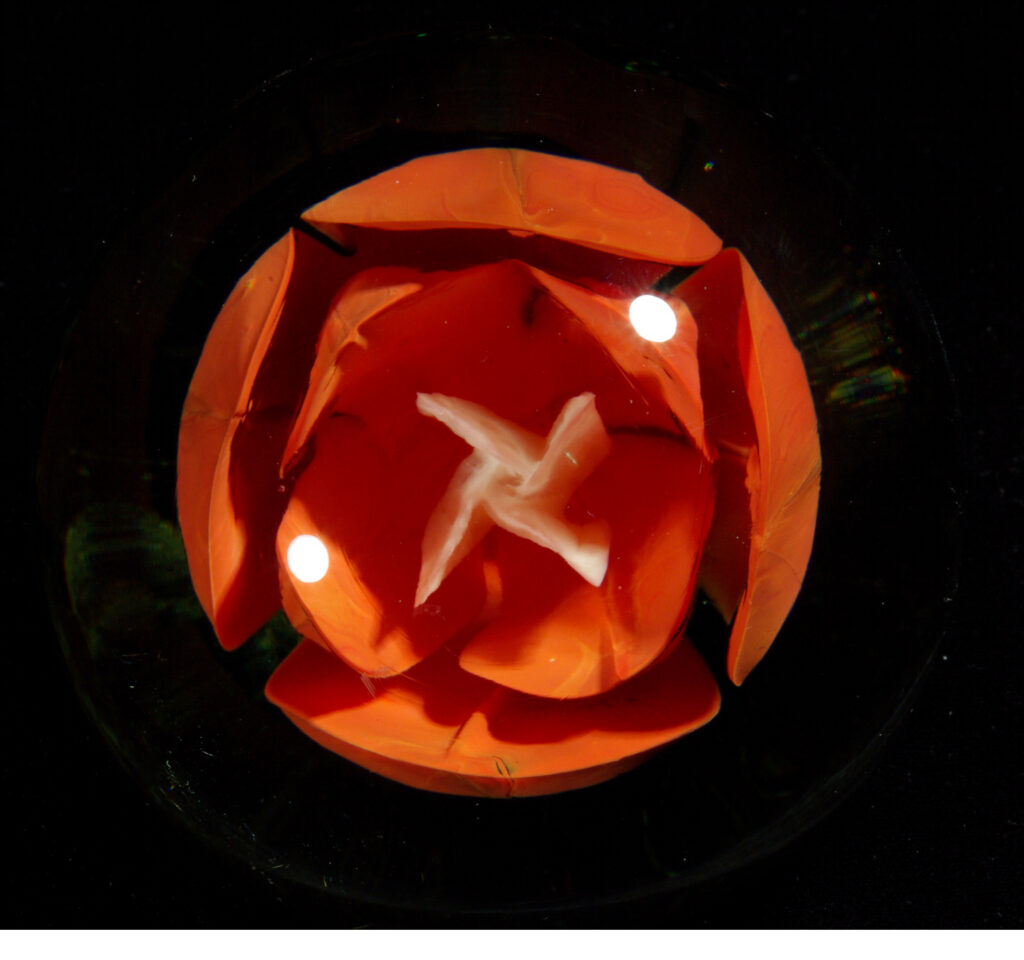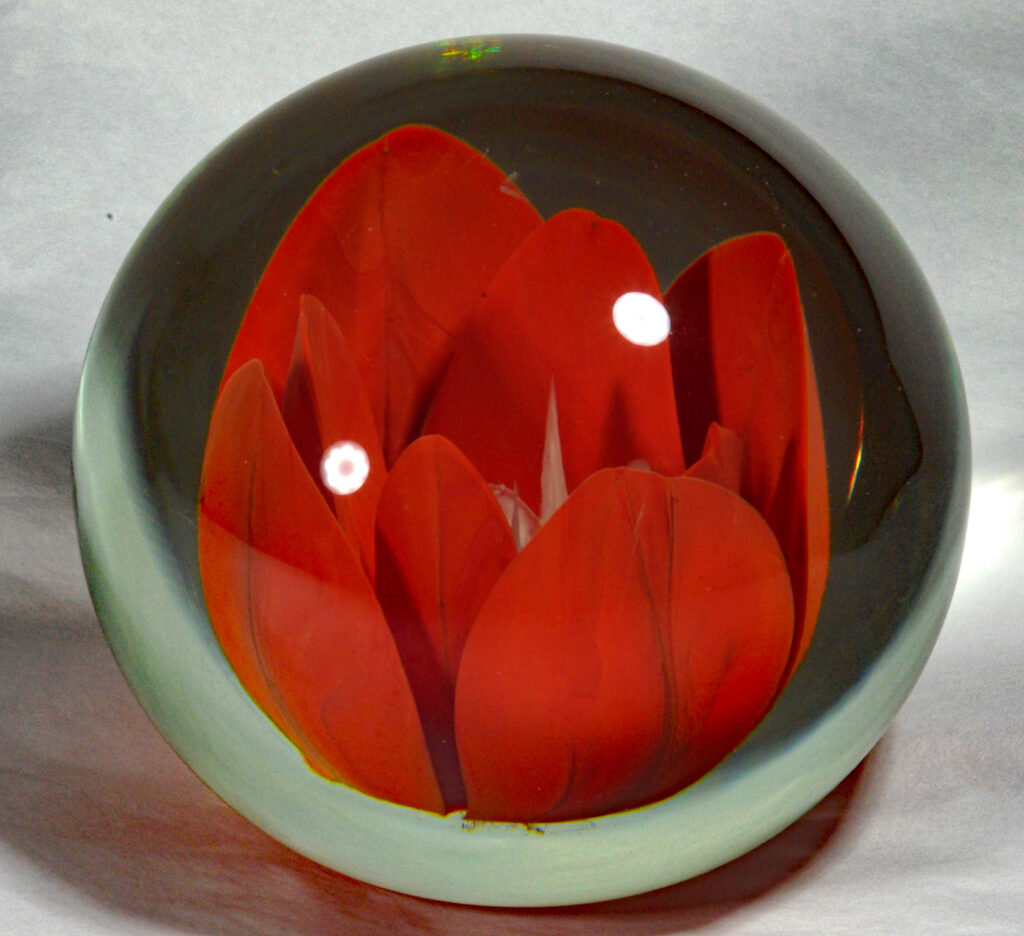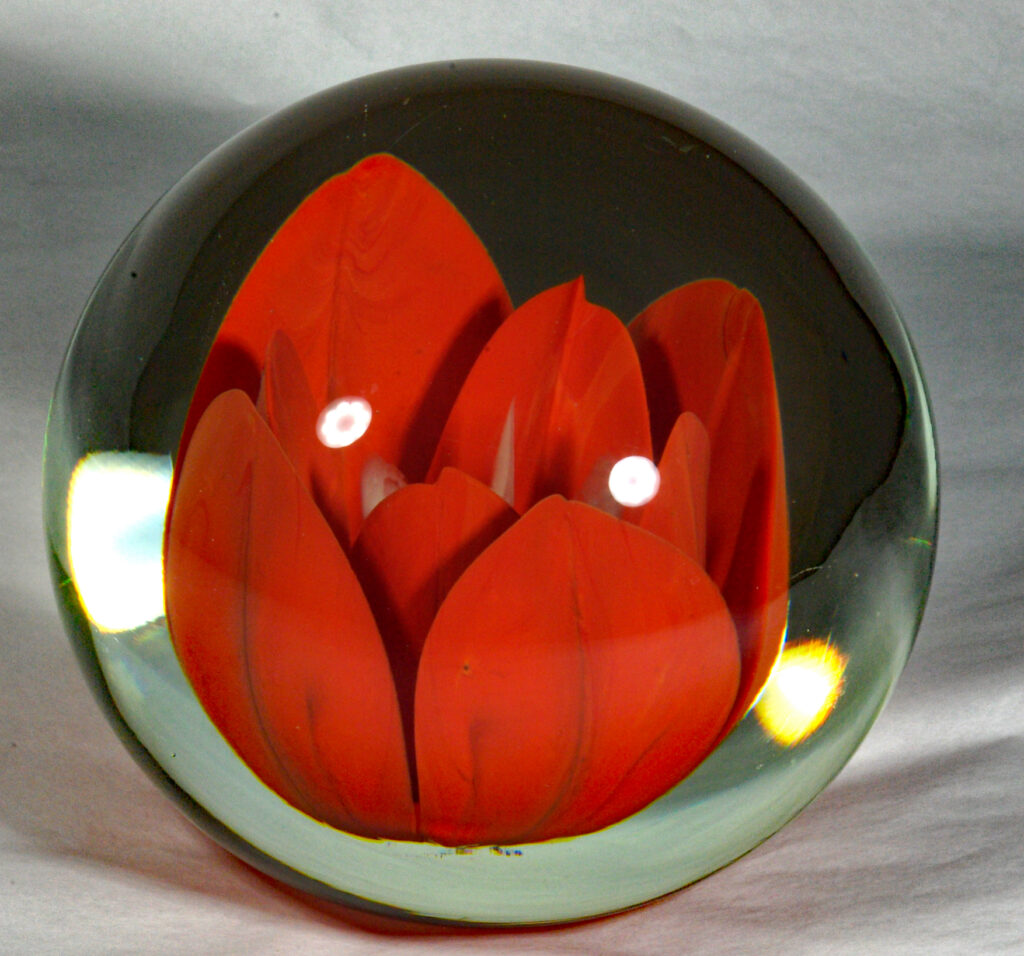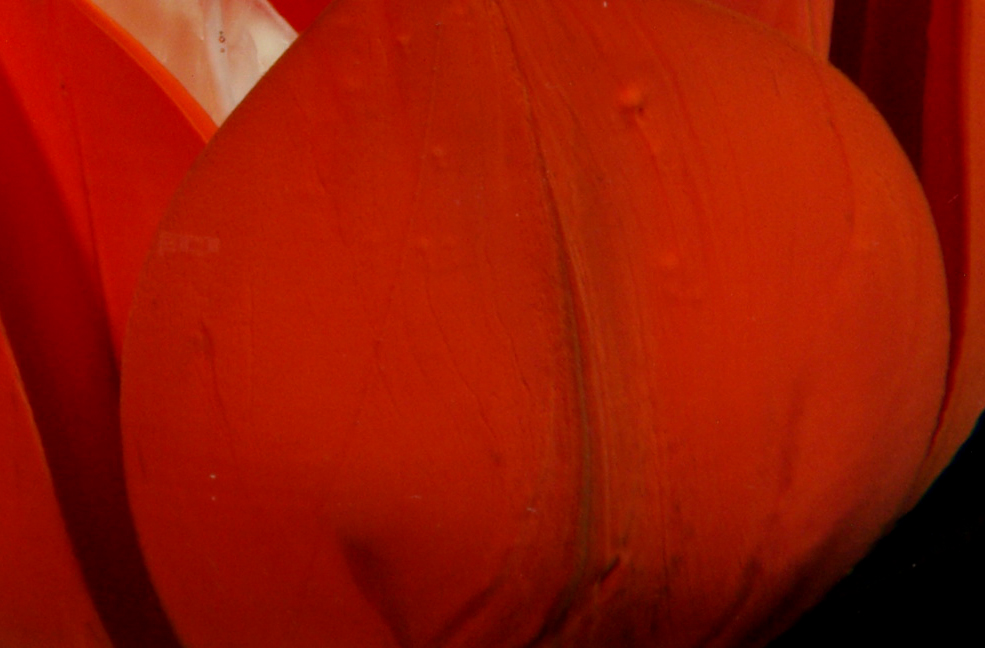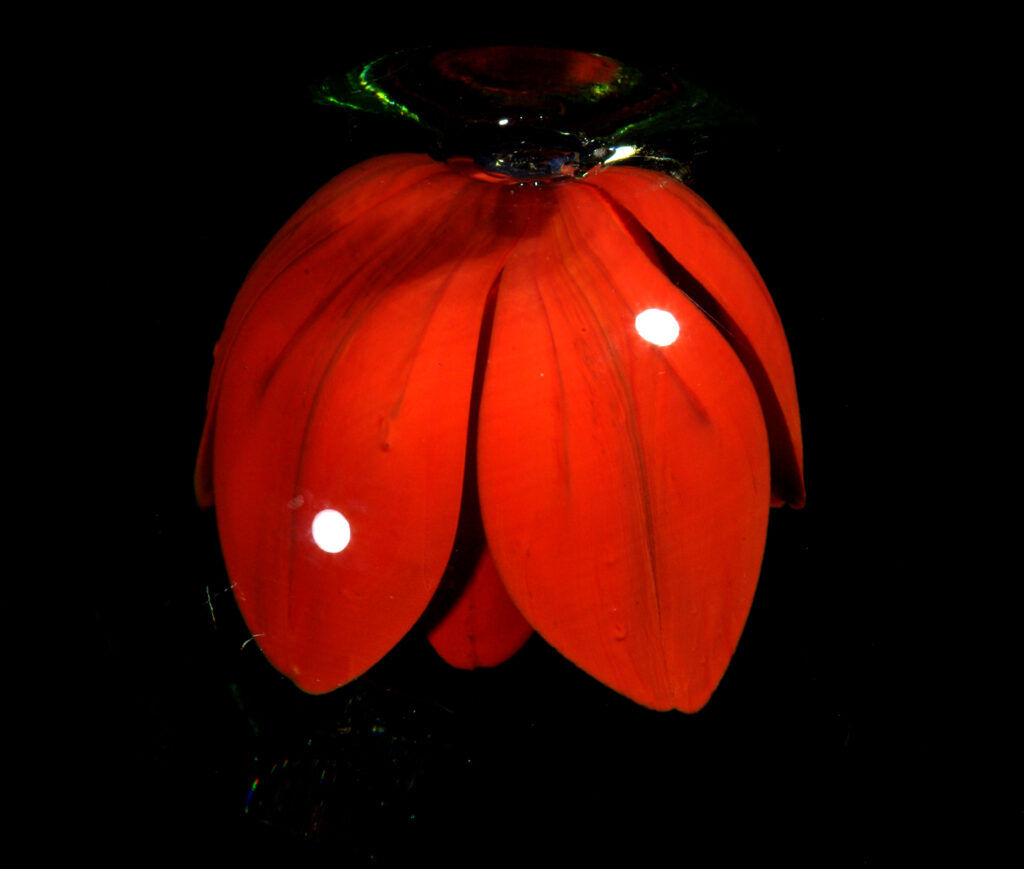 PW3023. Crimp-like Tulip Magnum Museum Piece by Robert Hamon. Remarkably well made and symmetrical with eight petals. I say crimp-like because he did not actually use a crimp device, instead building the flower from glass which accounts for the precise nature of it. Beautiful red-orange semi-translucent glass with darker linear accents. Condition is just about like new with ever-so-slight shelfwear. 3 1/4 inches tall; 3 1/2 inch diameter; two pounds. $75