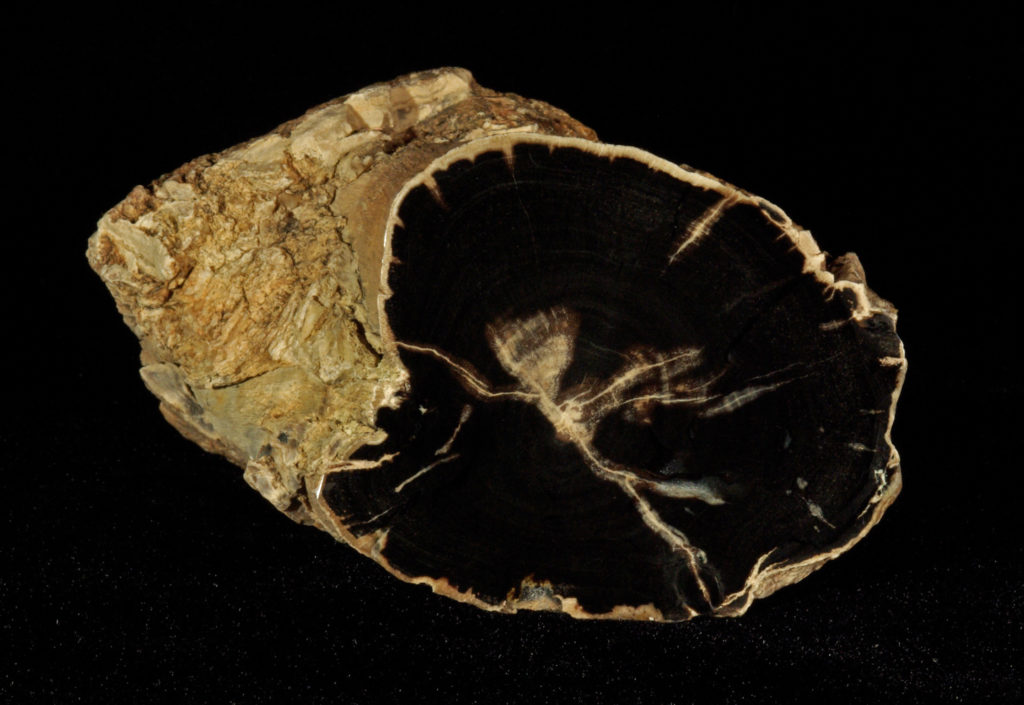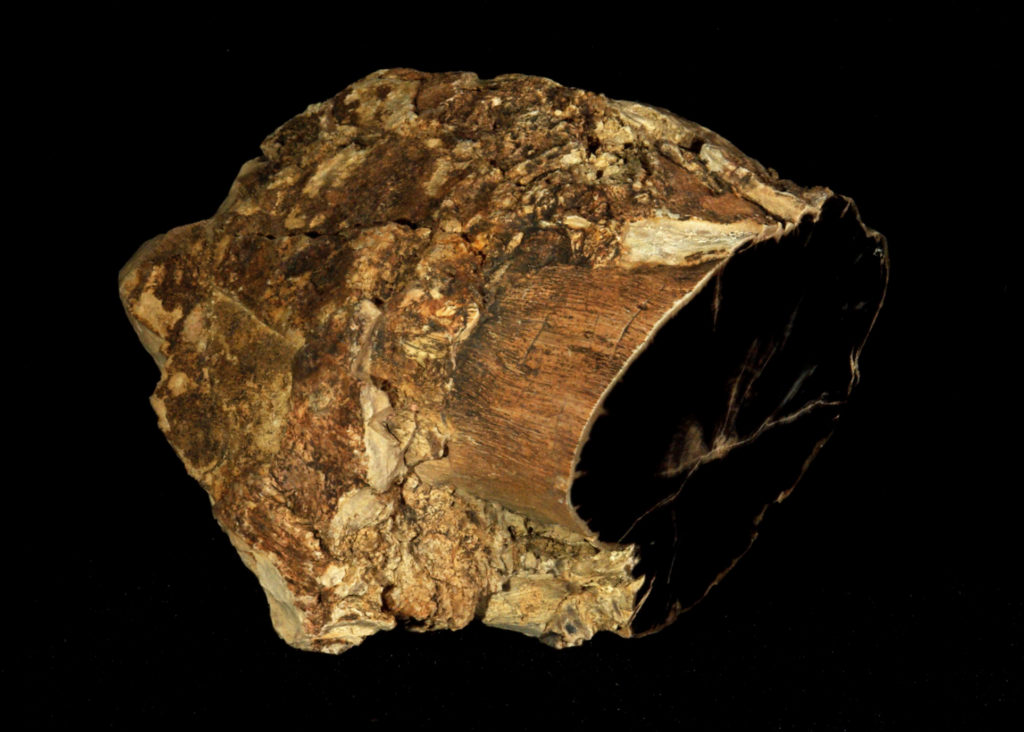 FJD WYO 4. Eden Valley museum specimen. This is an especially nice example of the wood from Eden Valley. Full round branch end of black beautifully preserved pepperwood, surface-collected, wind-blown with attractive patina, and undeniable evidence of borers that once tunneled beneath the bark.
No glue – No fillers. 9 cm long; 5 by 6 cm mirror-polished face; one pound. $65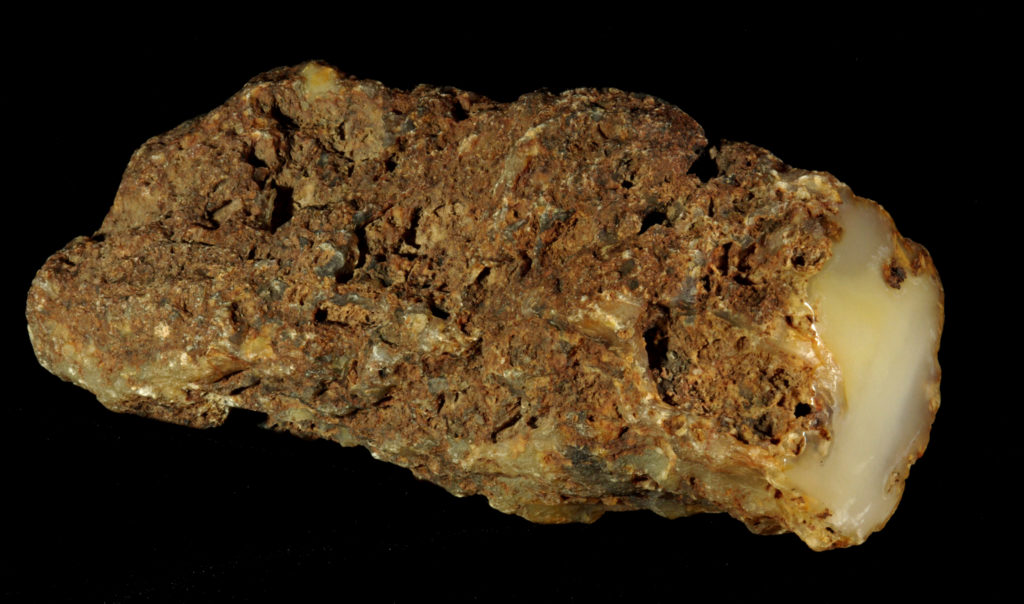 FJD WYO 7. Dubois Limb Cast museum specimen. This is a specimen round fossil tree section. It has one natural end and one that is cut and dome polished. From an old collection and collected most likely before 1970. Nice external character and a lovely agate face. 53 by 38 mm mirror-polished face; 17 cm long; one pound and fourteen ounces. No glue – No fillers. As solid as the Rock of Gibraltar. $75
Note: since I did not personally collect this, I based the ID on experience – it's possible this came from north of the Wyoming border in Montana – it's the same general geologic formation and the fossil woods can be indistinguishable. Dubois is a type as well as a location, in my opinion.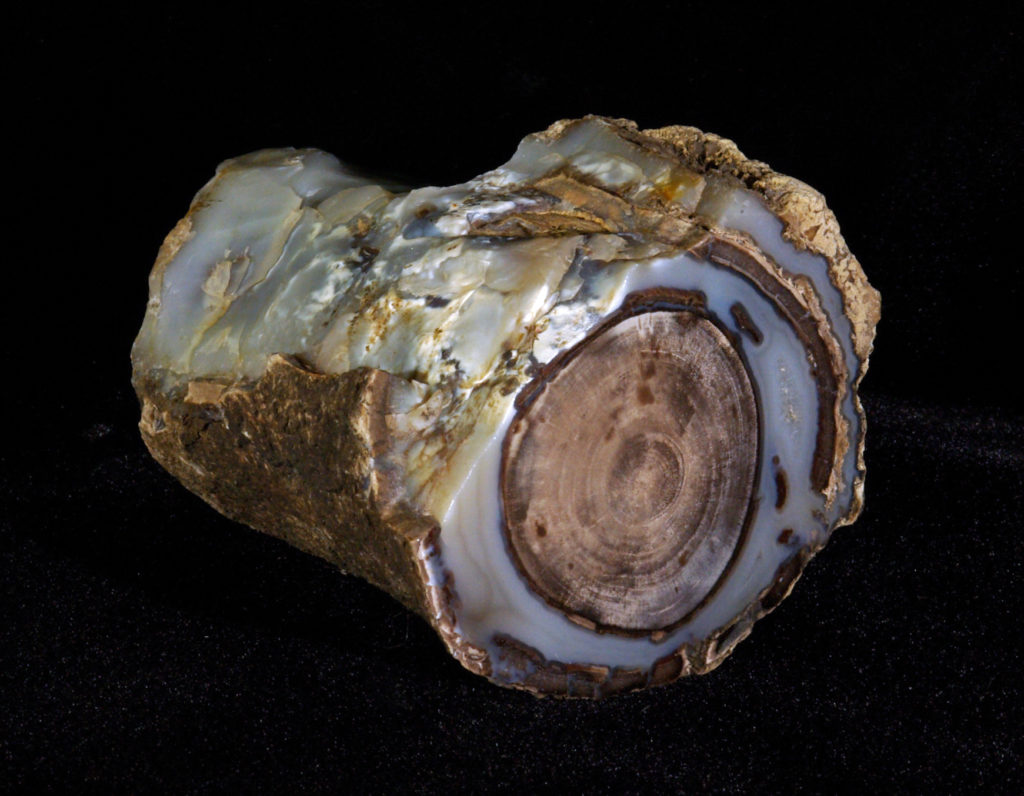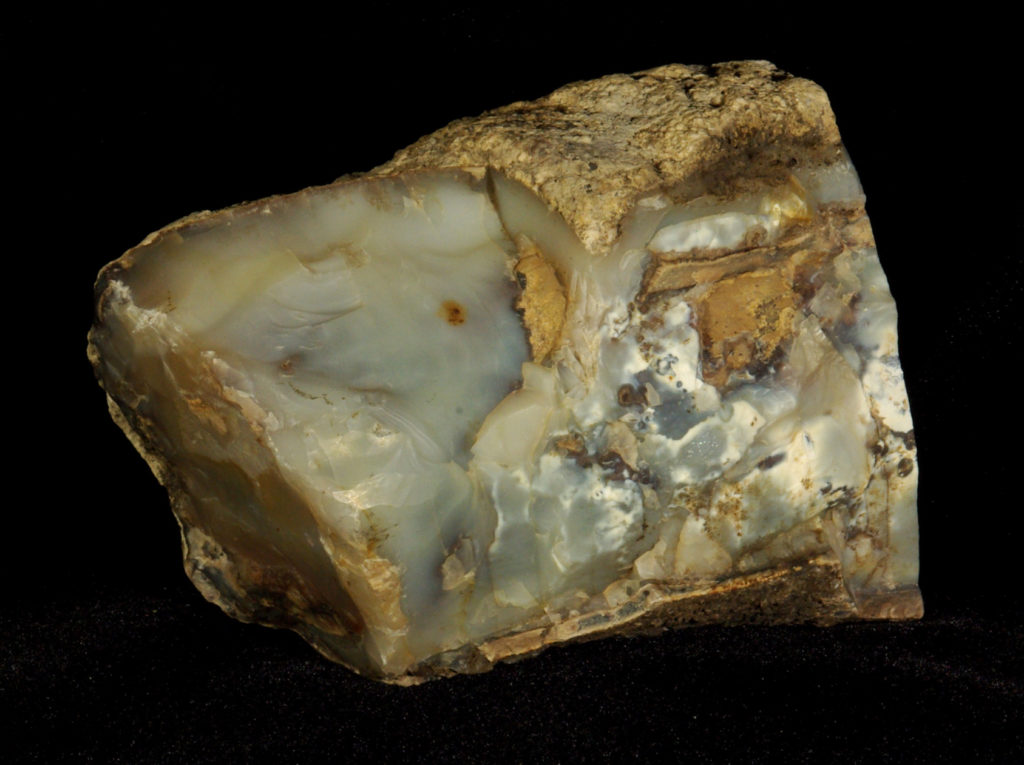 FJD WYO 11. Museum specimen Blue Forest, WYO. Rare full round log from the Blue Forest area near Farson. This is why they call it Blue Forest. All natural but for the one cut and polished end. It appears to have been partially exposed for many years prior to its discovery by a happy rockhound. The face is remarkably pristine. As frequently occurred in this location, the tree experienced substantial drying prior to petrification – note how the rarely preserved cambium separated from the heartwood. The exposed blue chalcedony is smooth and pleasant to the touch. Excellent cellular preservation. No filler/No Glue. 10 cm long; polished face measures 52 by 75 mm; one pound and six ounces. $85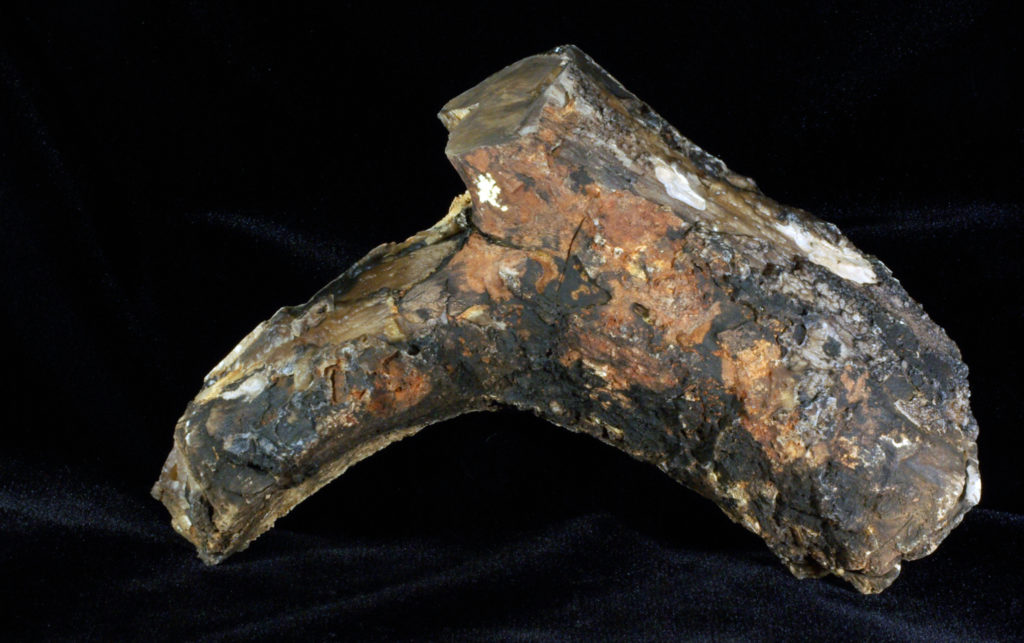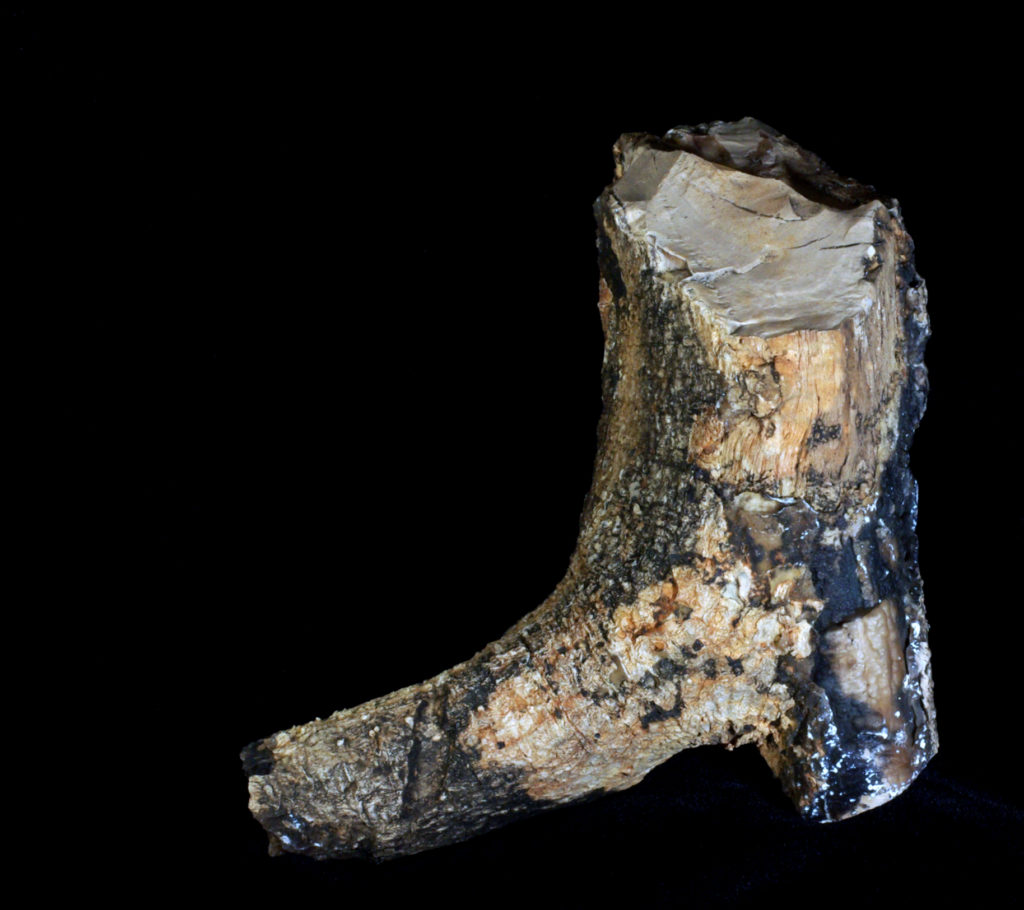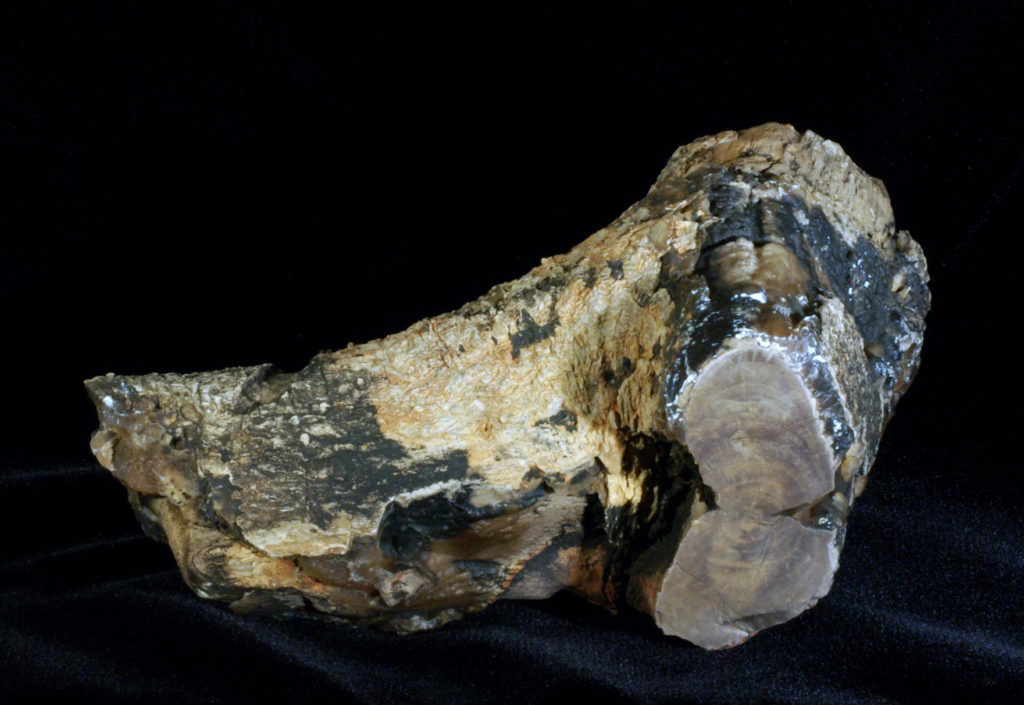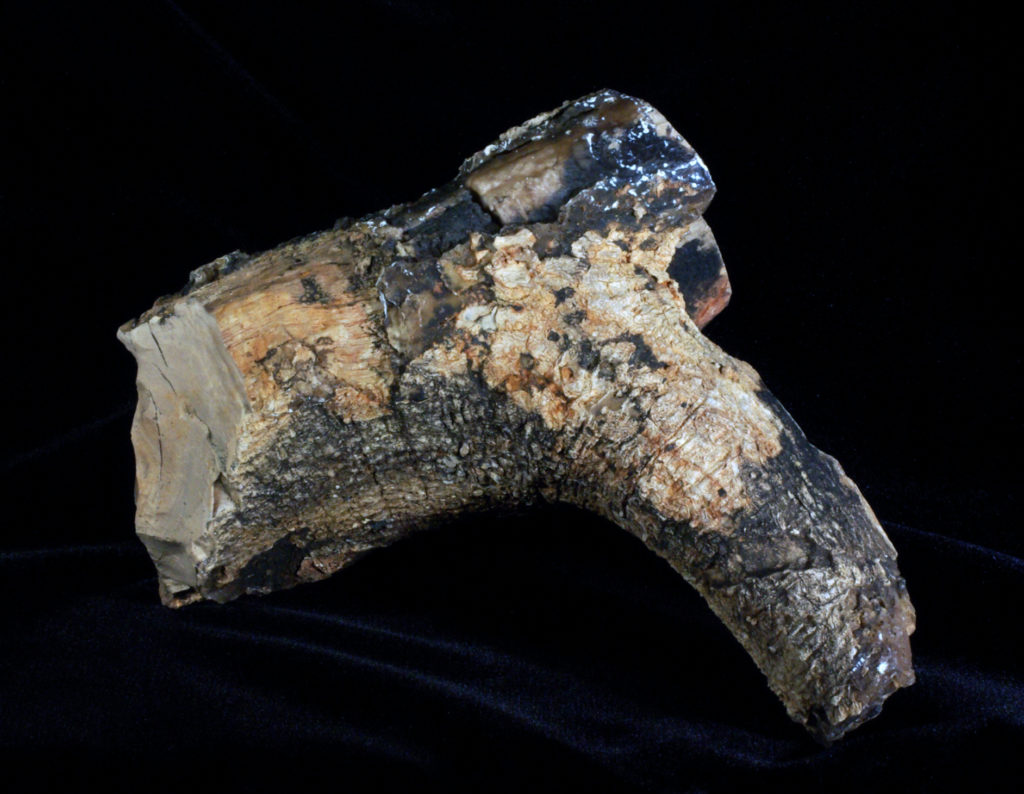 FJD WYO 13. Museum specimen, originally from an old Westerner collection: The Cowboy Boot. Rare full round branching log from the Eden Valley area near Farson. It's a hardwood with prominent rays and has actual bark preserved which is a rarity in fossilized wood. Portions are coated in botryoidal chalcedony in a broad range of color and size. Killer wrinkled bark. Just as it was found after eroding from the wind-swept high Wyoming desert. It looks like a piece of wood shaped like a cowboy boot. This remarkable specimen is not cut or altered in any way from its natural form. The exterior is a tapestry of texture, fossil, color, and mineralogy. The thick trunk is 18 cm long; 19 cm from the heel to the toe; six pounds and nine ounces. $350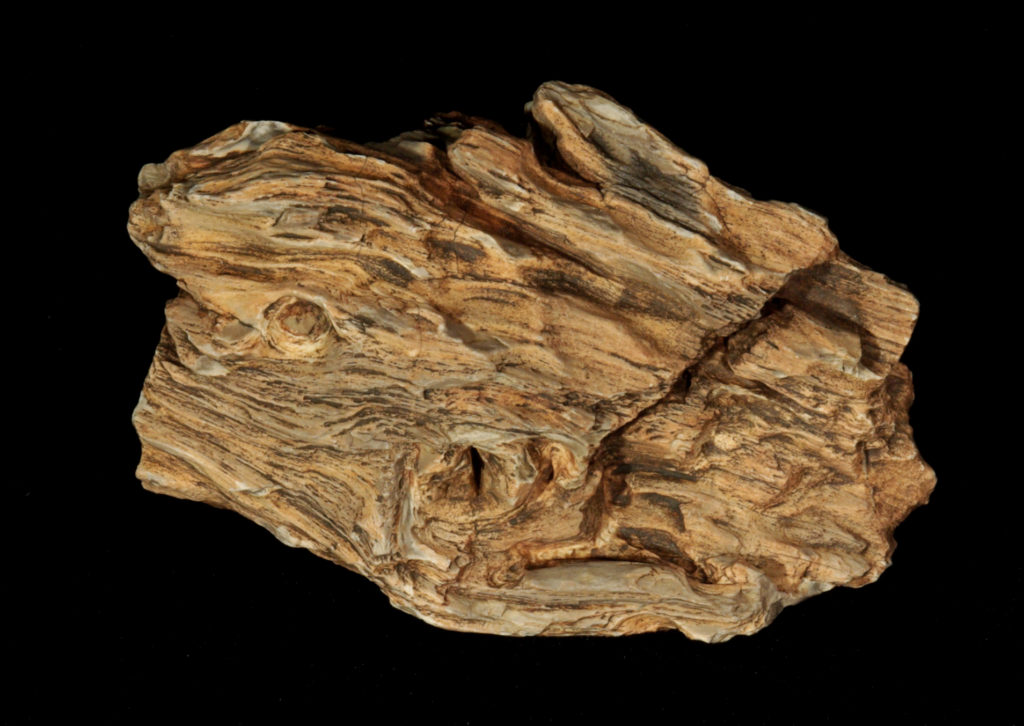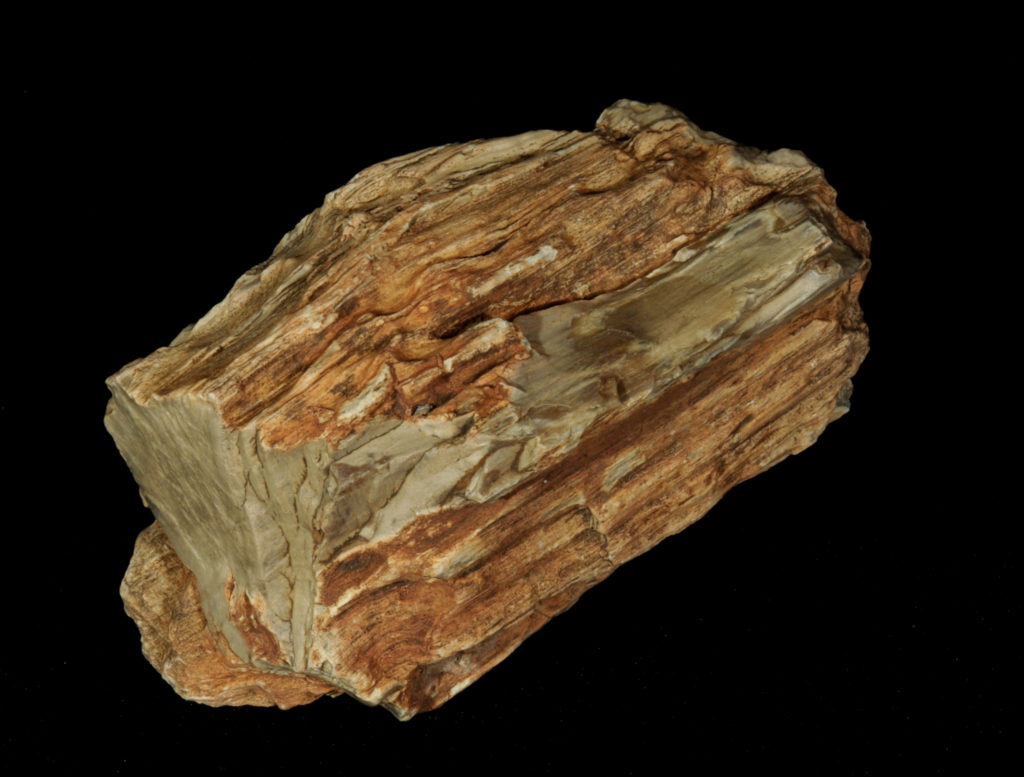 WYO 29. Eden Valley museum specimen. 100% au natural. I got this from the collection of a rockhounding couple who collected all over the West starting in the 1940s. Back then the wood bearing areas of Wyoming had not been hunted and they found some great specimens like this one. It is a surface-collected piece with patina and wind sculpting. Nice eye appeal and knots. No glue – No fillers. 10 cm long by 6 by 5 cm; ten ounces. $65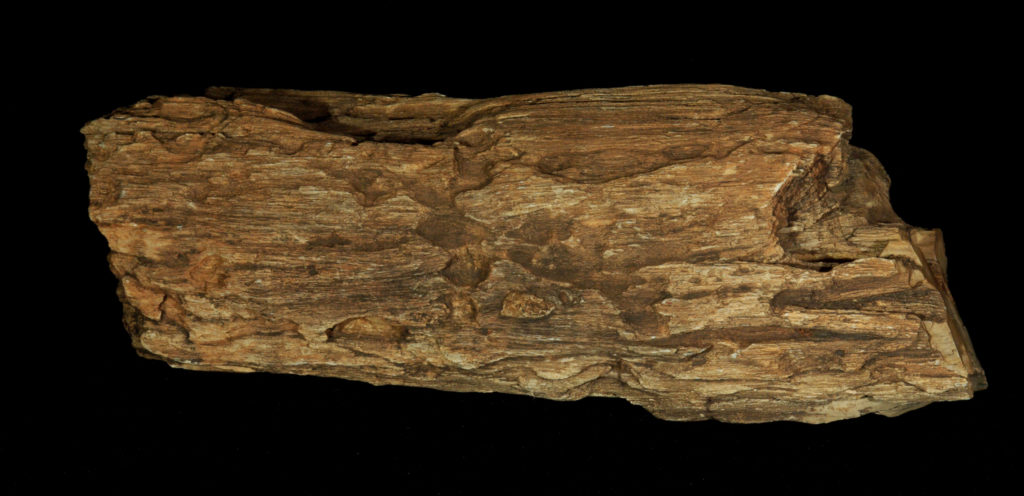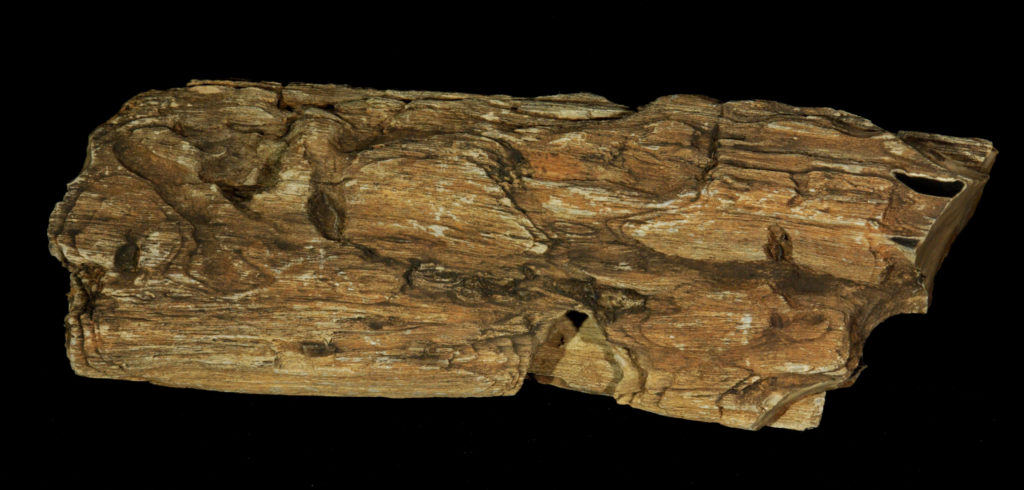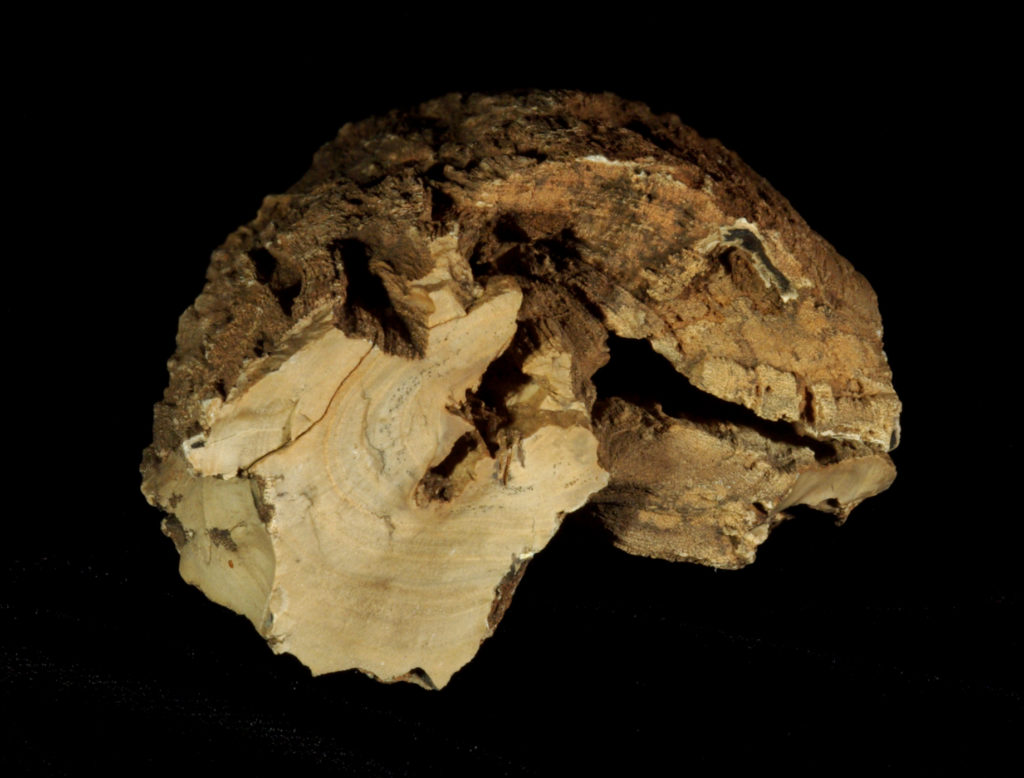 WYO 30. Large Eden Valley museum specimen. 100% au natural. I got this from the collection of a rockhounding couple who collected all over the West starting in the 1940s. Back then the wood bearing areas of Wyoming had not been hunted and they found some great specimens like this one. It is a surface-collected piece with patina and wind sculpting. Obvious growth rings on the end. No glue – No fillers. 22 cm long by 8 by 5 cm; two pounds and three ounces. $75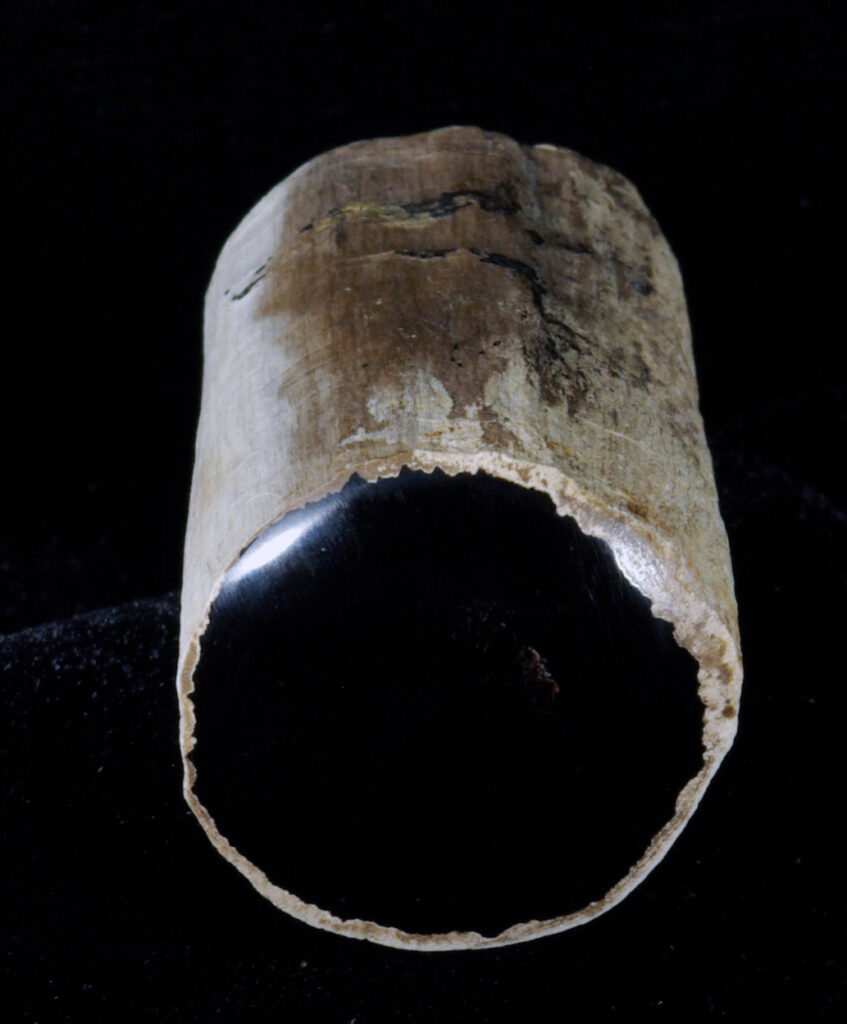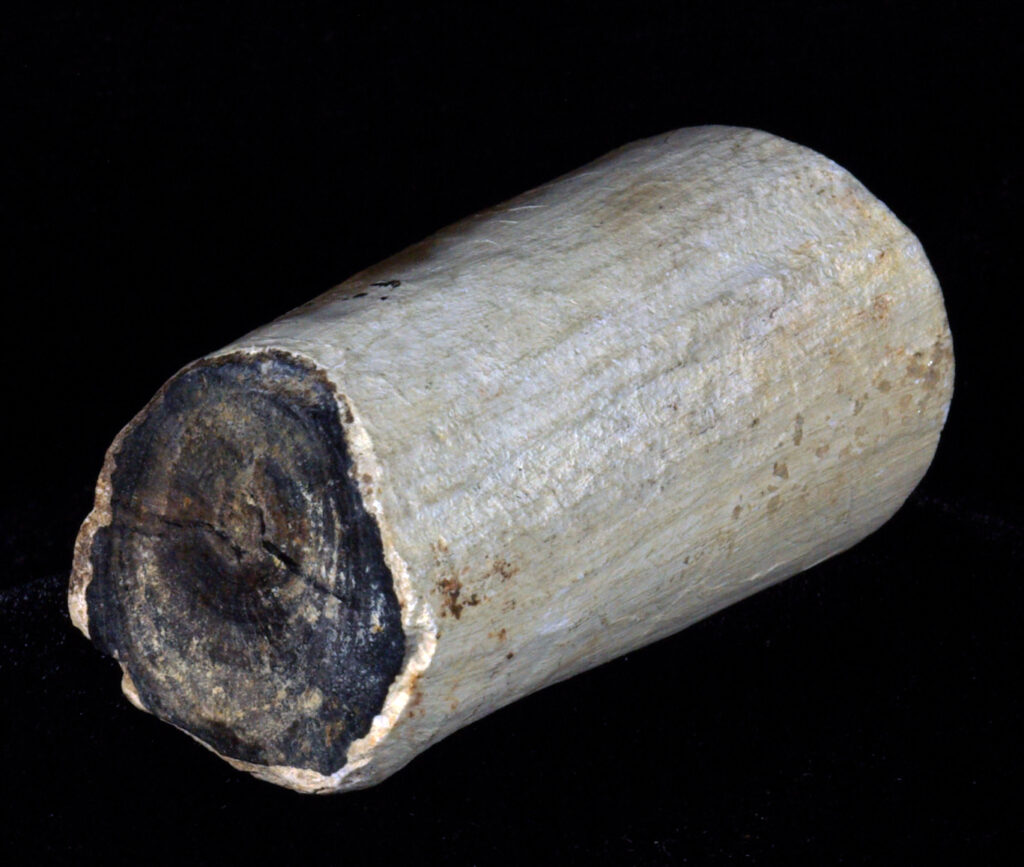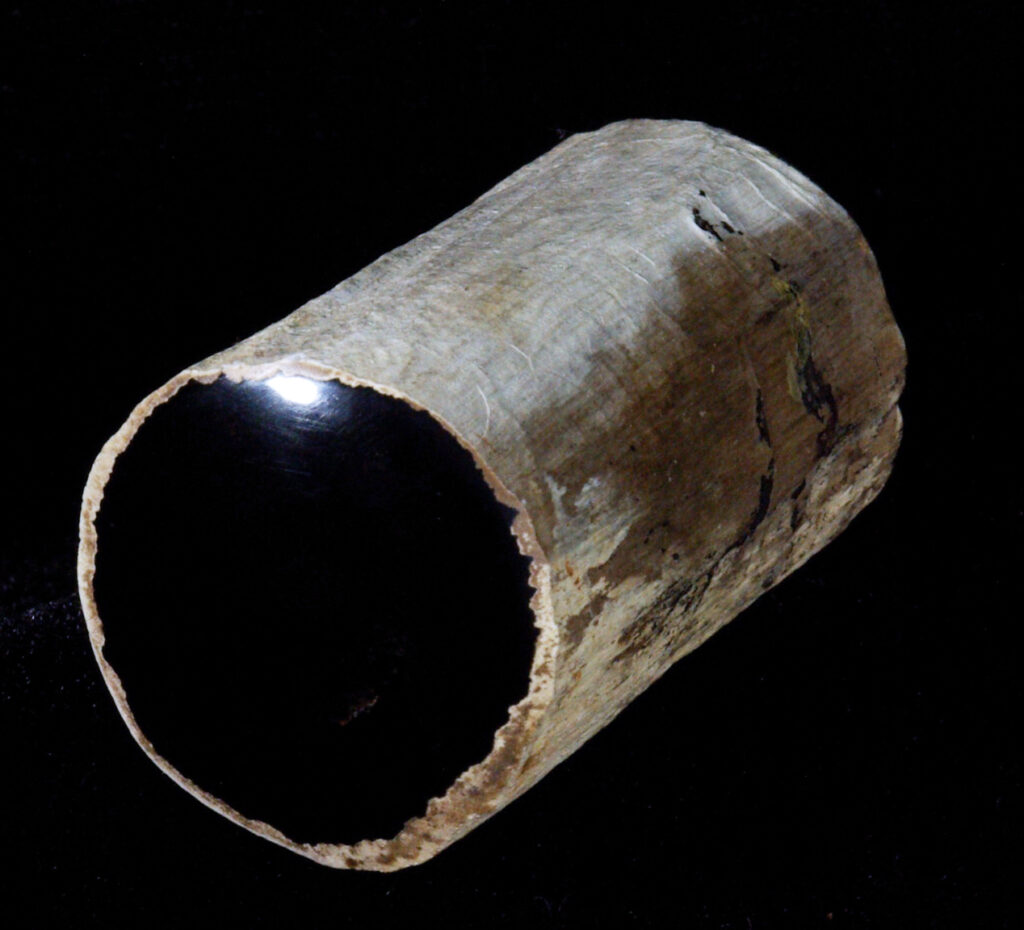 WYO 31. Eden Valley full round limb section. Tertiary hardwood with a woody-appearing exterior. The dome-polished face is beautifully preserved in glassy black. Perfect. No glue – No fillers. 5 cm long with a mirror-polished face of 28 by 27 mm; two ounces.   $50