Baccarat Paperweights: Baccarat began production of lead crystal paperweights in the 1840s. Their work is classic and at the very pinnacle of art-glass perfection. They ceased production of paperweights in the in the 19th Century and only resumed in the early 20th Century, continuing until 2002, when they officially ended their long run of producing glass paperweights for collectors.

The late 1960s to early 1970s were the Dreamland of modern Baccarat—as dreamy as were the times. An incredible pulse of experimentation and creativity ran through the Baccarat glassworks, creating unique and short run pieces, some of the most attractive and natural millefiori closepacks ever made, and a wide range of fascinating flower forms – it's a collector's dream. As years progressed, the fruits of these years culminated in what is arguably the most stunning production ever within the world of glass art.
The lion's share of my modern Baccarat weights came from two old collections, one in France and one in the US. The two combined came to around 150 weights. The condition of these is almost all perfect, as if they came from the glass store this morning. The French collection comprised 85 Baccarat and Saint Louis weights. The collector, a French gentleman extraordinaire, owned a high end clothing store in a large French city. He sold Baccarat and Saint Louis art glass and and every year he put aside for himself one of each of the paperweights. The weights went from him to me via FedEx. The other collection didn't need to travel as far. It went from Baccarat to the collector, piece by piece over the years, and then to me. While in the possession of the collector, the full collection was photographed by Paul Dunlop for use in his monumental work on Baccarat paperweights. If for any reason one of these is less than perfect, I'll make note of it. Assume all boxes and certificates show signs of wear.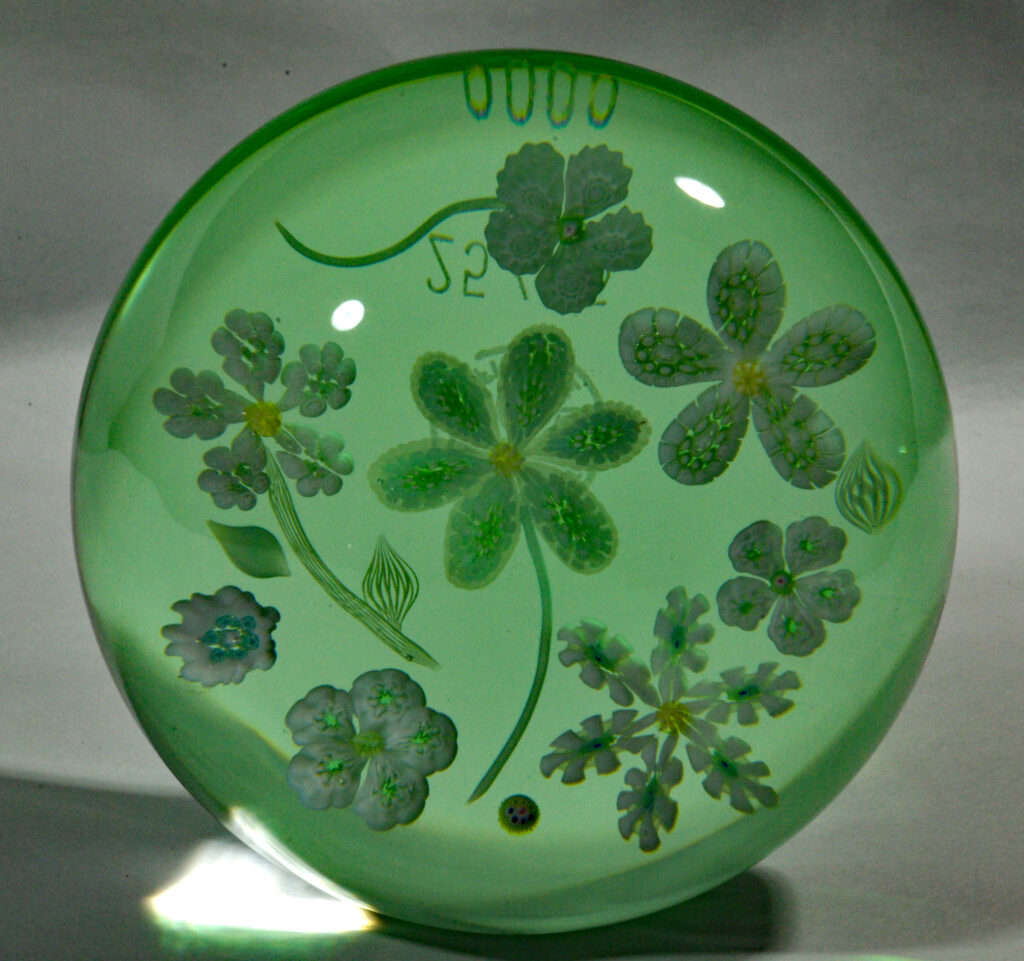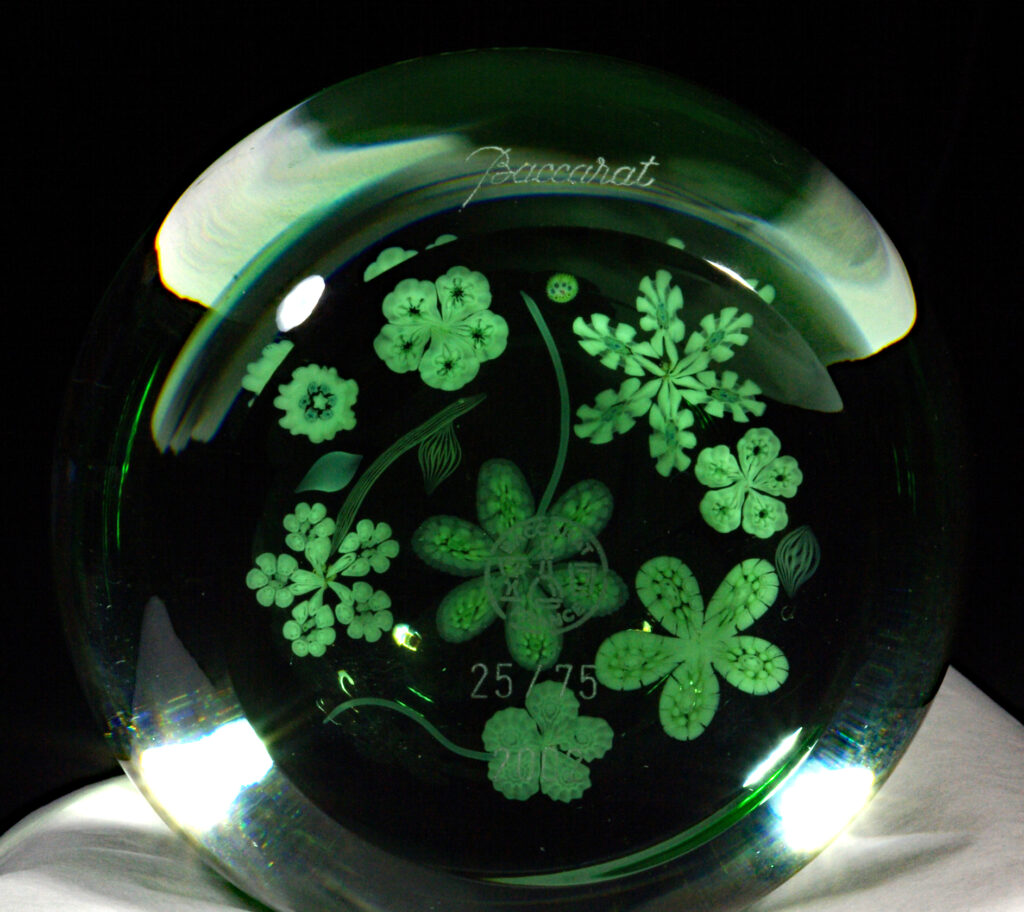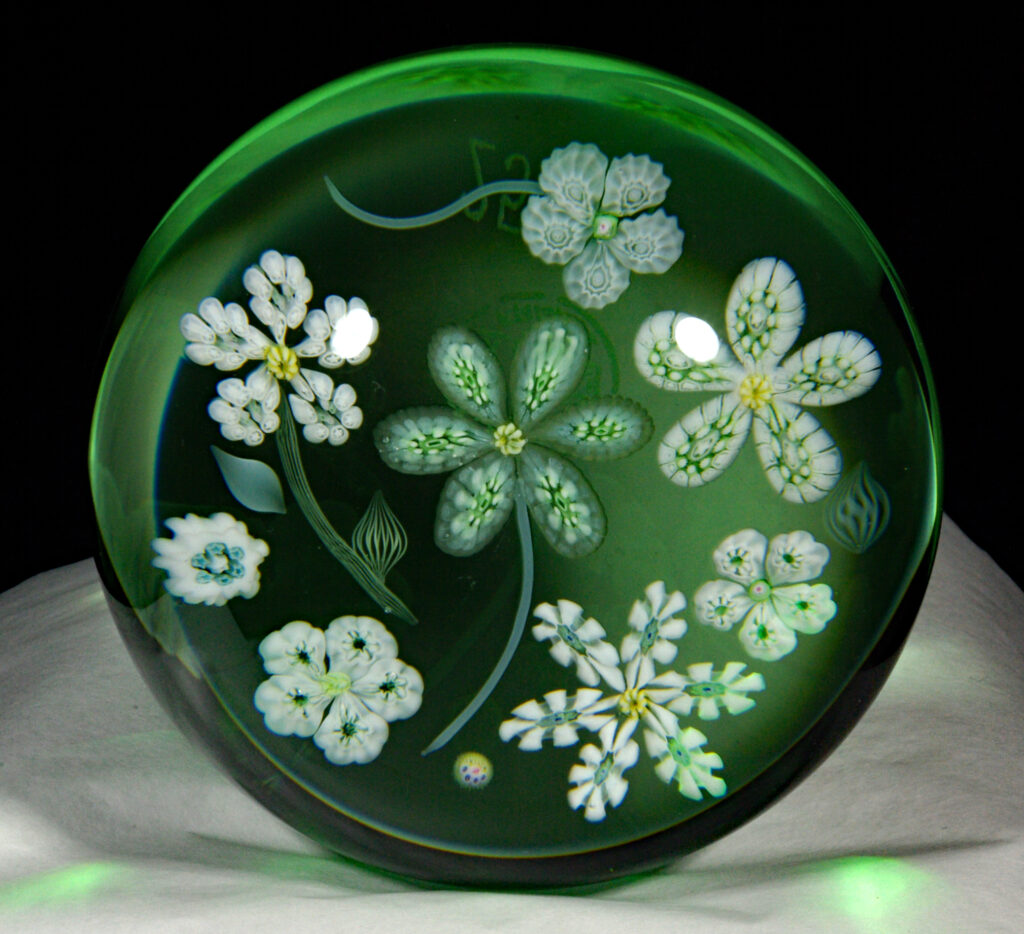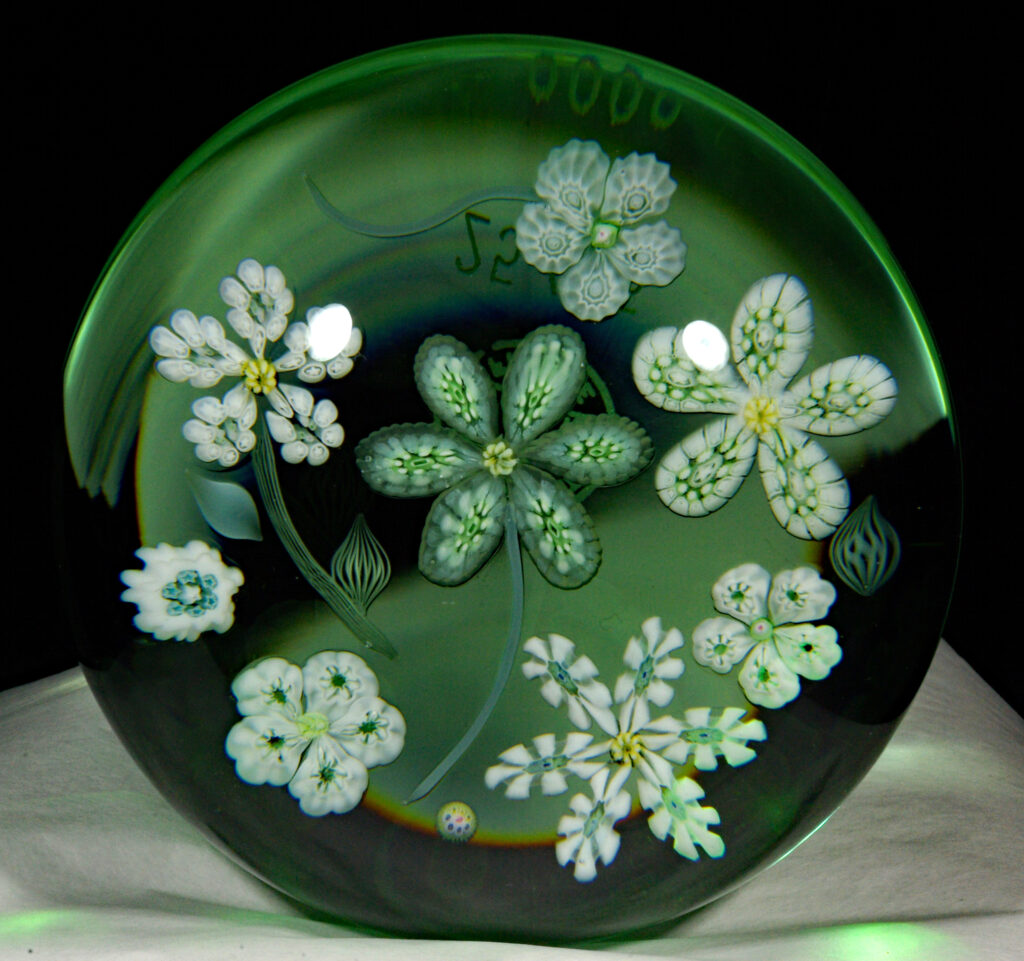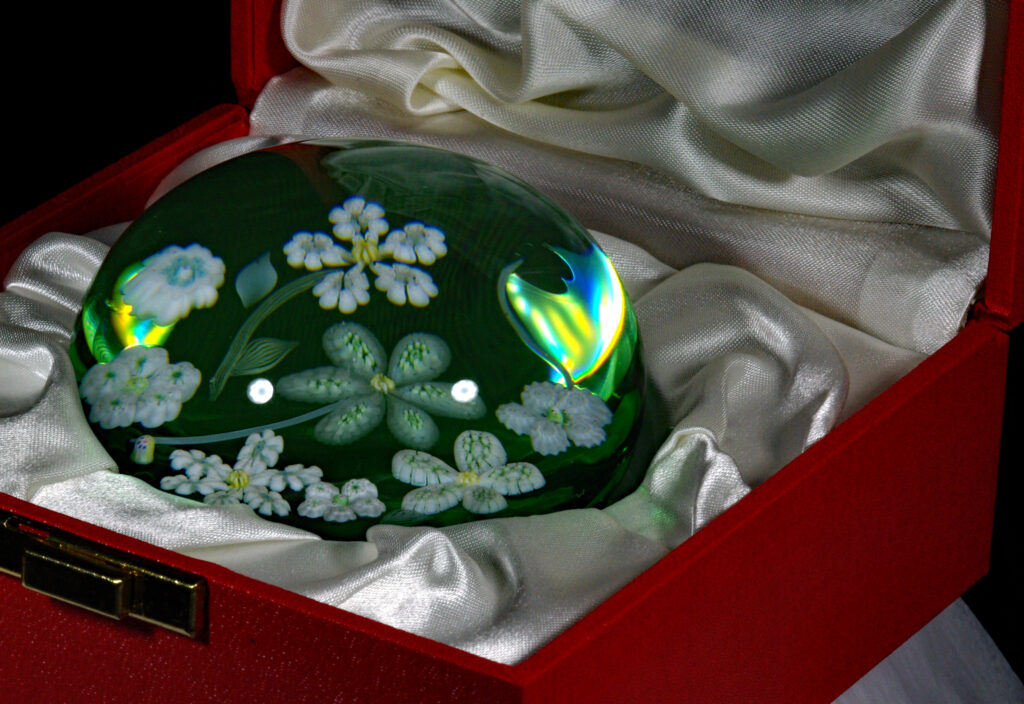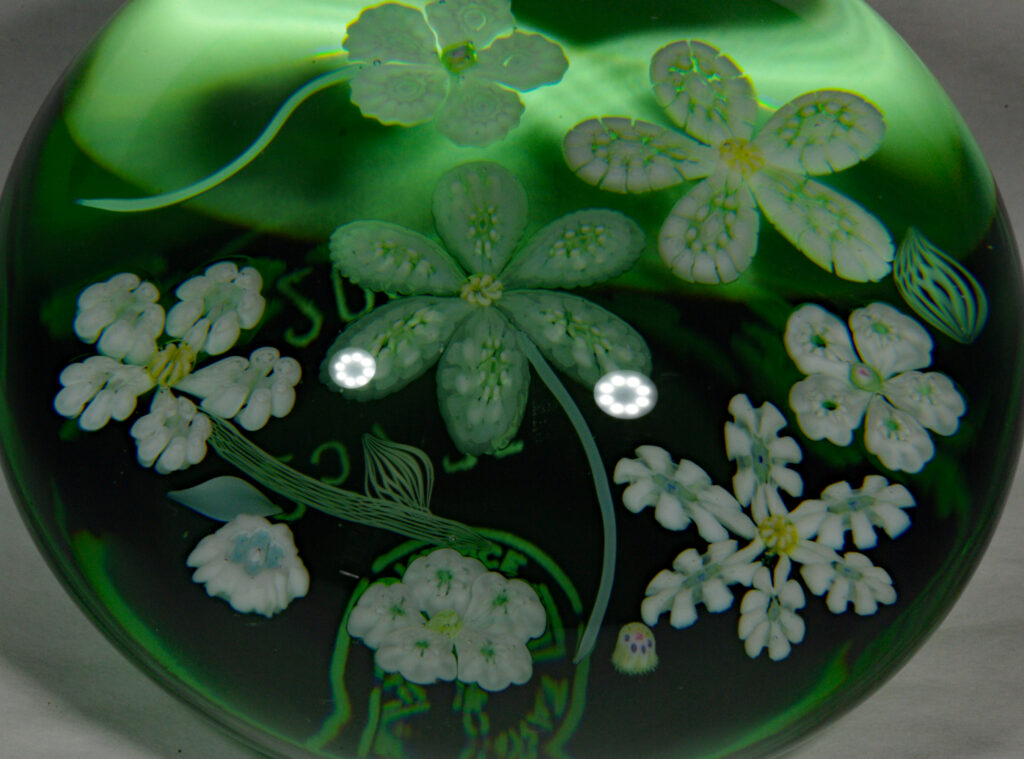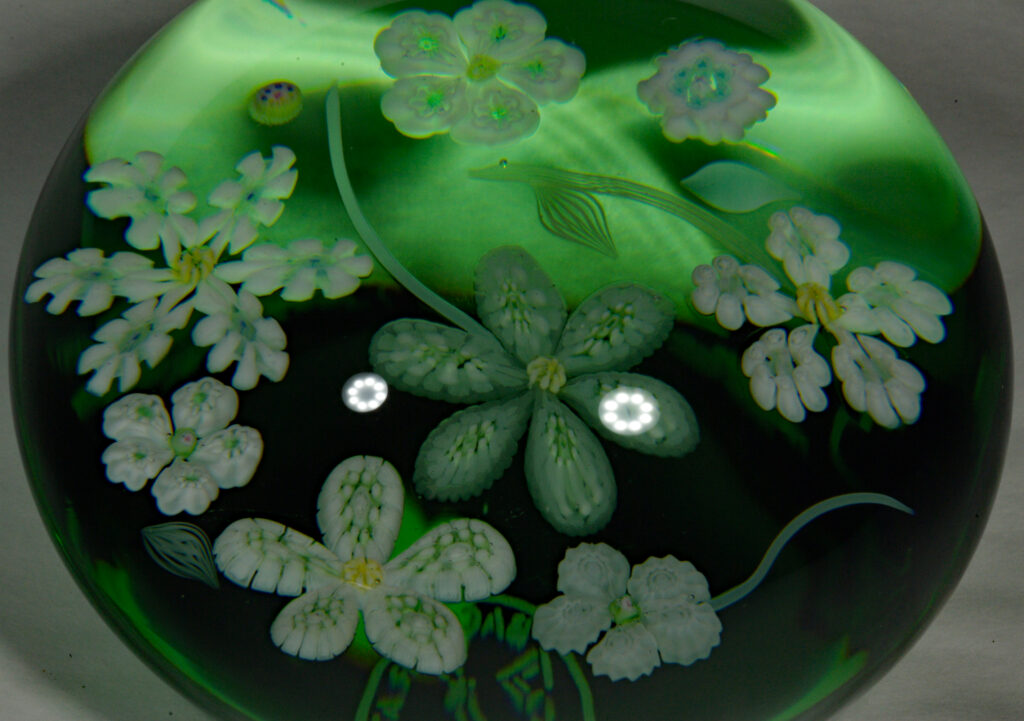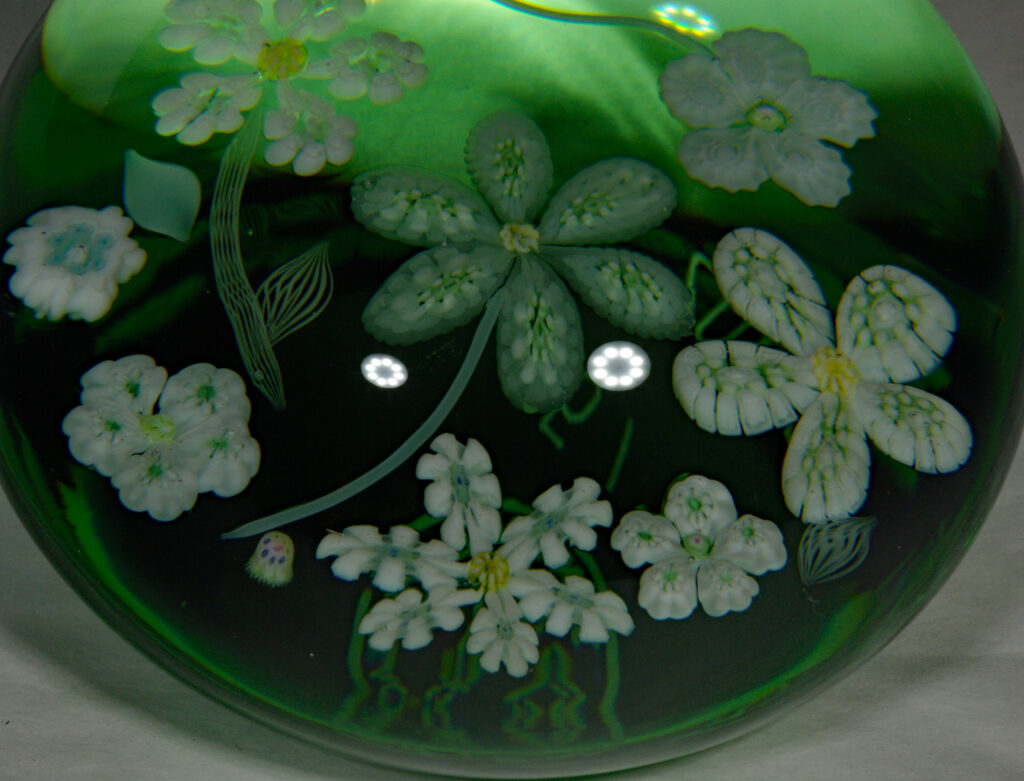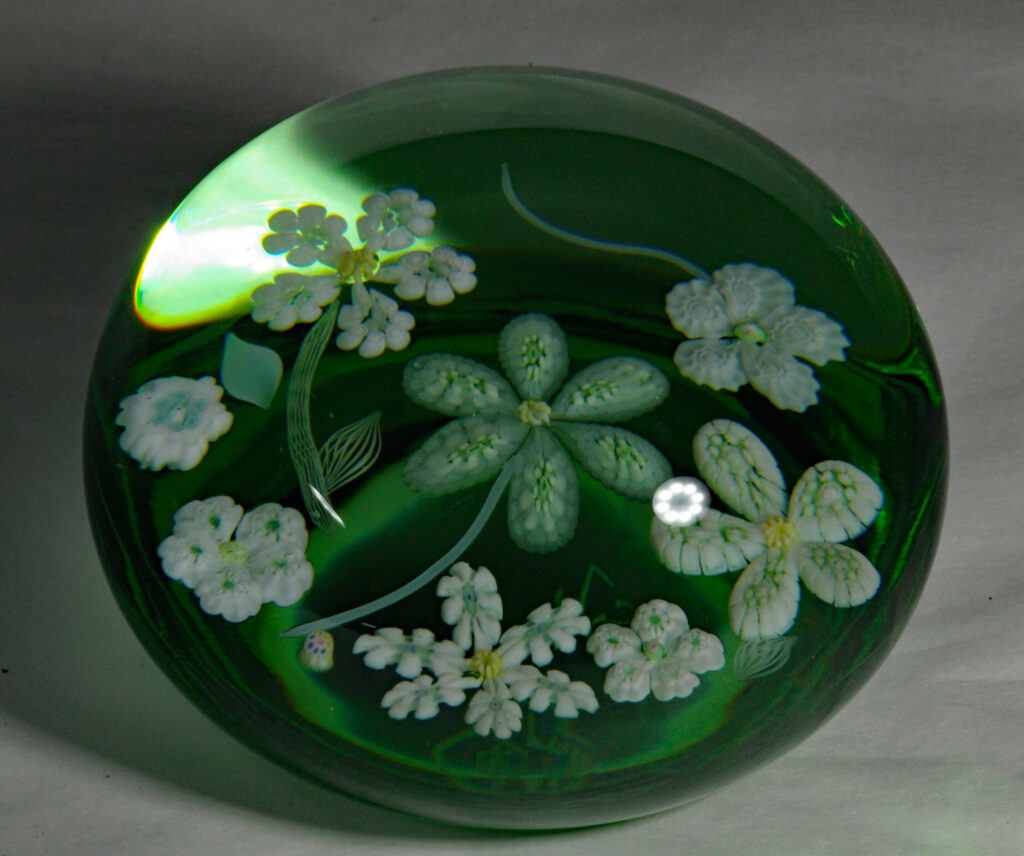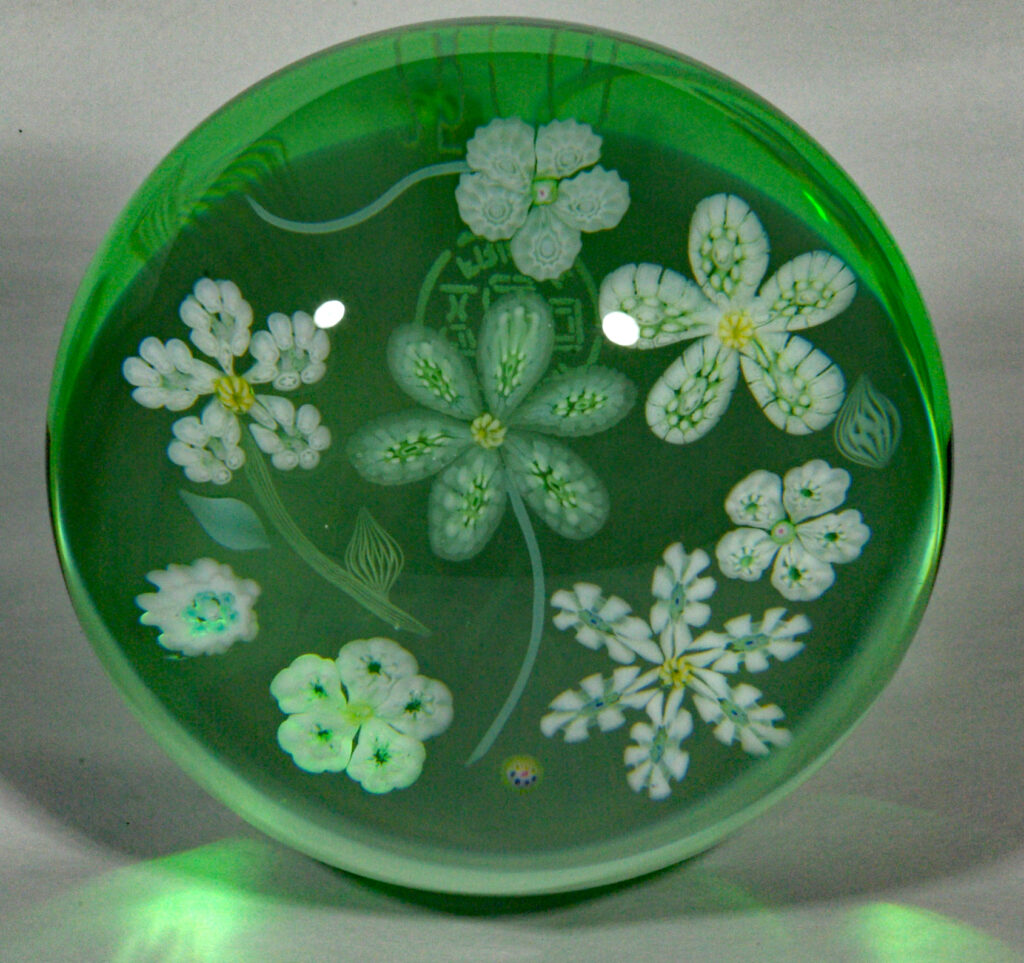 PW2780. Baccarat Modern Museum Piece 2002 Limited Edition of 75. Blossom Collection, designed by Caroline Quartemaine. Fleurs de jade. This exact same paperweight is pictured in Baccarat Paperweights: Two Centuries of Beauty by Paul Dunlop on page 253. Condition is excellent/pristine/as if new. Has box but no certificate. Limited edition of 75 and numbered 25/75 along with 2002 for the year and etched with the Baccarat logo. Since it was made in the final year of collector paperweight production for Baccarat, it may be the last fabulous paperweight they ever produced. Of course, there's no way of telling. 3 1/8 inch diameter; 2 1/8 inches tall; one pound and five ounces. $950 SOLD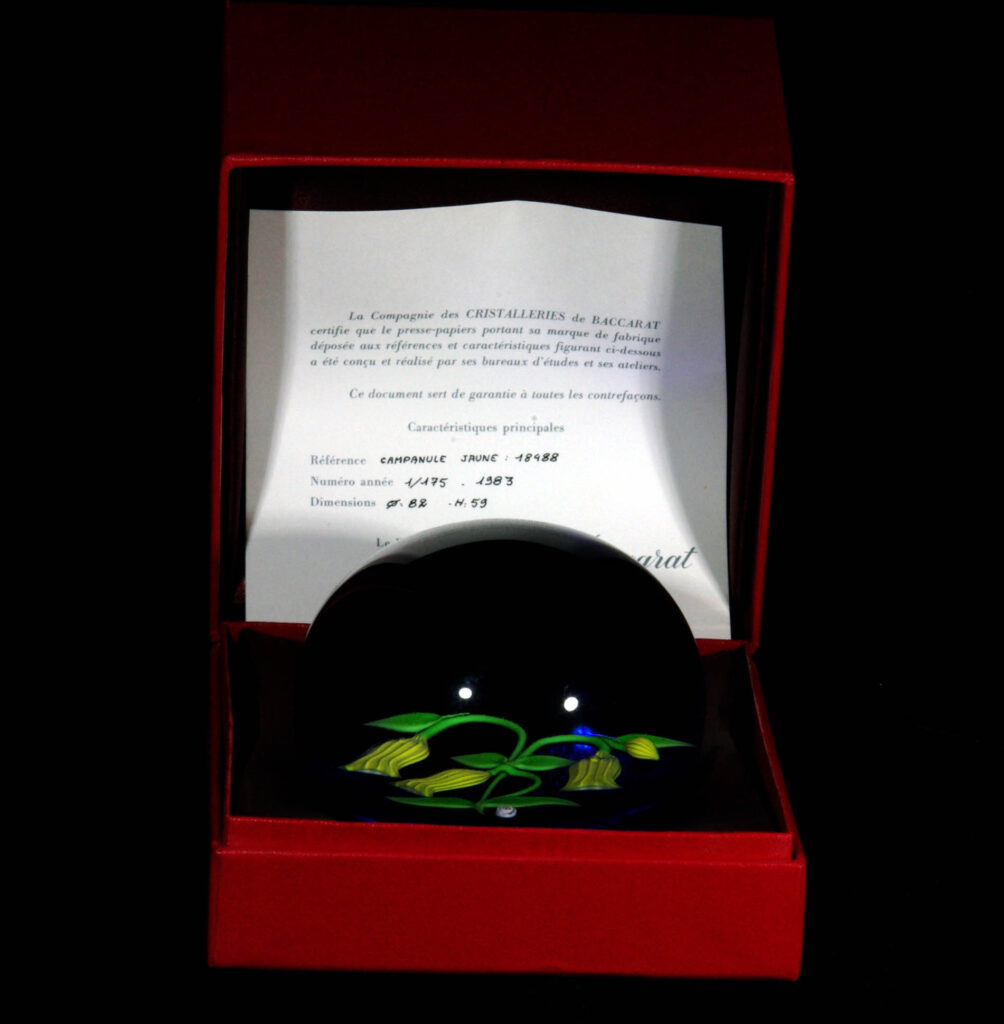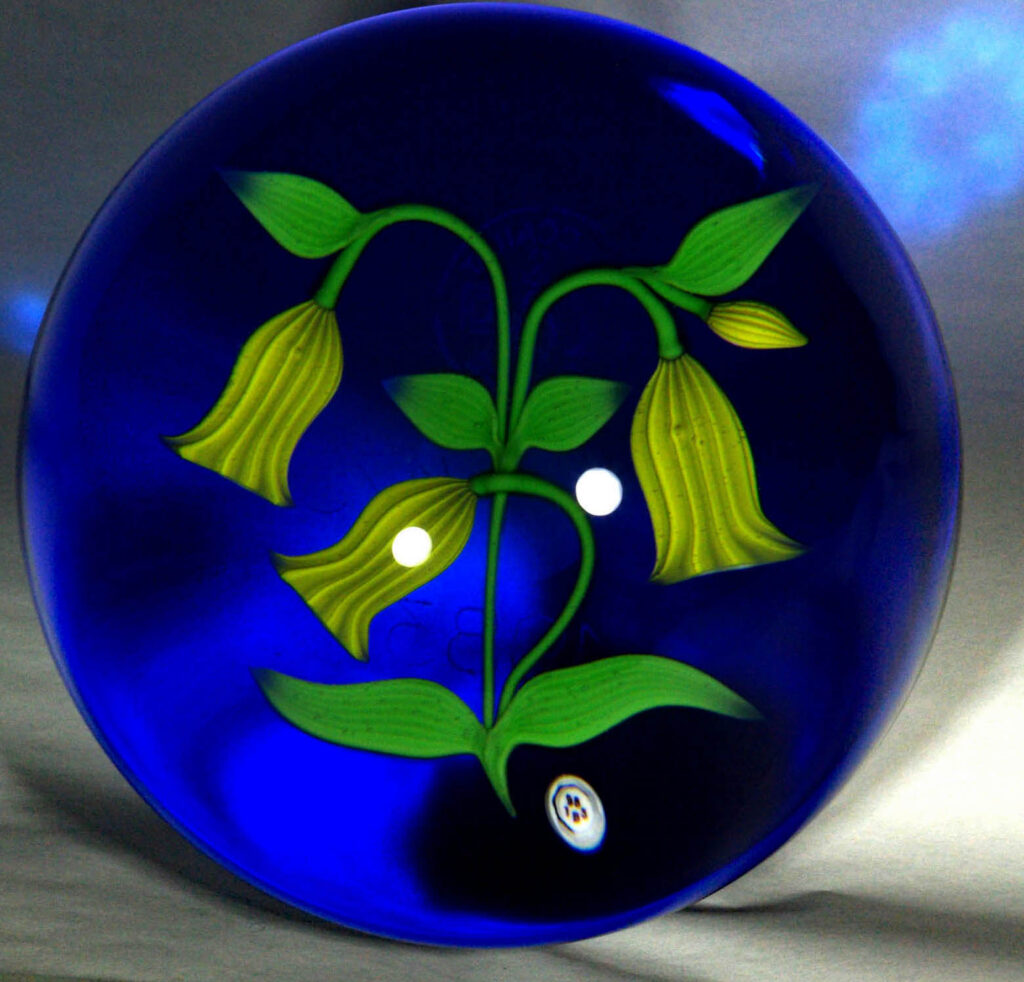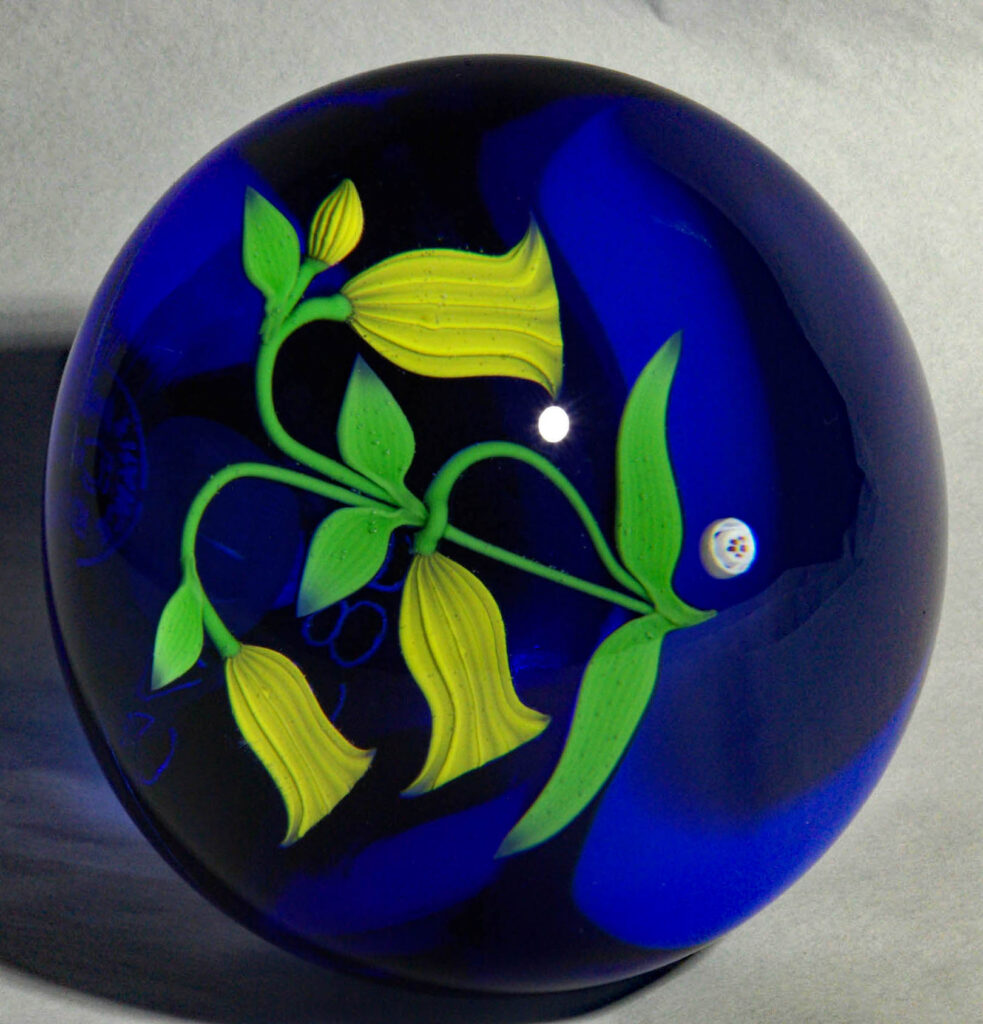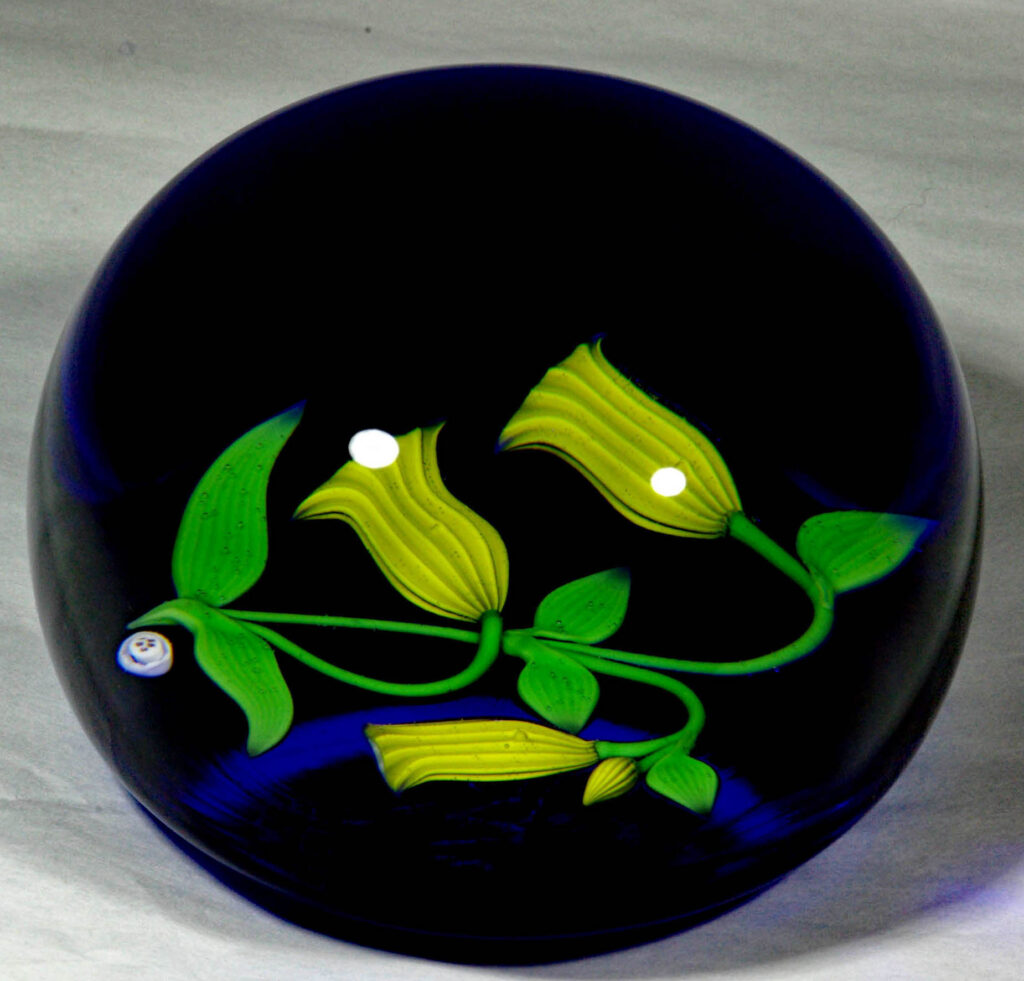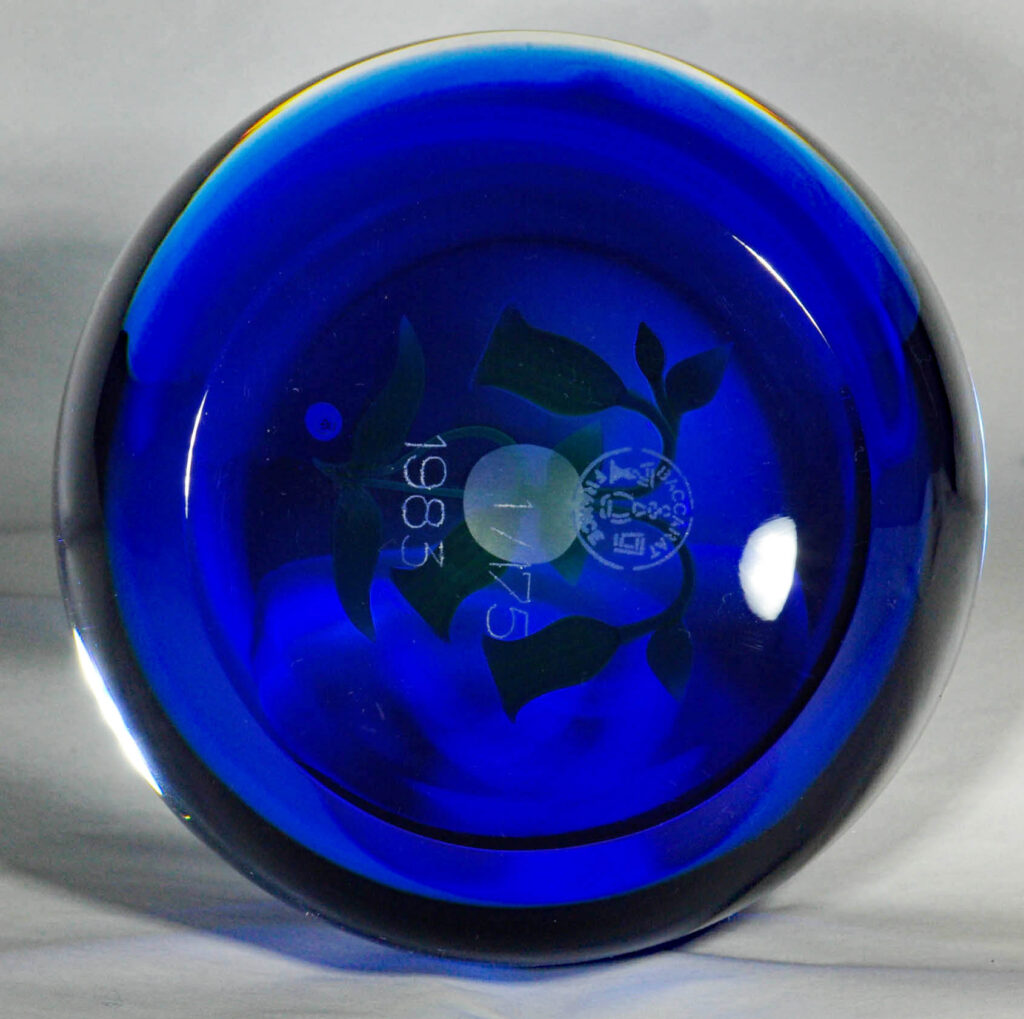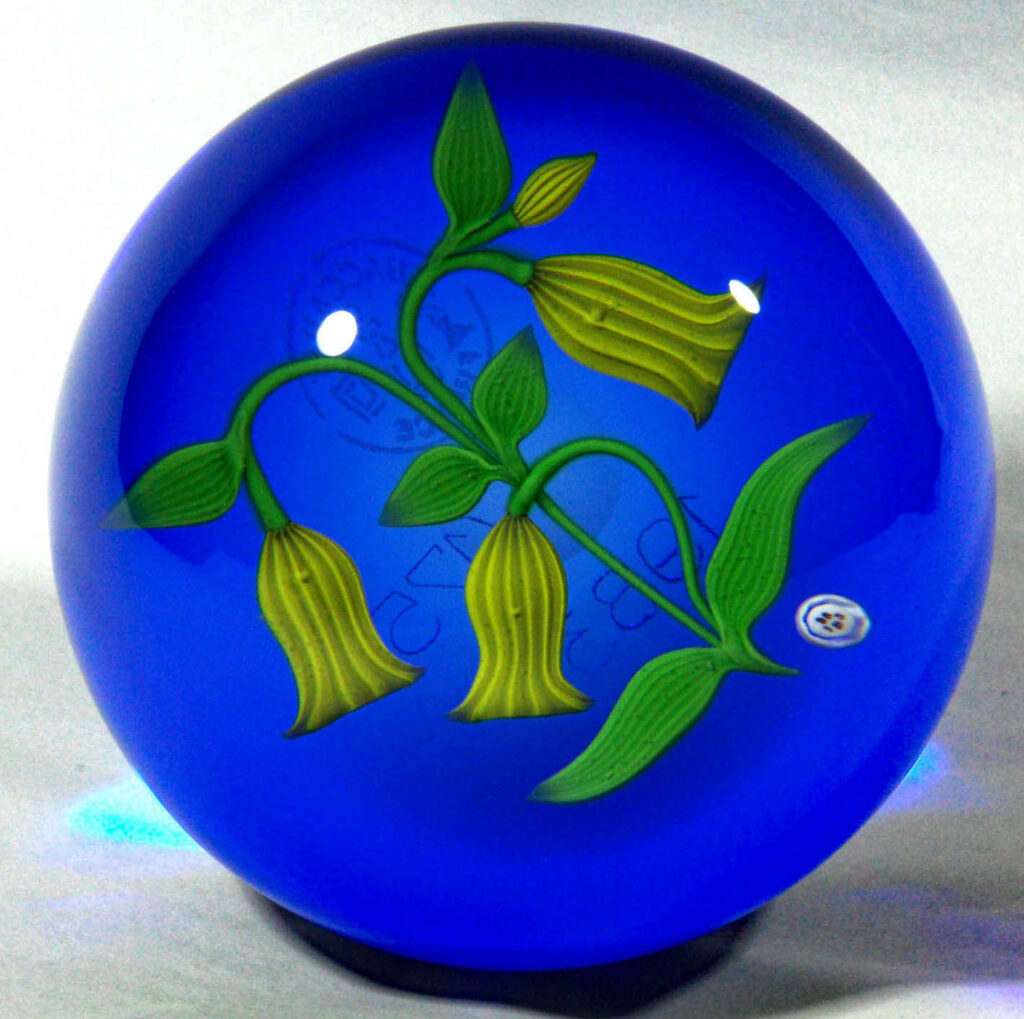 PW2733. Baccarat Magnum Modern Museum Piece 1983 Limited Edition of 175 – NUMBER ONE. Campanule jaune sur fond bleu.
Three yellow gentians over a blue flash ground. Gem-like. Condition is excellent/essentially perfect. Limited edition of 175 and numbered 1/175 along with 1983 for the year and etched with the Baccarat logo. Comes with box and original certificate of authenticity. 3 1/4 inch diameter; 2 5/16 inches tall; one pound and nine ounces. $600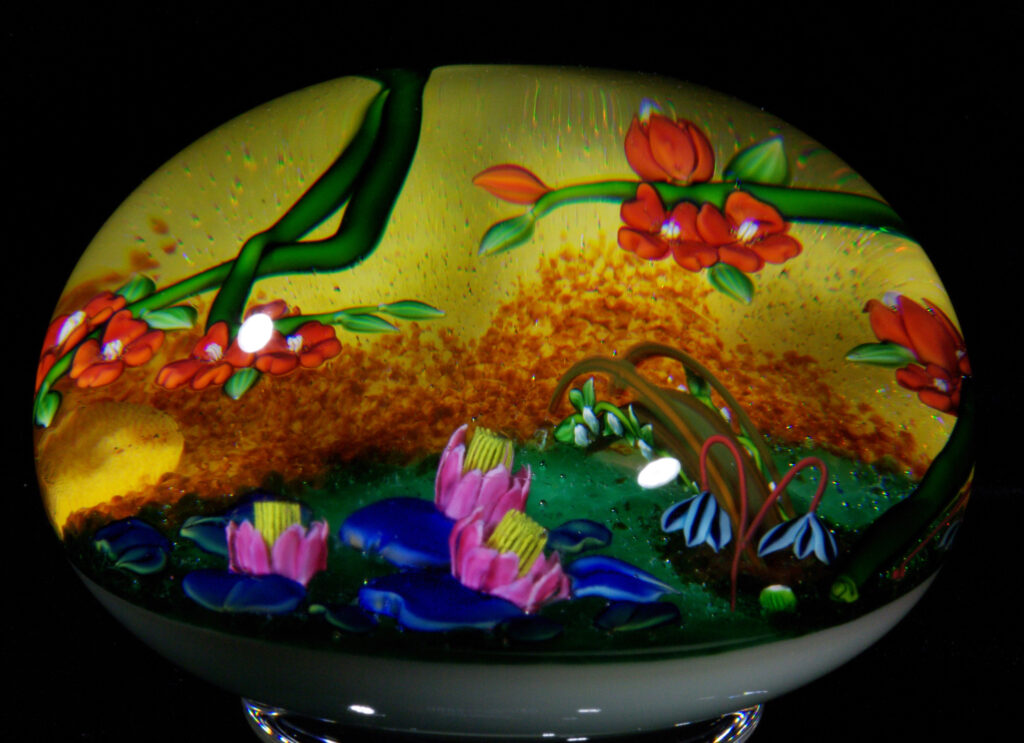 Here's a real Baccarat beauty. Note that from this perspective you are gazing across the lily pond in a Japanese garden and the sun is just rising to the left. while flowering vines dangle from above. A tour de force. I took lots of pictures to show off this one, click here.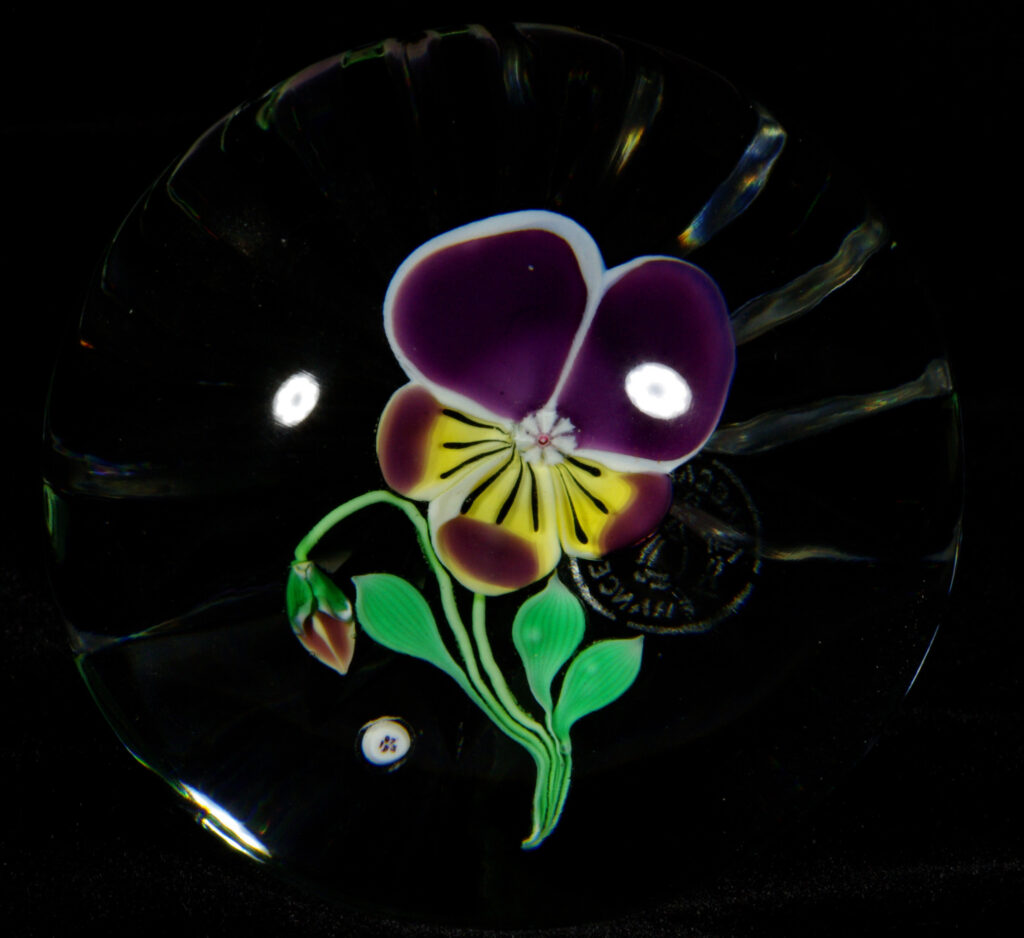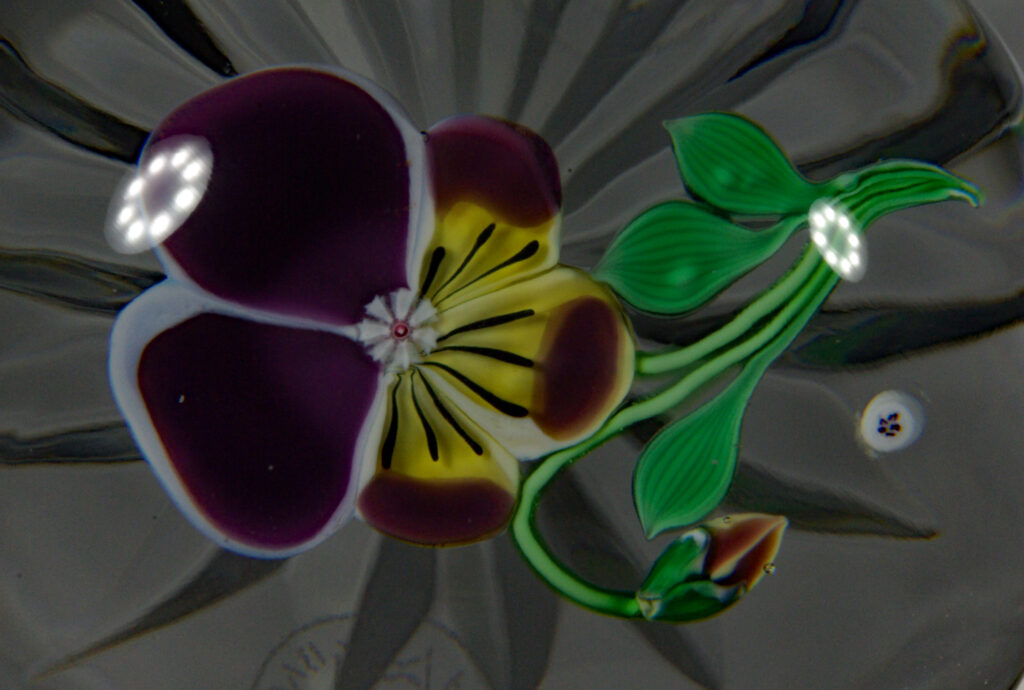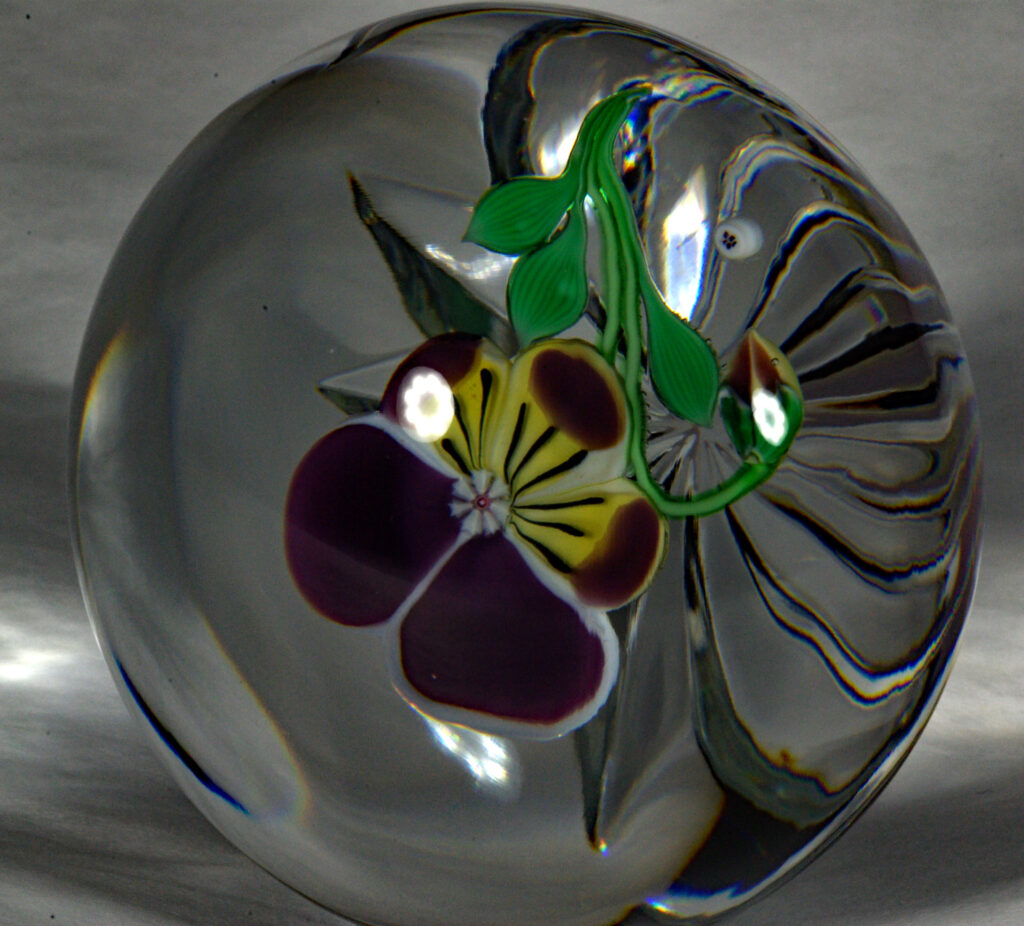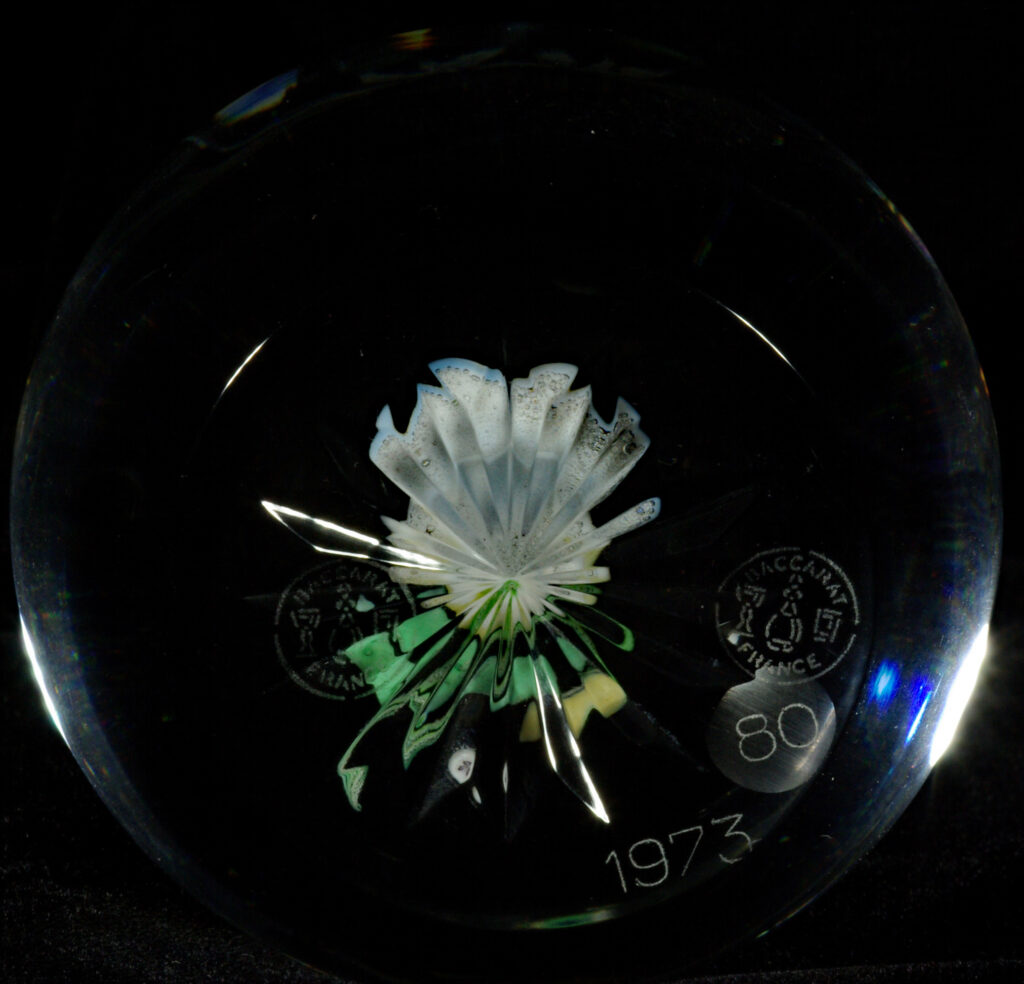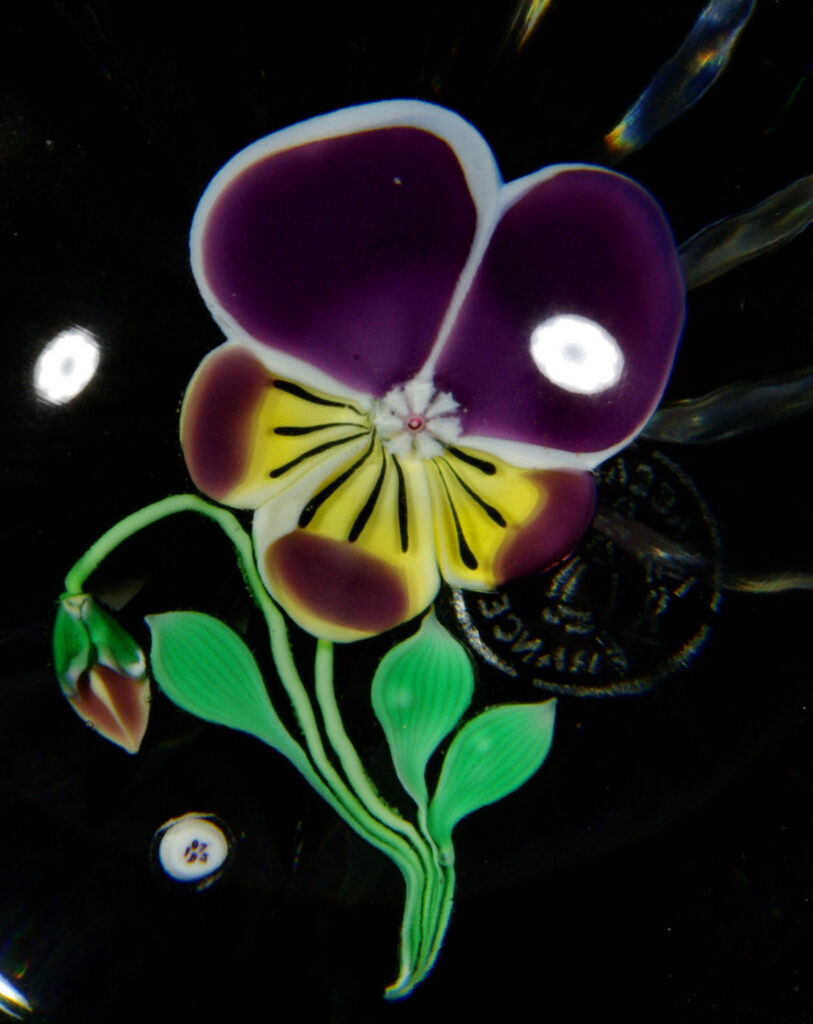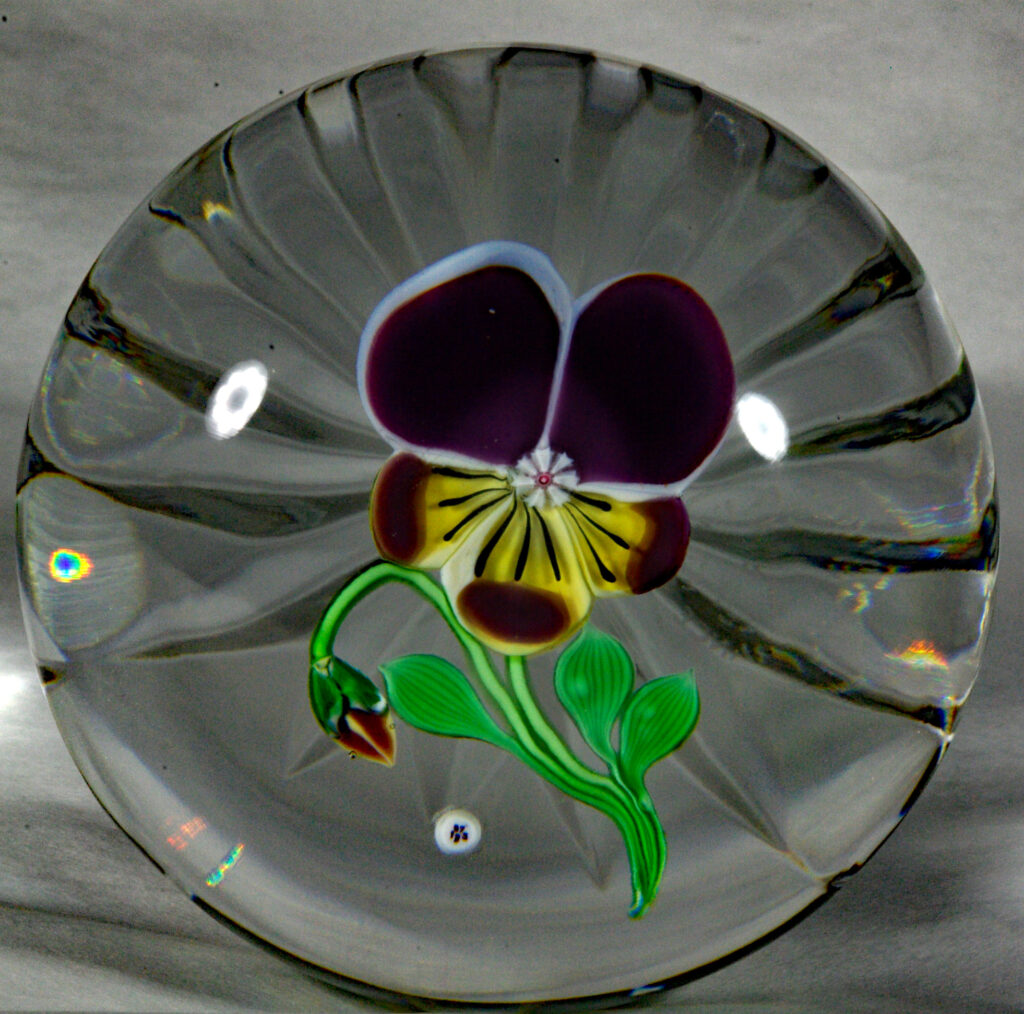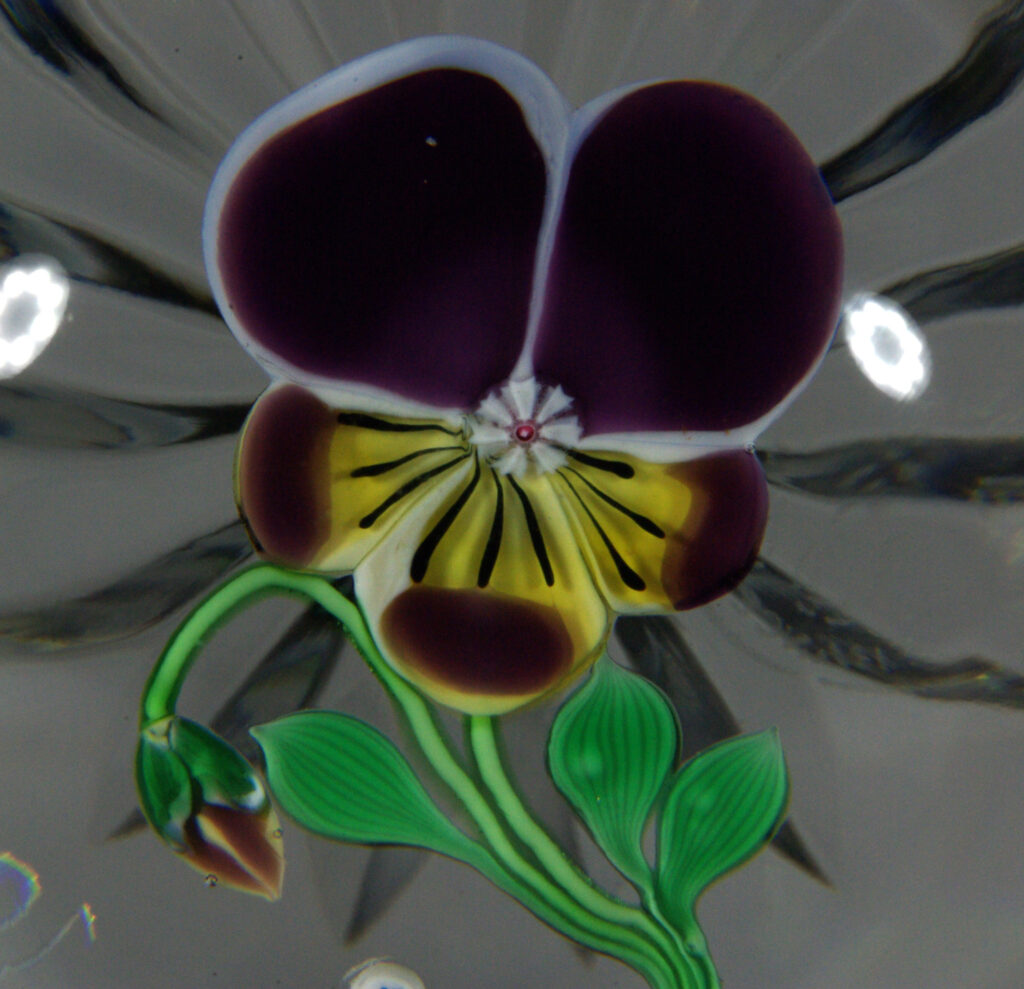 PW1232. Baccarat Modern Museum Piece 1973 Pansy on Starcut Crystal Ground. This was not part of a numbered edition. Nice pansy. Condition is excellent/pristine. Engraved 80 along with 1973 for the year and etched with the Baccarat logo twice, date cane in base. 3 inch diameter; 2 inches tall; one pound and three ounces. $400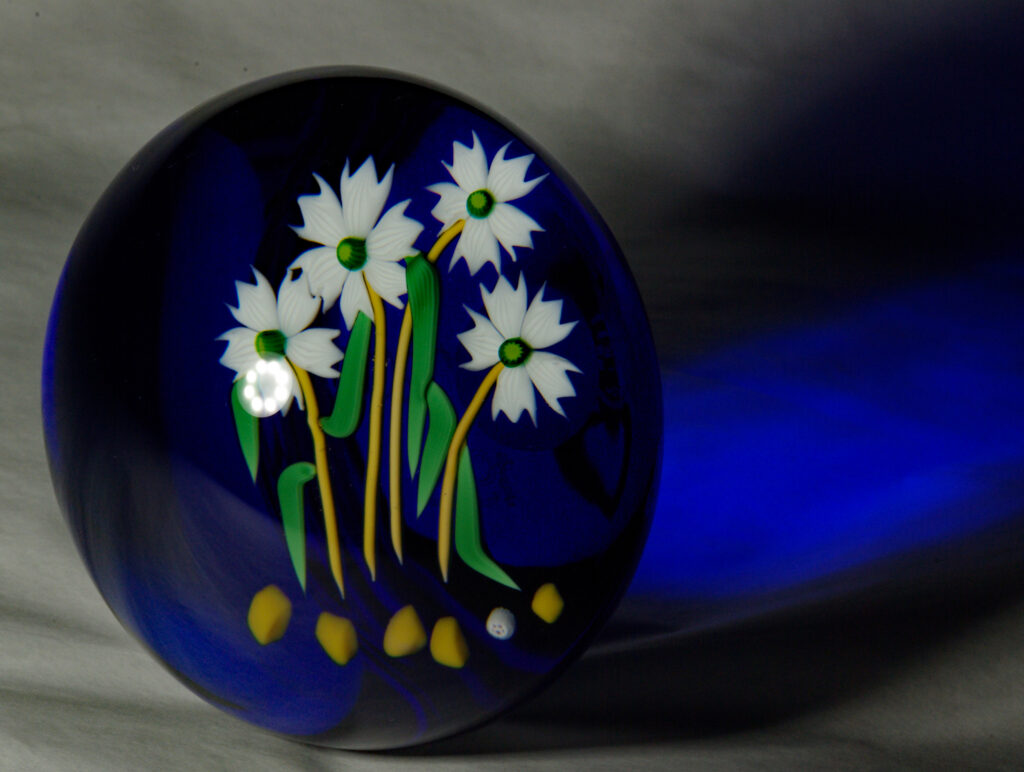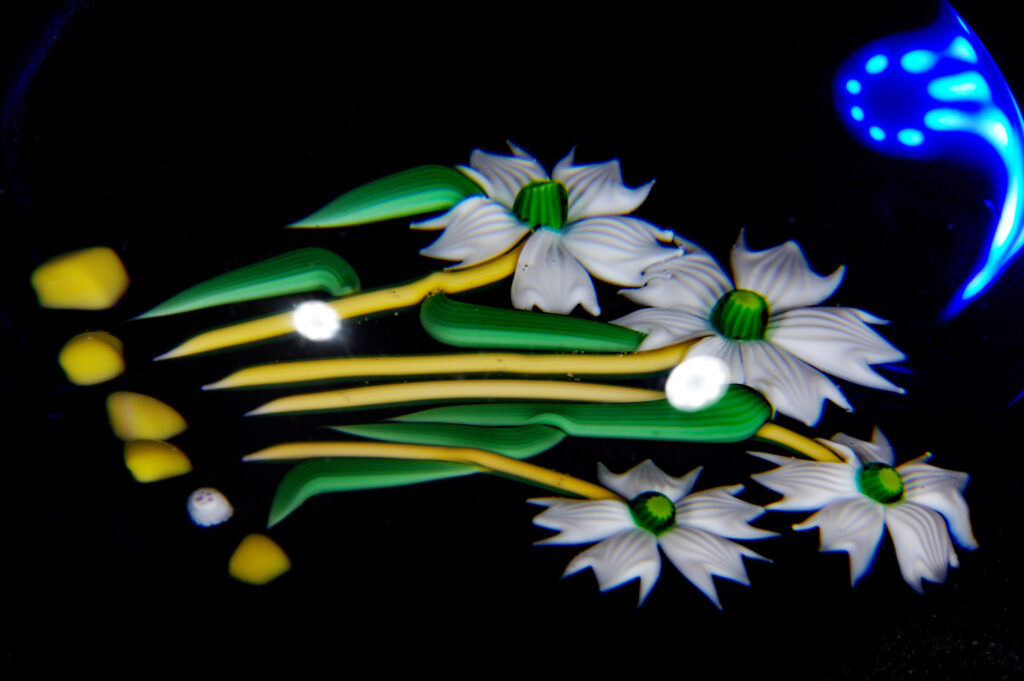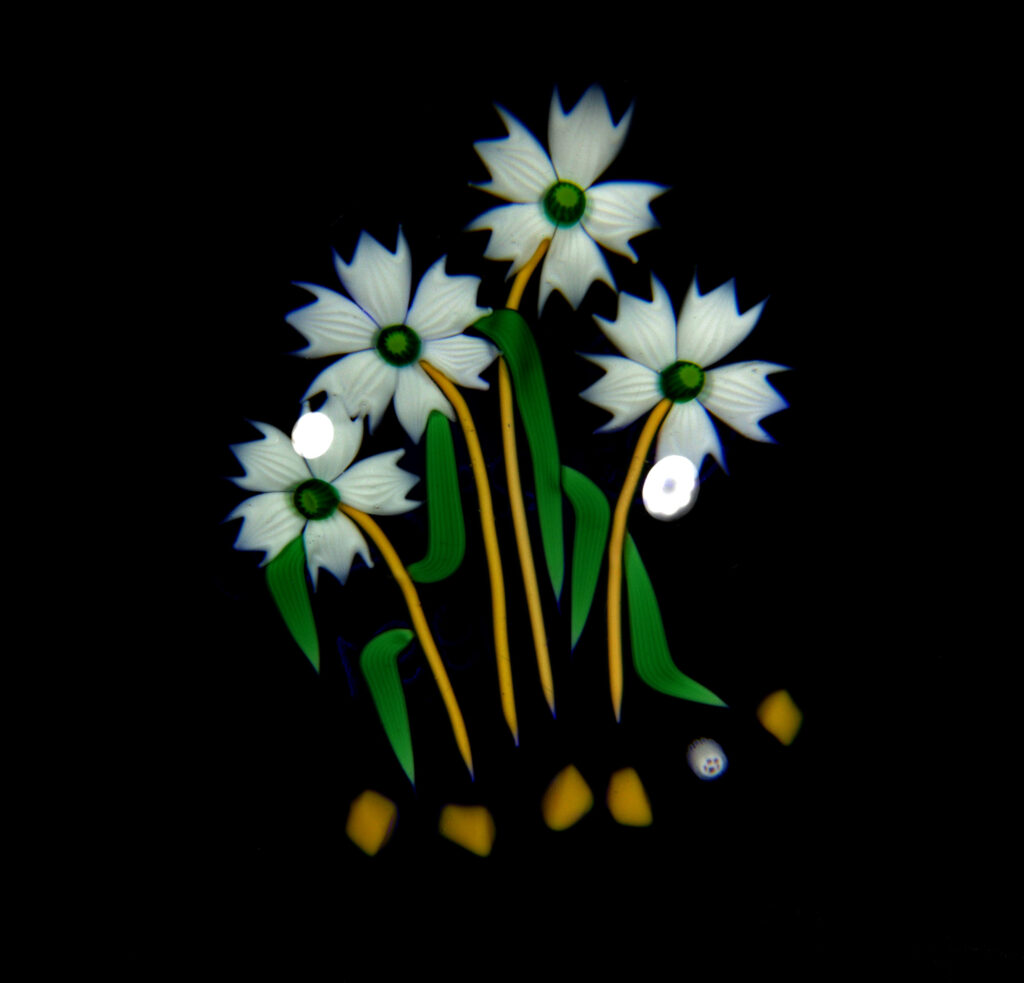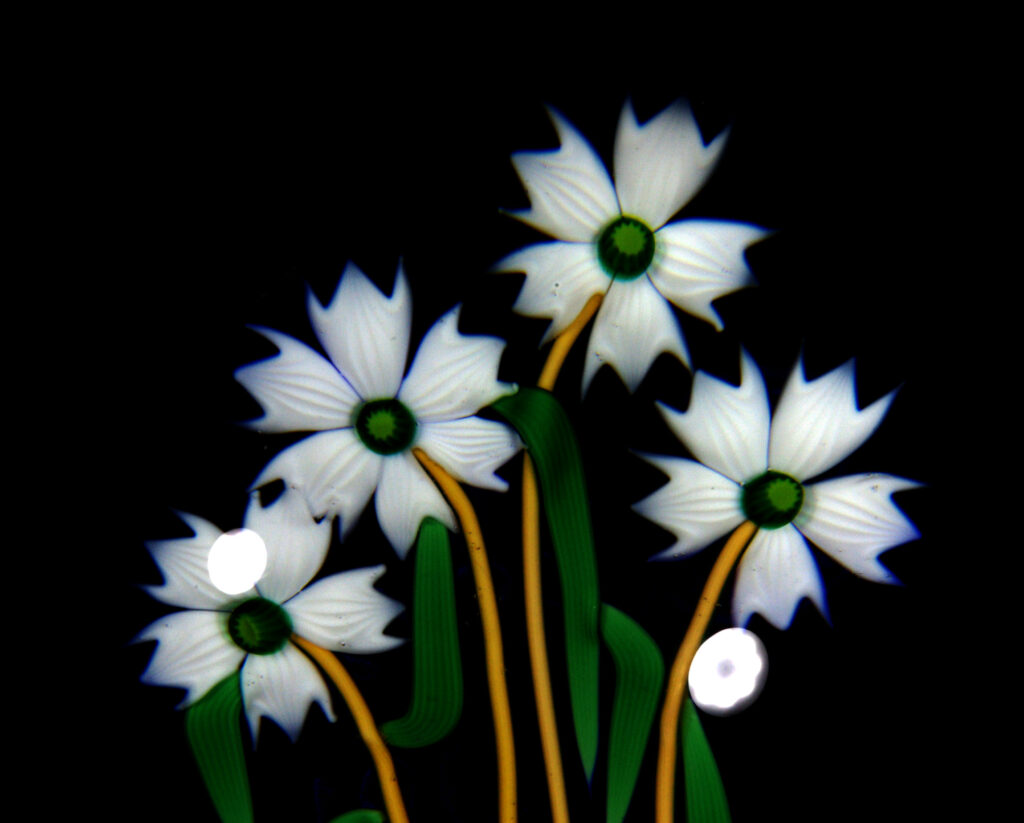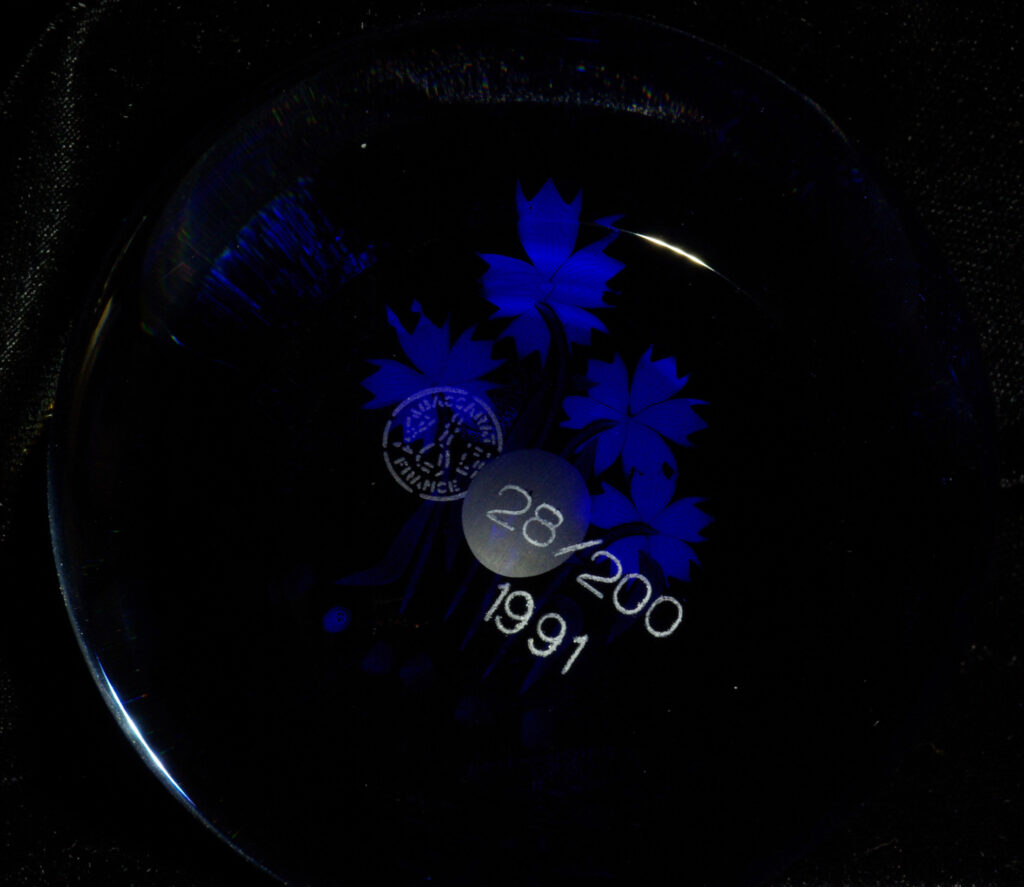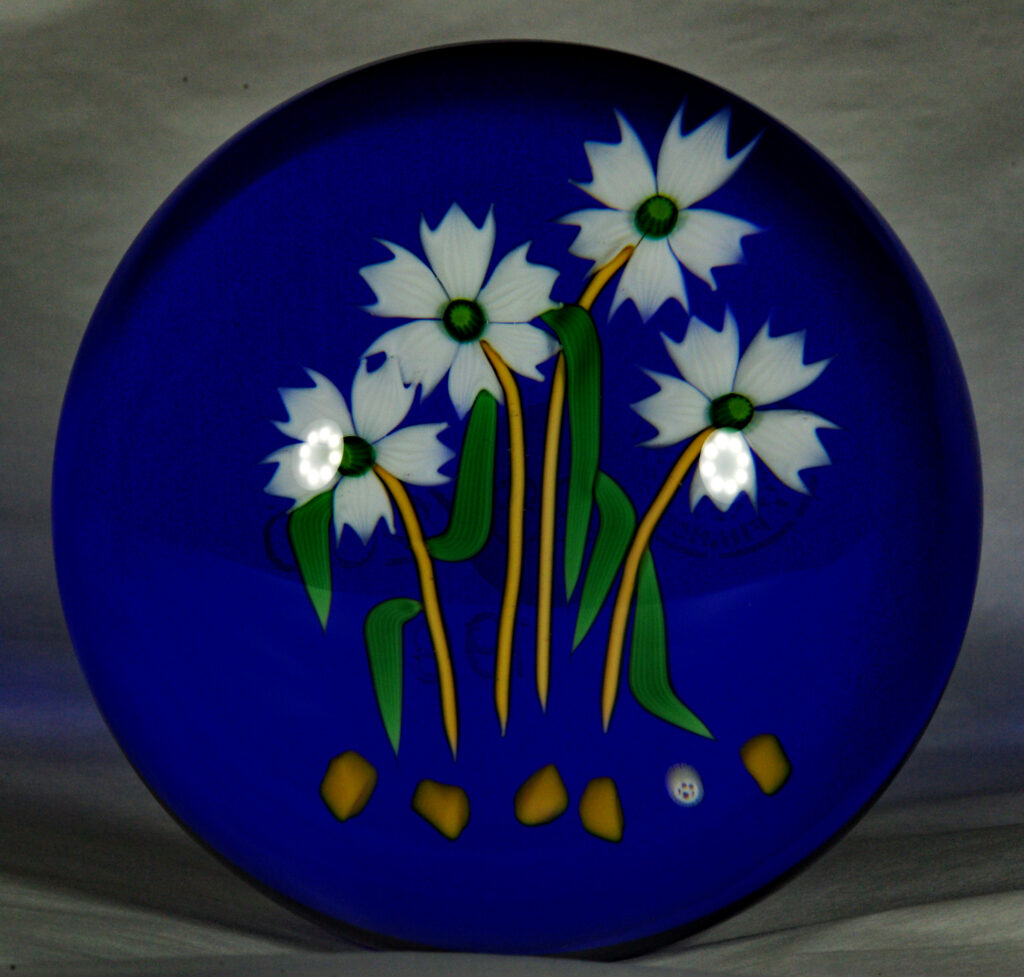 PW2601. Baccarat Magnum-size Museum Piece Limited Edition 1991 28/200. Very lovely and intricate white carnations over a translucent blue ground. Excellent condition, pristine. This paperweight (this very one not just one of the other 199 made that year) is pictured in the most complete Baccarat book ever published, Baccarat Paperweights: Two Centuries of Beauty by Paul Dunlop on page 216. Signature cane in the ground "B1991". Base etched with Baccarat logo and engraved "1991 28/200. 3 3/8 inch diameter; 2 1/4 inches tall; one pound and eight ounces. $650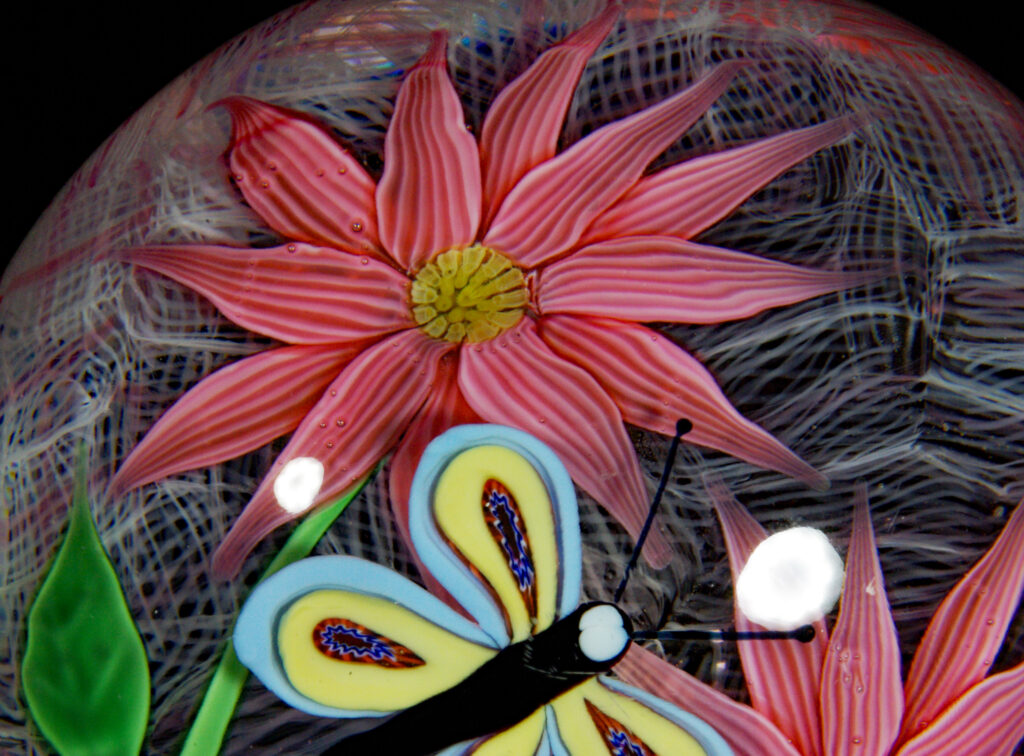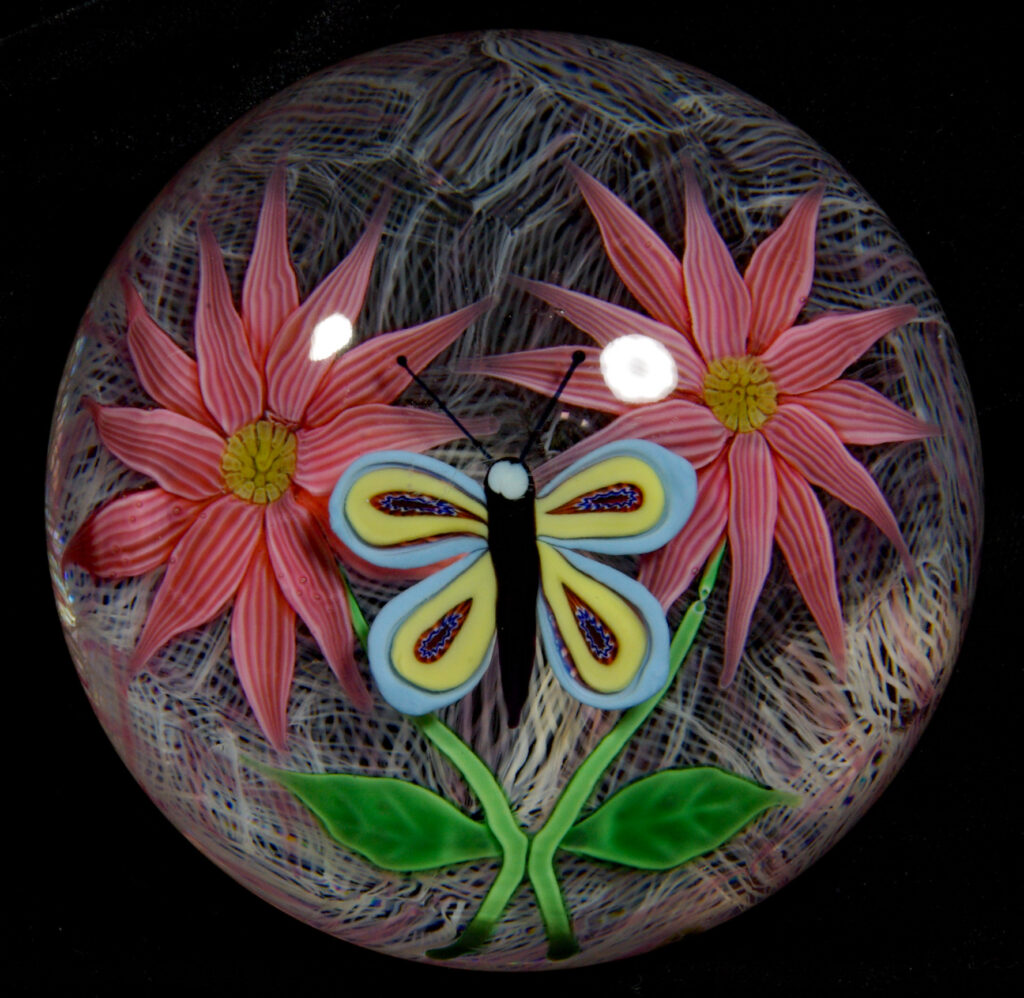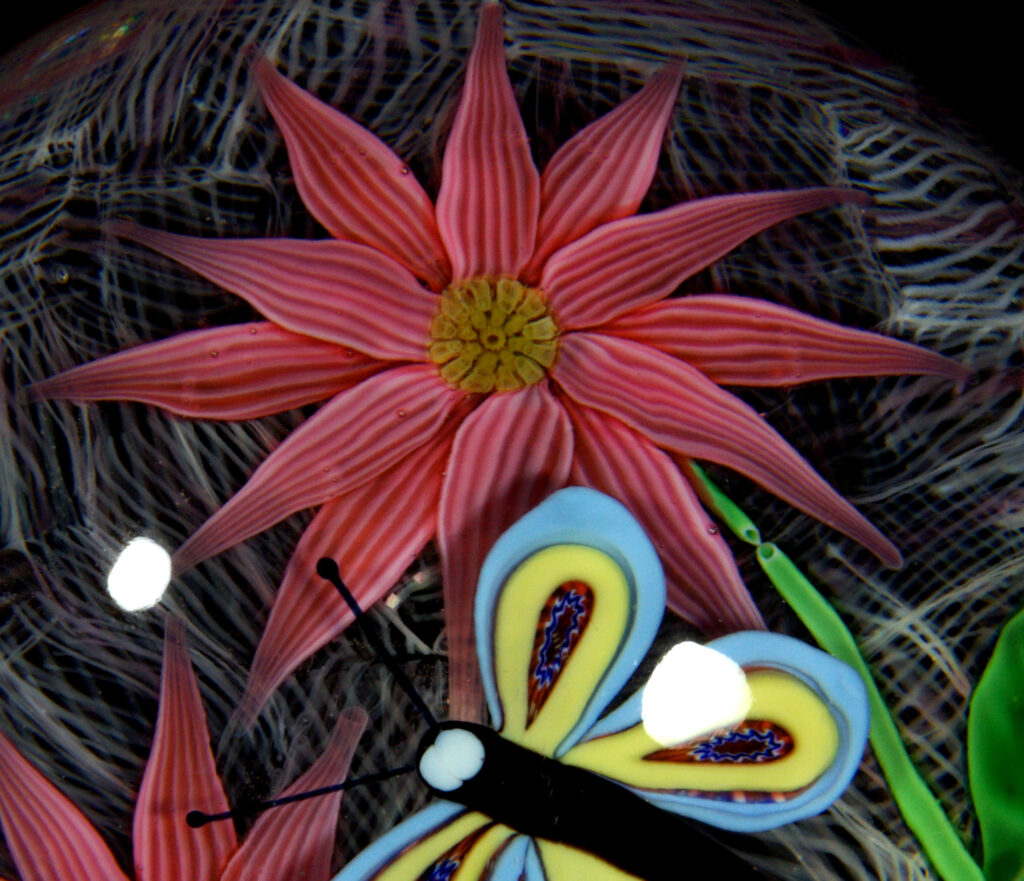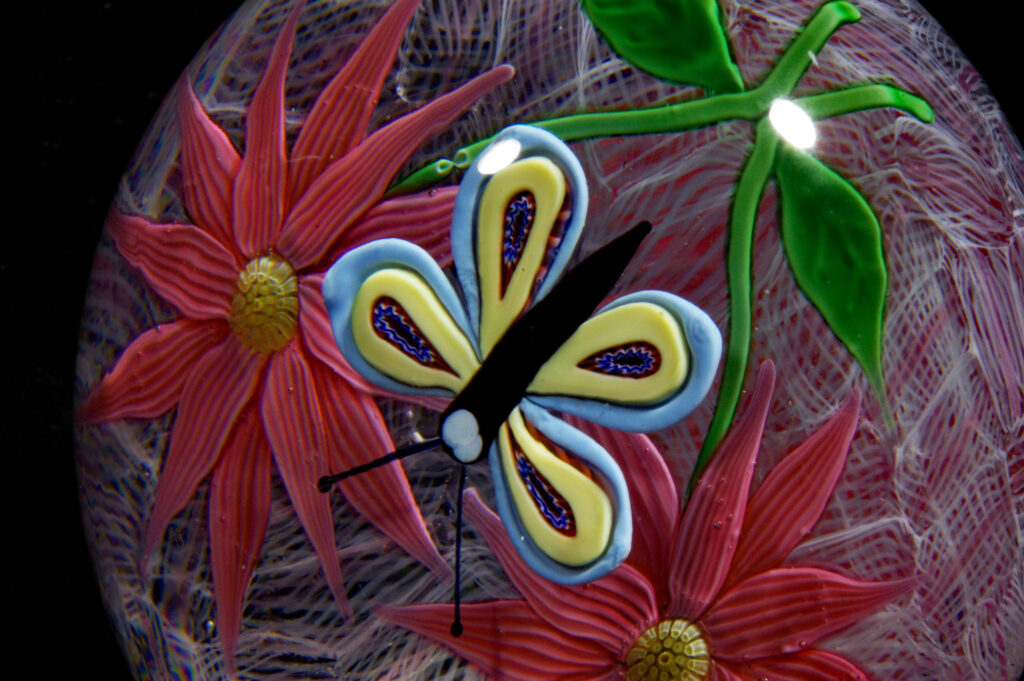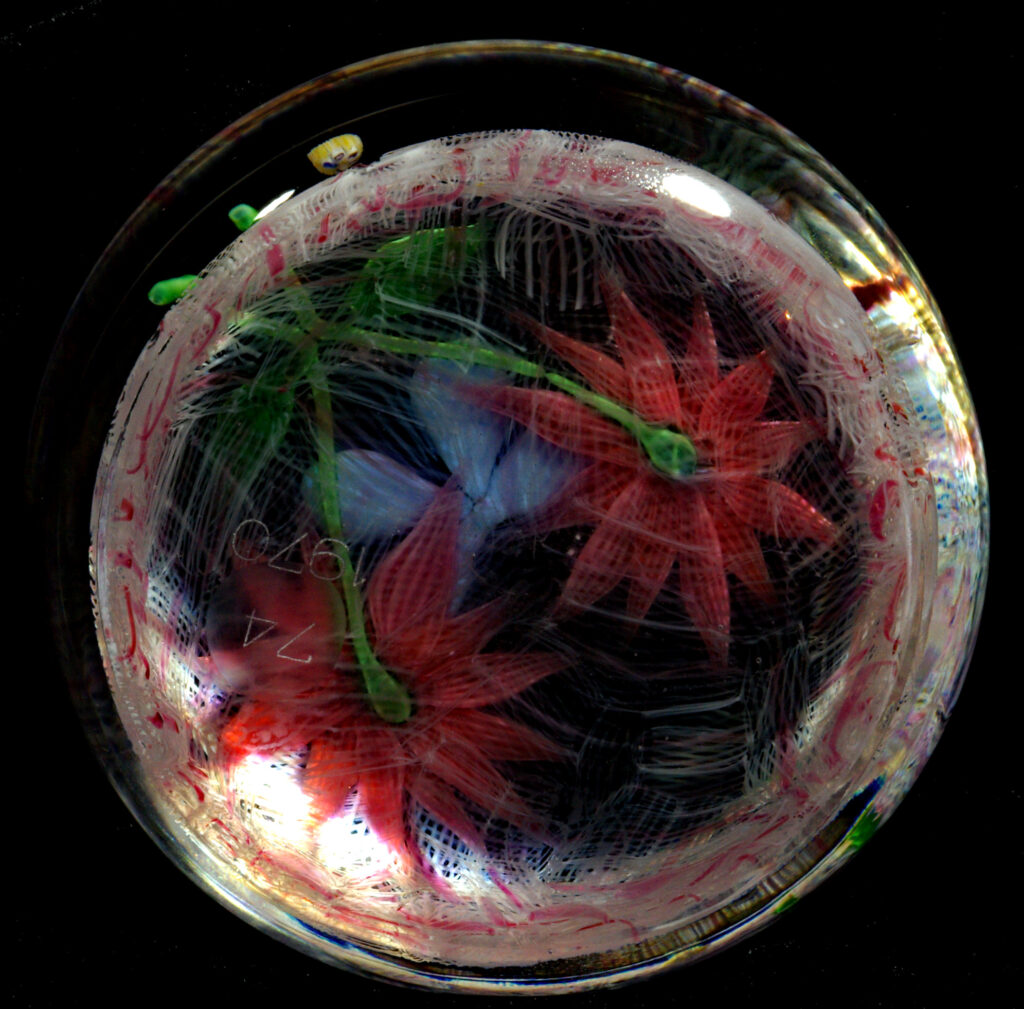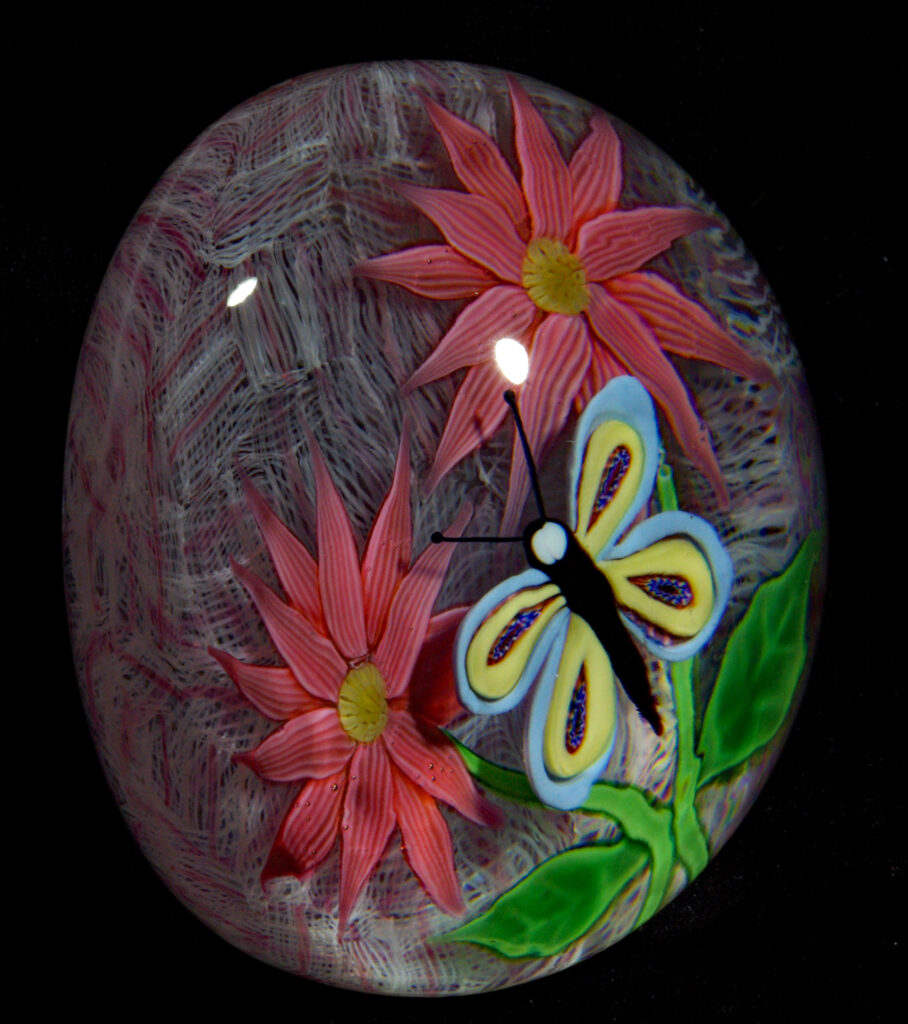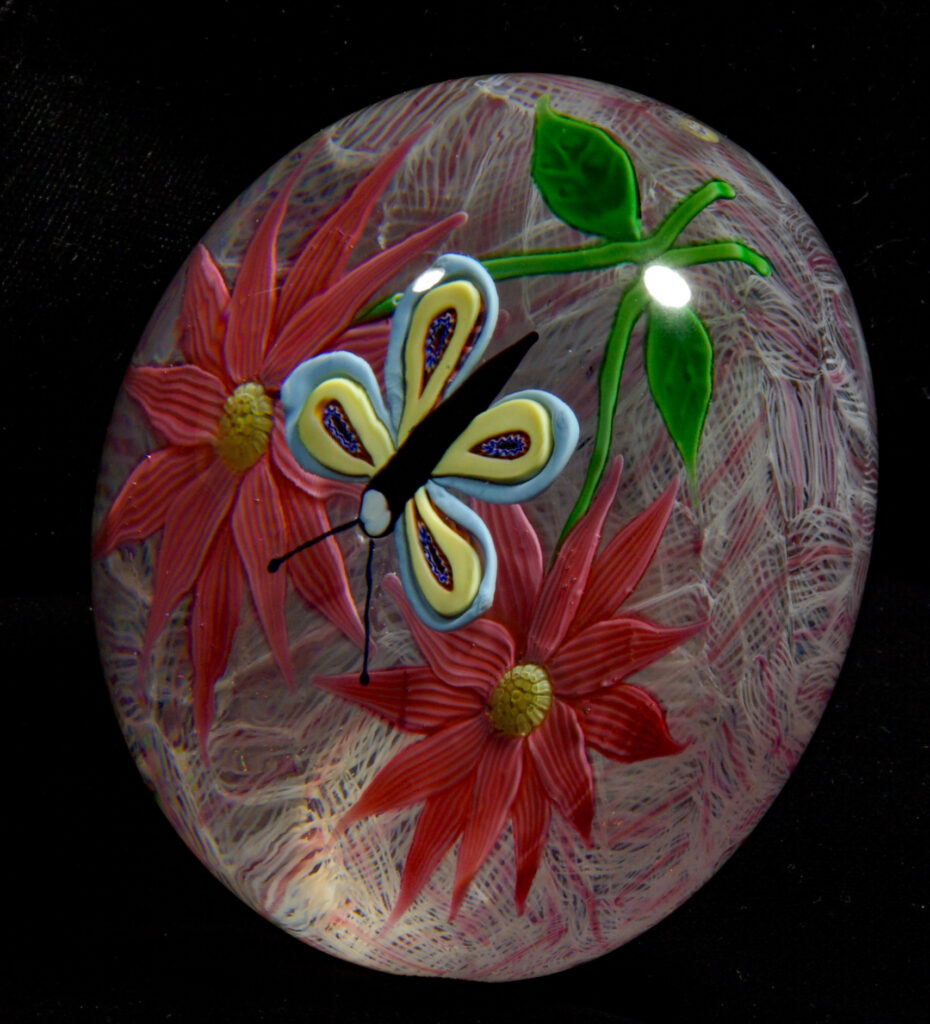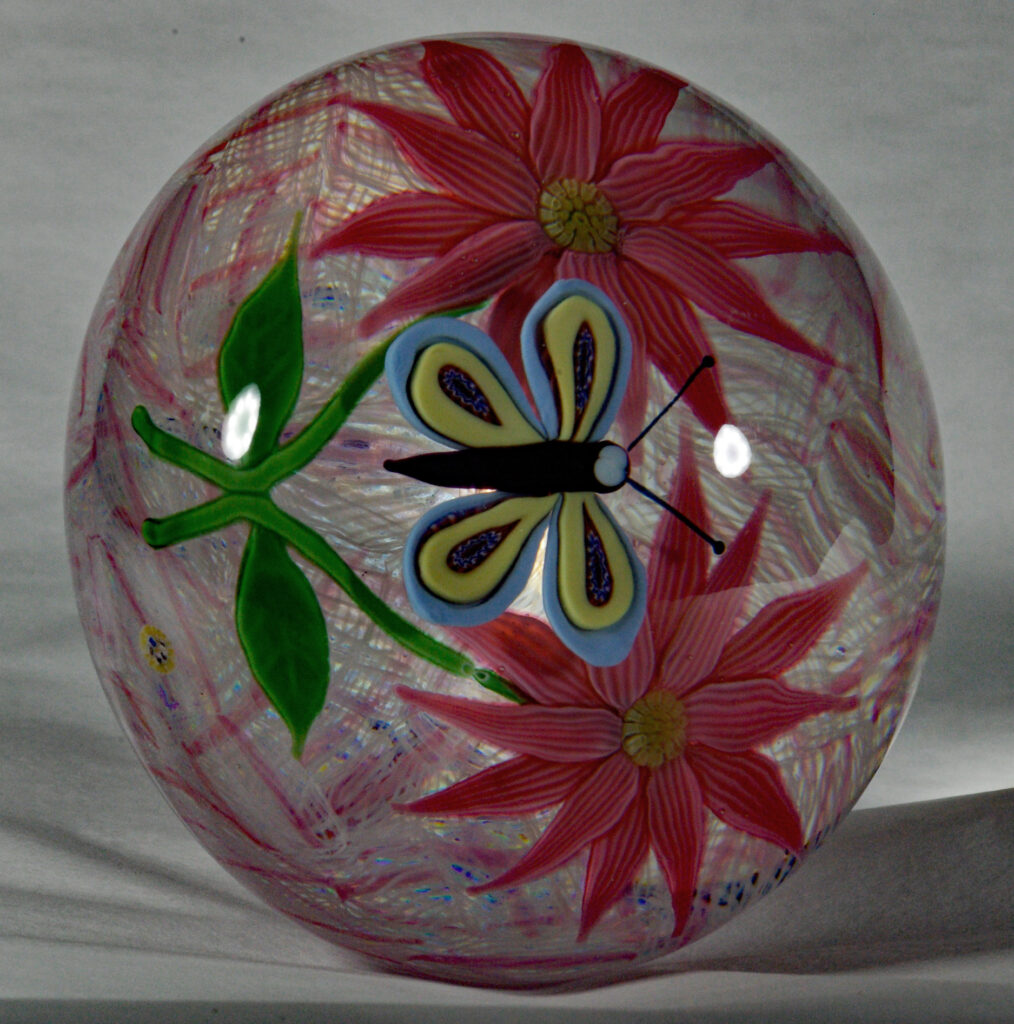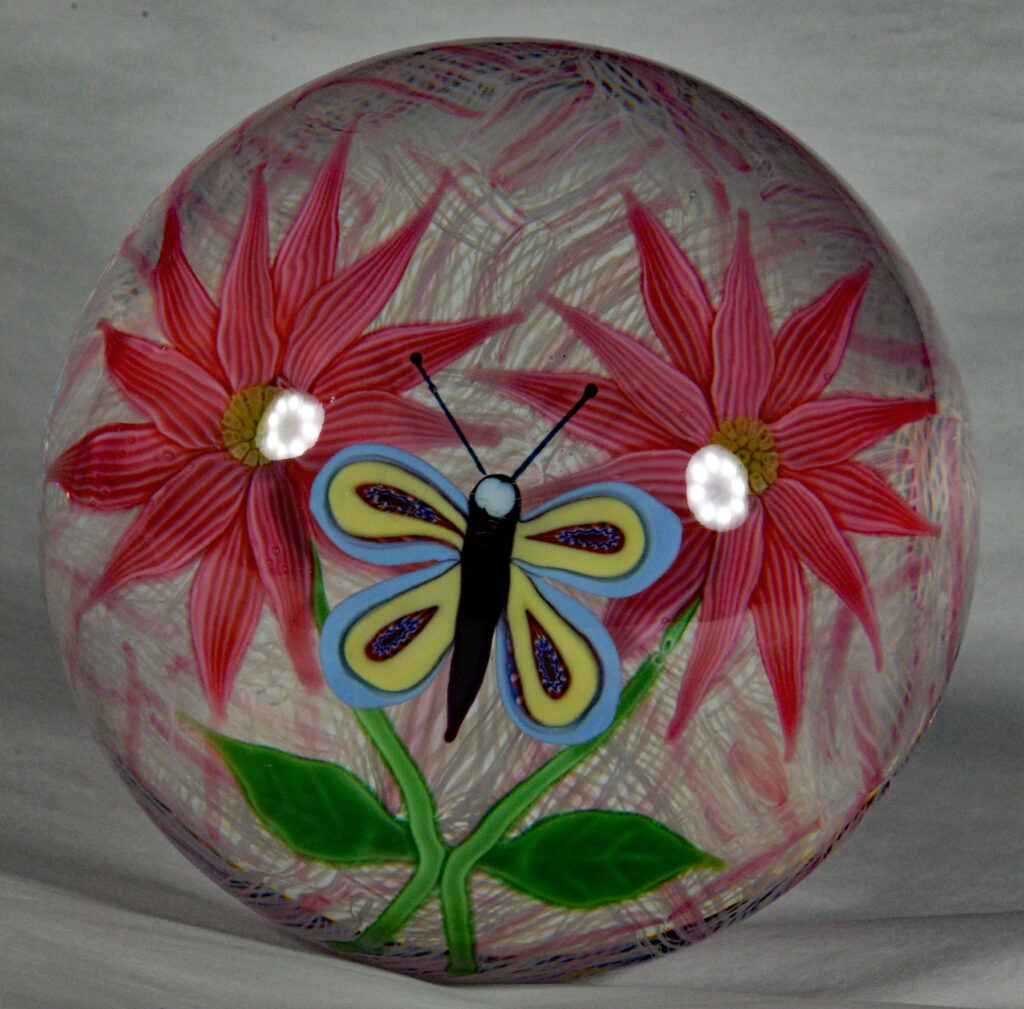 PW3073. Baccarat 1970 Museum Piece: Butterfly over two dahlias on muslin ground. One off. Baccarat butterfly weights have been popular since the mid-19th Century. This is an especially nice one with attractive symmetry. The pink dahlias float just about a pink and white filigree cushion and the butterfly floats above it all. The centers of the wings are millefiori canes. The work nicely fills the crystal dome. Signature cane in the ground "B1970". Base etched with Baccarat logo and engraved "1970 74". 3 3/16 inch diameter; 2 inches tall; one pound and five ounces. $750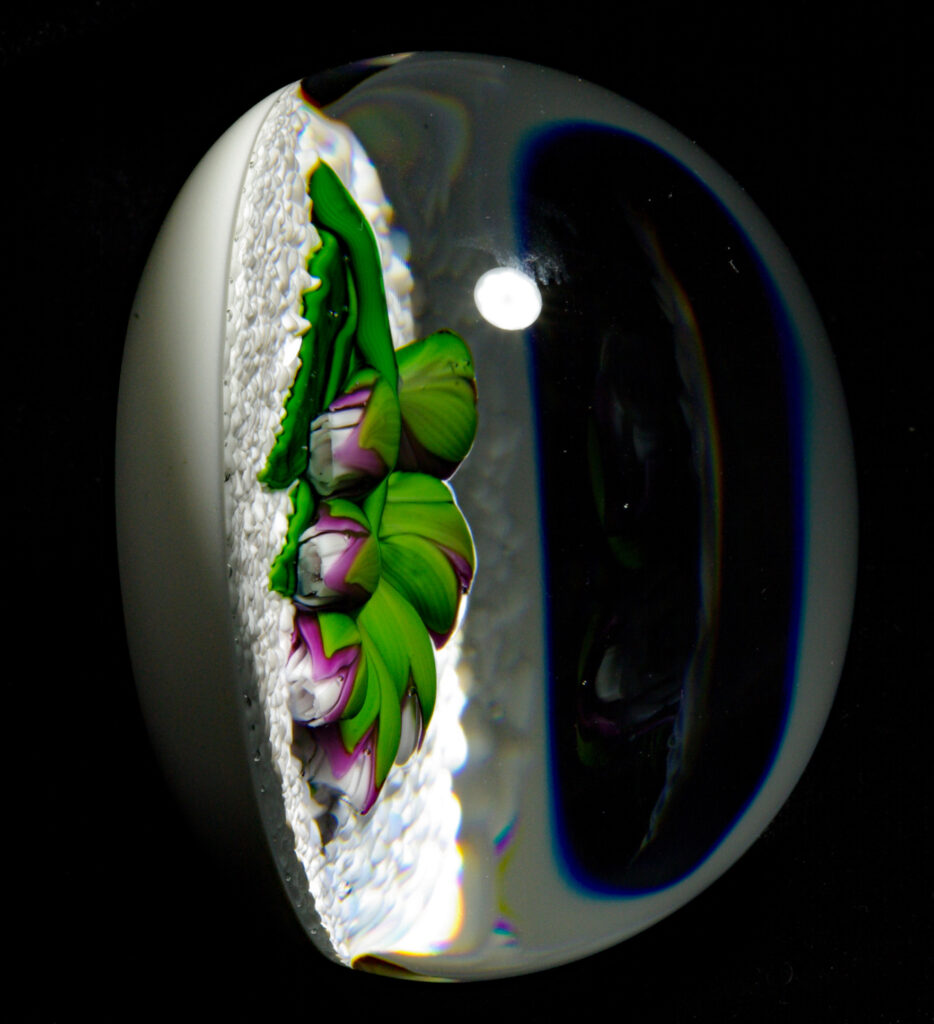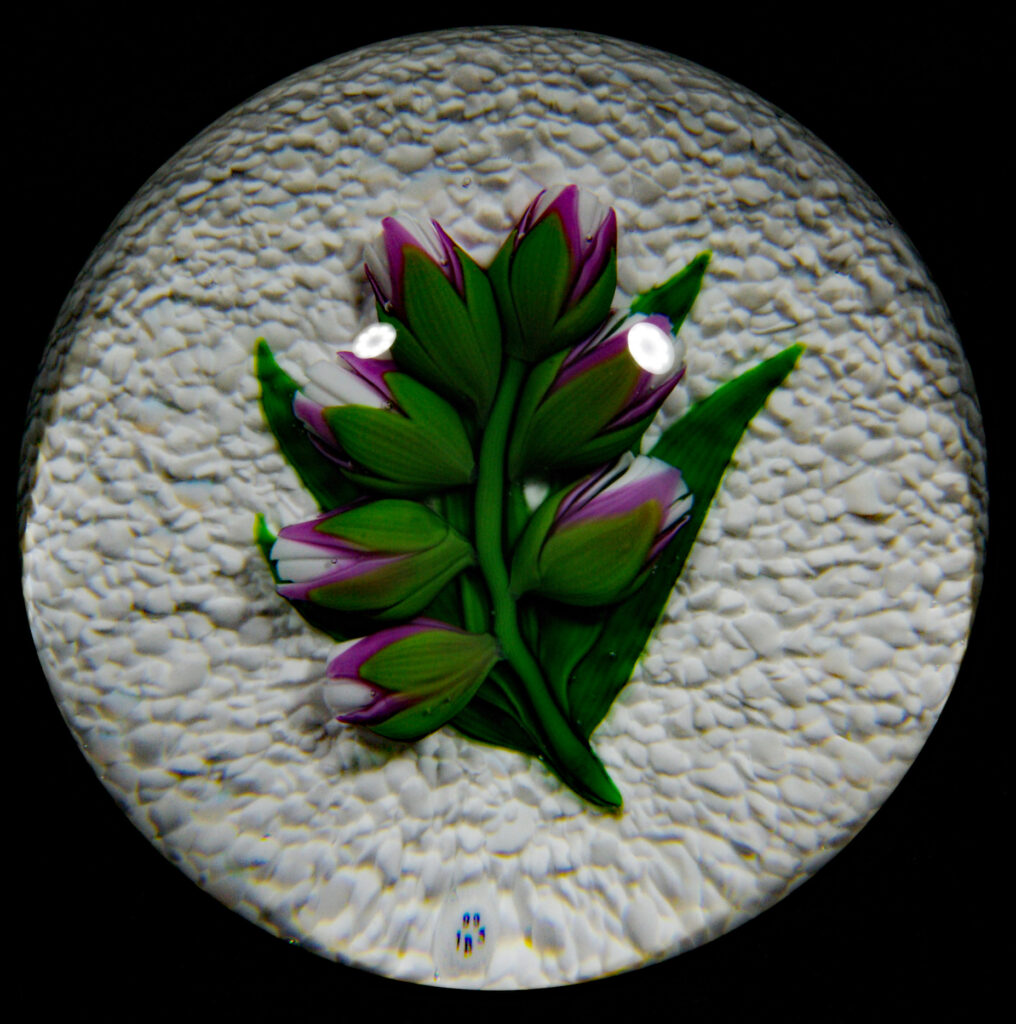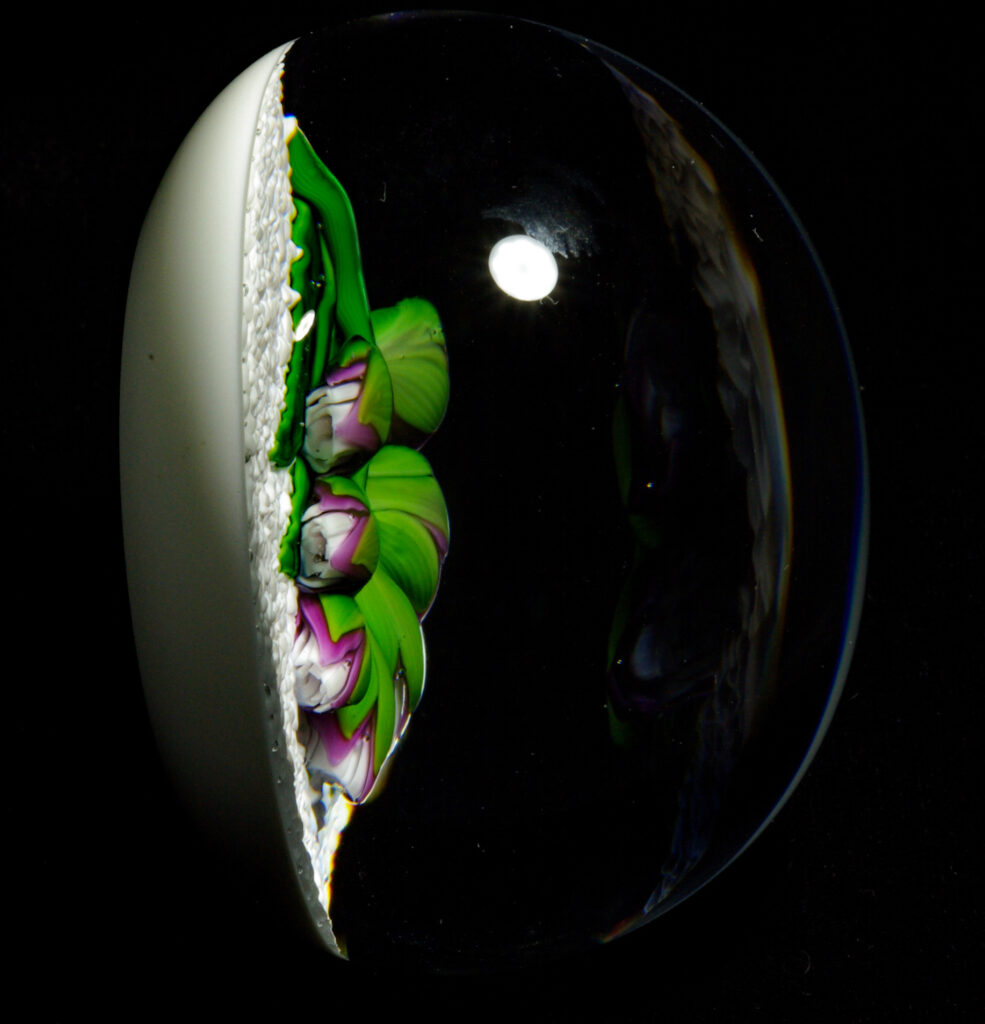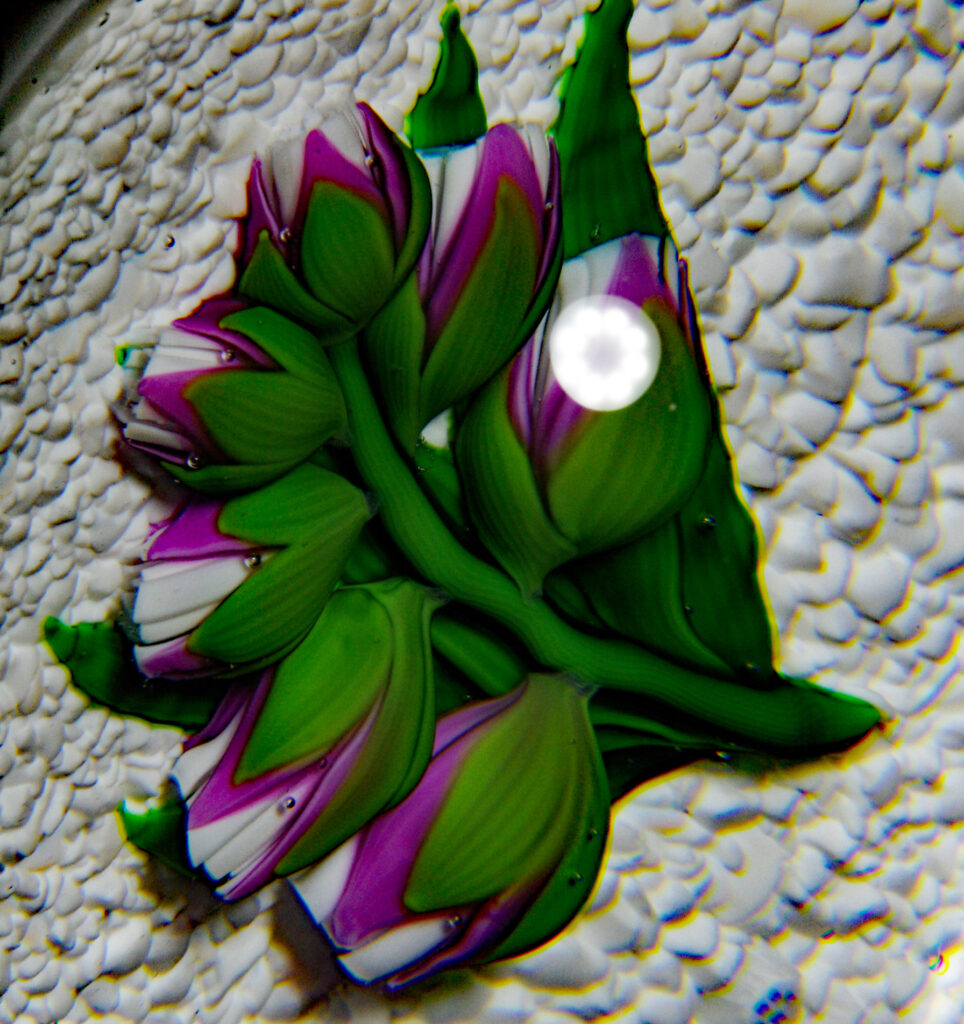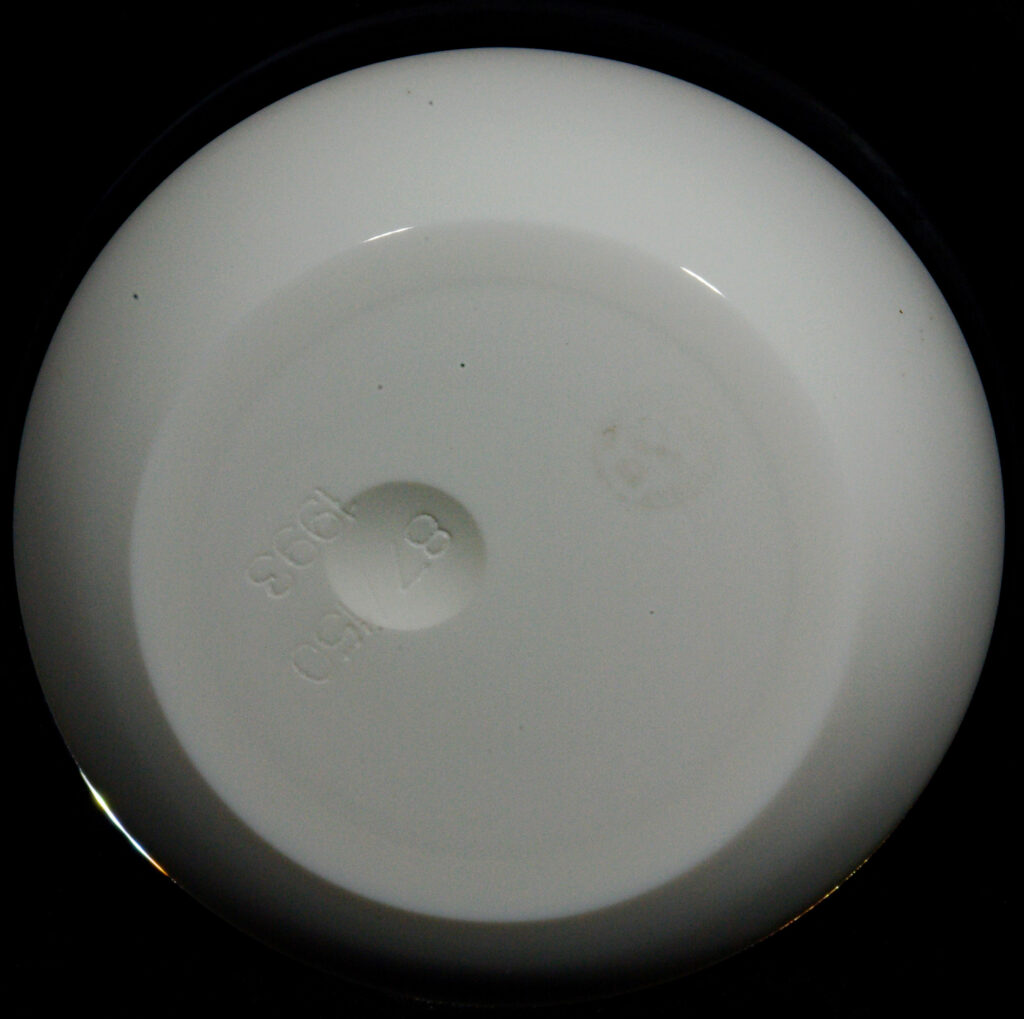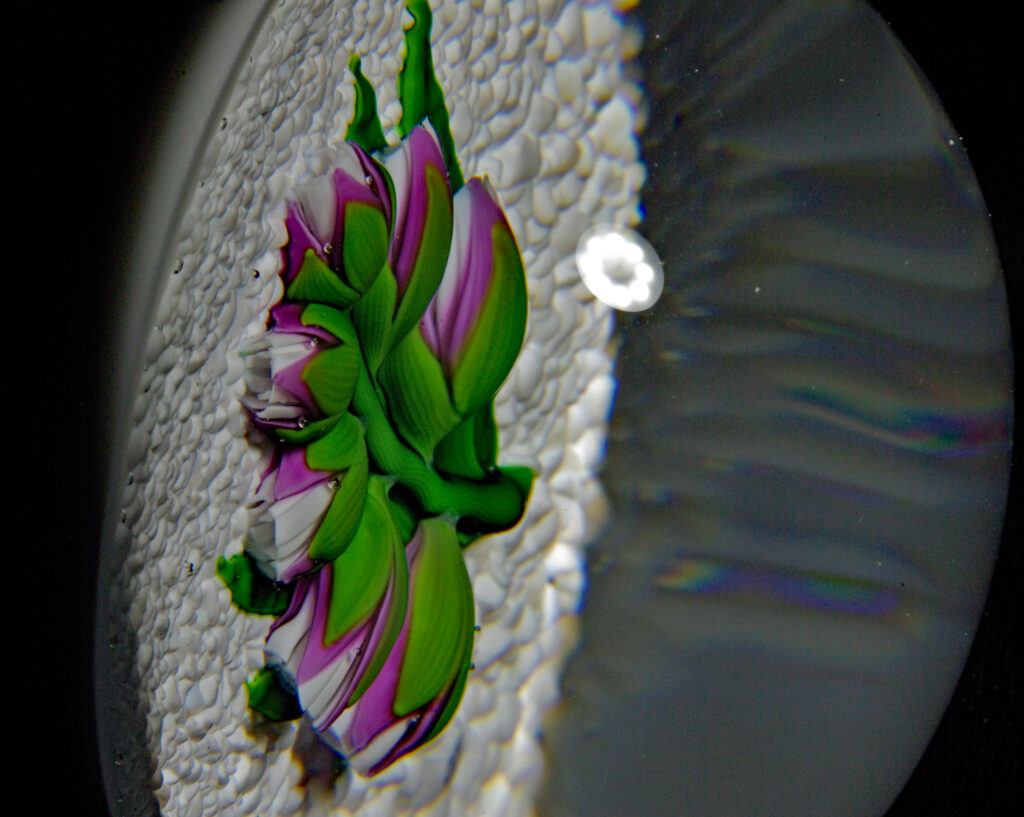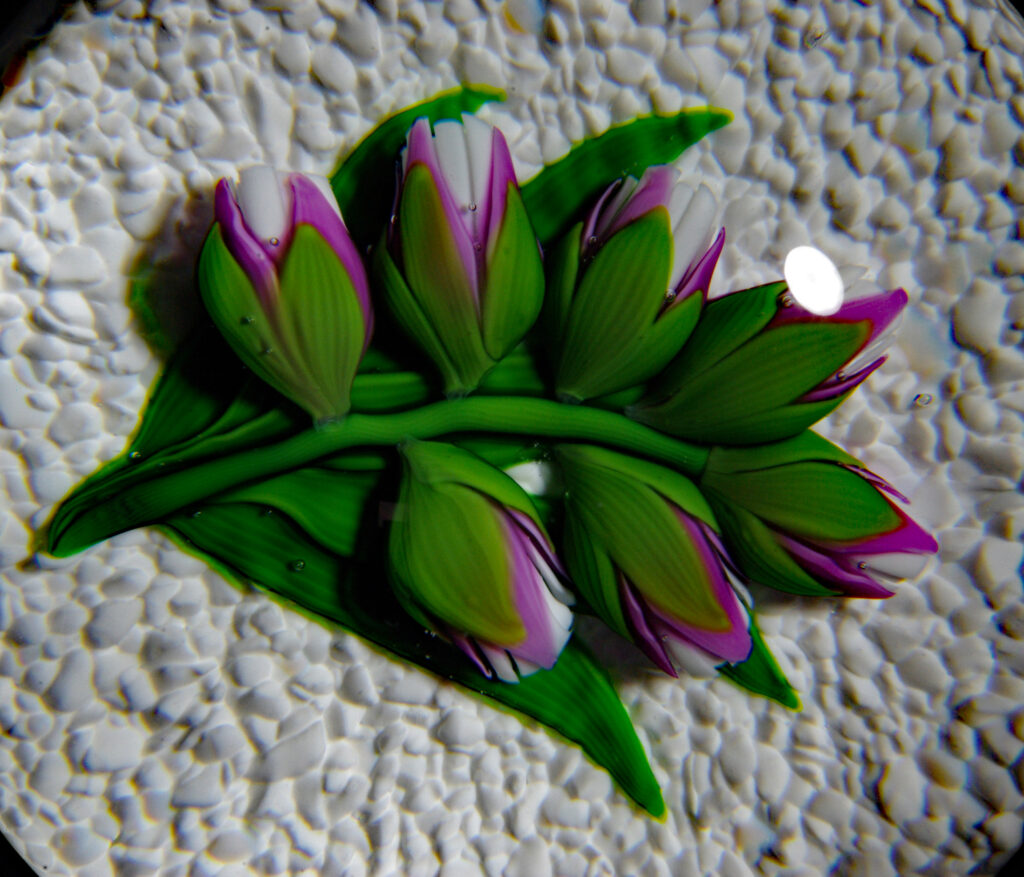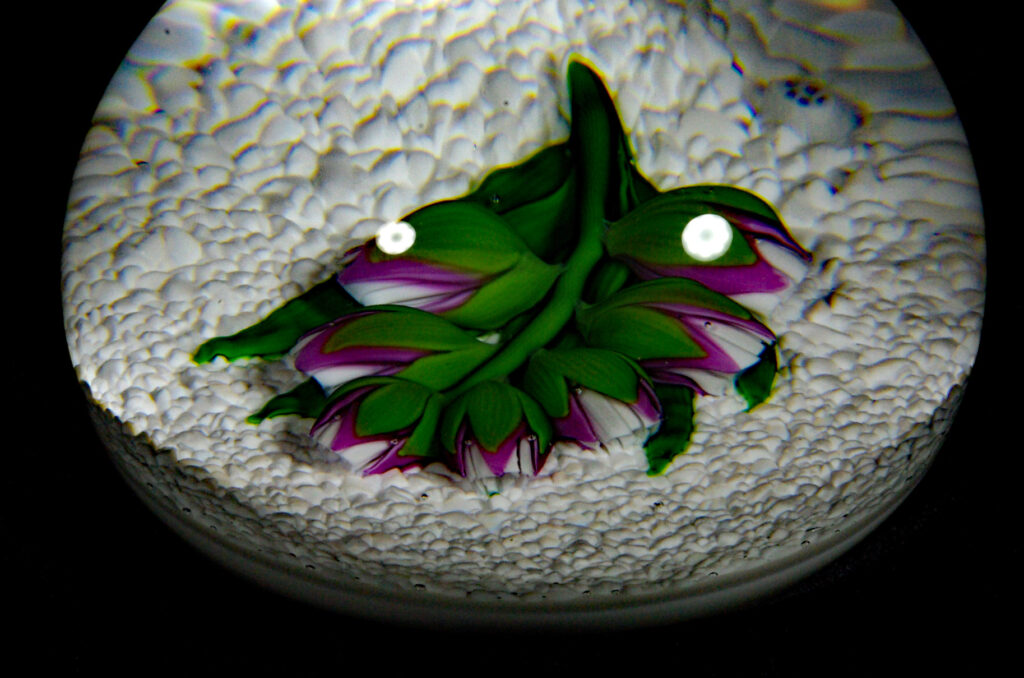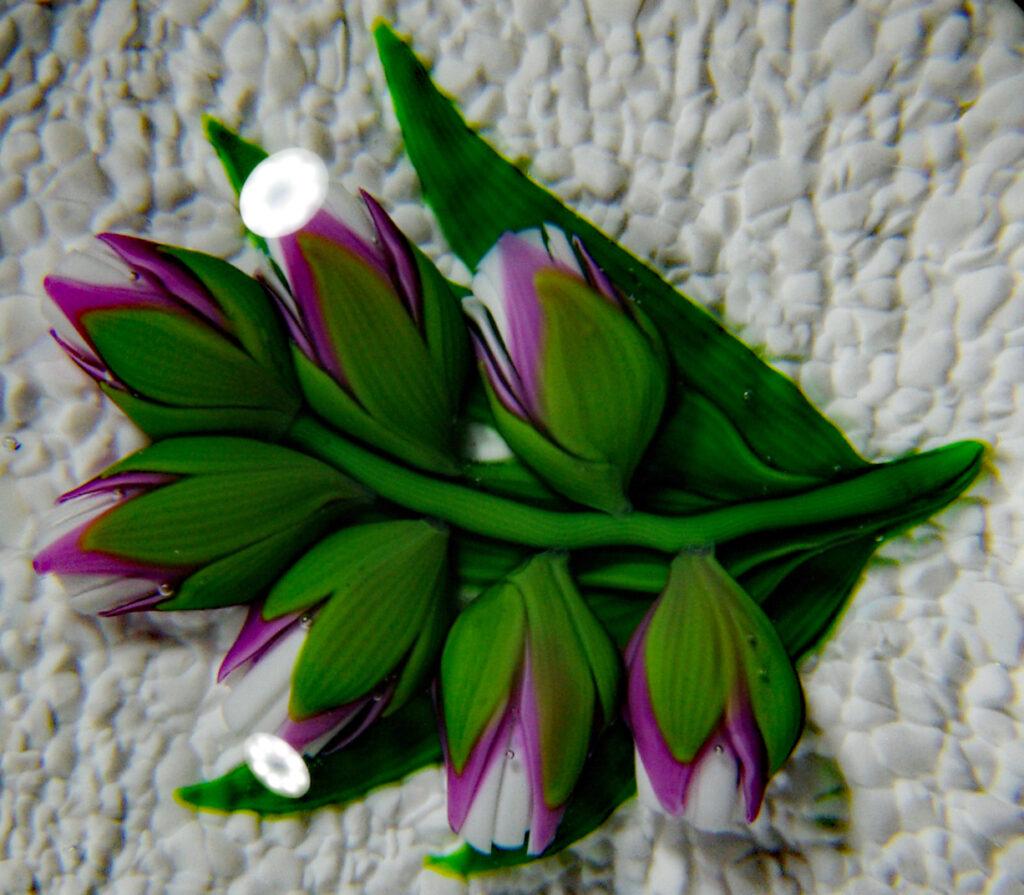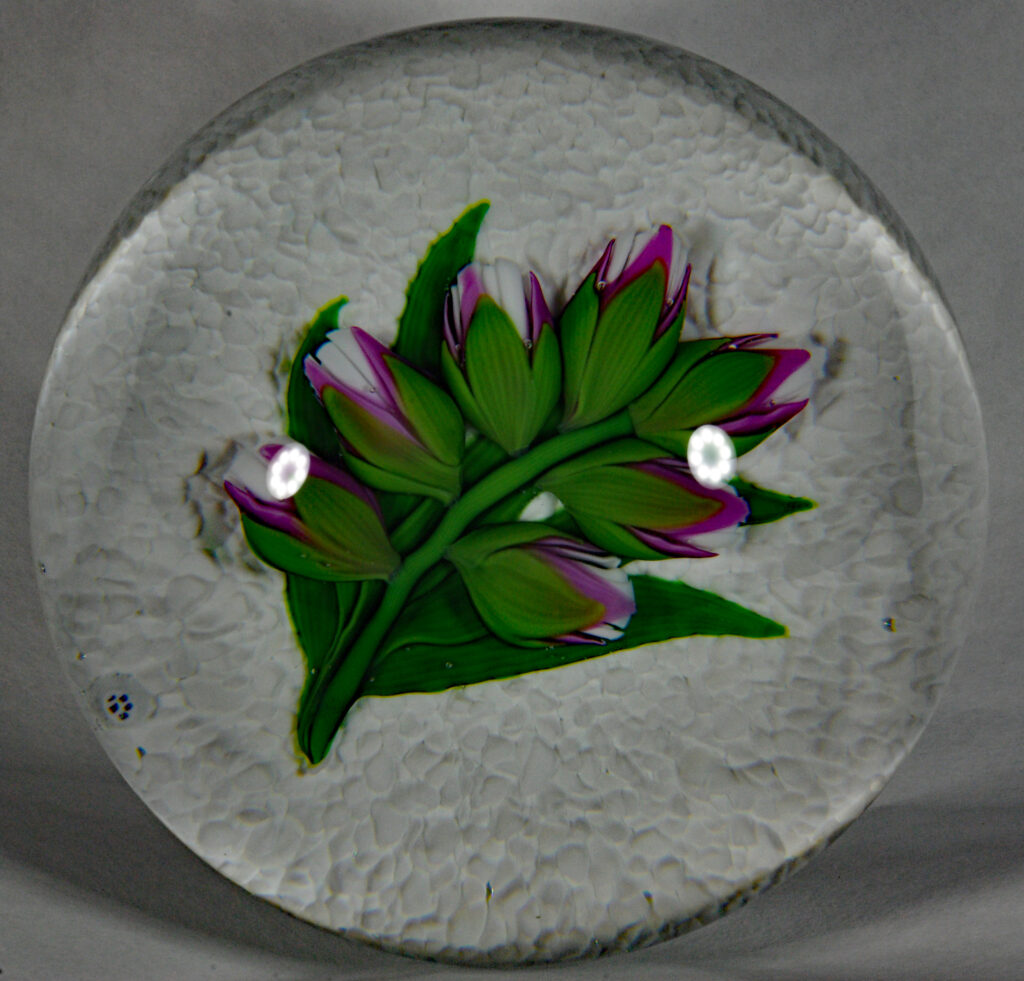 PW2616. Baccarat 1993 numbered edition (#87 of 150) stunning magnum (lucky) seven blossom crocus on snow. Baccarat made crocus weights earlier but this one is the best I have seen – perfectly beautiful blossoms. Here we have the beauty of the crocus, its promise of Spring, and all else is pure white – beauty and promise and purity. This white will not get dirty. Engraved with the Baccarat logo on the base and "87" "1993". This paperweight (this very one not just one of the other 149) is pictured in Baccarat Paperweights: Two Centuries of Beauty by Paul Dunlop, on page 220. 3 1/4 inch diameter; 2 1/4 inches tall; one pound and nine ounces. Condition is excellent. It will bring you good luck. $400