Venetian/Murano paperweights. Venetian/Murano paperweights have an amazing range of quality and historical interest, making the best of them highly collectible and valuable. As with all paperweight-making locations there are good and bad – this is even true of antique French weights, generally considered to be the most valuable and collectable. Since Venice and Murano have a centuries-long history of producing glass and have catered to the tourist market, they have produced a great many poor and mediocre glass paperweight. Dozens if not hundreds of individual makers and glass houses have operated there, some for short periods and some for decades. Many Murano weights are fabulous— as nice as those from other great glass producing locales. It was the paperweight of a Venetian at the Vienna Exposition in 1845 that started the whole paperweight phenomenon. Some early Italian weights are excellent and of historic interest, and the many made in the early to mid-20th Century show particularly good craftsmanship and artistry. I am a fan of the crowns, complex millefiori closepacks, and concentric weights from that period. One reason there is less interest in collecting Italian paperweights is because there is no book about them. It is difficult to impossible to find reliable information about most Italian weights – including the time frame in which they were made and the name of the artist or factory. If the weight has a label, that can help, however most of the labels we see are from the importer who will like carry goods from more than one glass maker. Identification by canes is also difficult since frequently canes made by one maker were sold to other makers for use in their paperweights. This confusion presents an opportunity for collectors to obtain really well made older weights at great prices. All you need to do is to be content with the fact that they are made in Murano, one of the greatest glass centers on the planet, and not worry about placing a label of the maker on them. From this perspective you can collect by type and occasionally by maker. WARNING #1: most paperweights you see advertised as Venetian or Murano are actually cheap glass products made in China – inexpensive glass paperweights have been imported to Italy from China since at least the 1930s and sold as genuine Murano to unsuspecting tourists because the Italian merchants could get them for far less than the cost of making them or purchasing them from local glass makers. These Chinese imports easy to tell in most cases because the quality of the glass and workmanship is not as good as real Muranos (although the newest ones are getting pretty good). The Chinese copies often have "Made in Murano" labels, are signed with Italian-sounding names, and/or come in nice boxes with Italian-sounding makers names. Some brand new Chinese weights are intentionally "aged" by rubbing the bases on cement and sold as "antique" or "vintage".
WARNING #2: Many of the weights sold as "Fratelli Toso", although often made in Murano, were not made by Fratelli Toso.
What you need when purchasing Italian weights is either a lot of personal knowledge and experience or a dealer you trust who has the requisite knowledge and experience. I have handled a great many Murano weights and I think I have a pretty good knowledge base on them. I guarantee that any weight I sell is genuine. Since there are very few resource materials concerning Italian paperweights, the question of dating them is difficult. They have been made from the 1840s to present. I will endeavor to give an estimate based on my experience and research in most instances.
WARNING #3: You often see Italian weights with date canes. A dated 1845-47 weight by Pietro Bigaglia (1786-1876) can have a five-figure value, but almost all Italian weights with 19th century date canes that you see are fake.
Label: E & R Italy – This is the importer Ebeling and Reuss of Philadelphia, founded in 1886. They imported Italian paperweights probably beginning in the 1950s and ending in the 1990s, including Fratelli Toso and others.
Importer label KB ("An Original Creation by KB Made in Italy") silver and blue foil sticker is the sticker of the importer, Koscherak Brothers of New York and dates a paperweight to 1960s- 1970s.
If you have additional information about a maker, importer, or dates, please let me know. As always, let me know if you have any questions.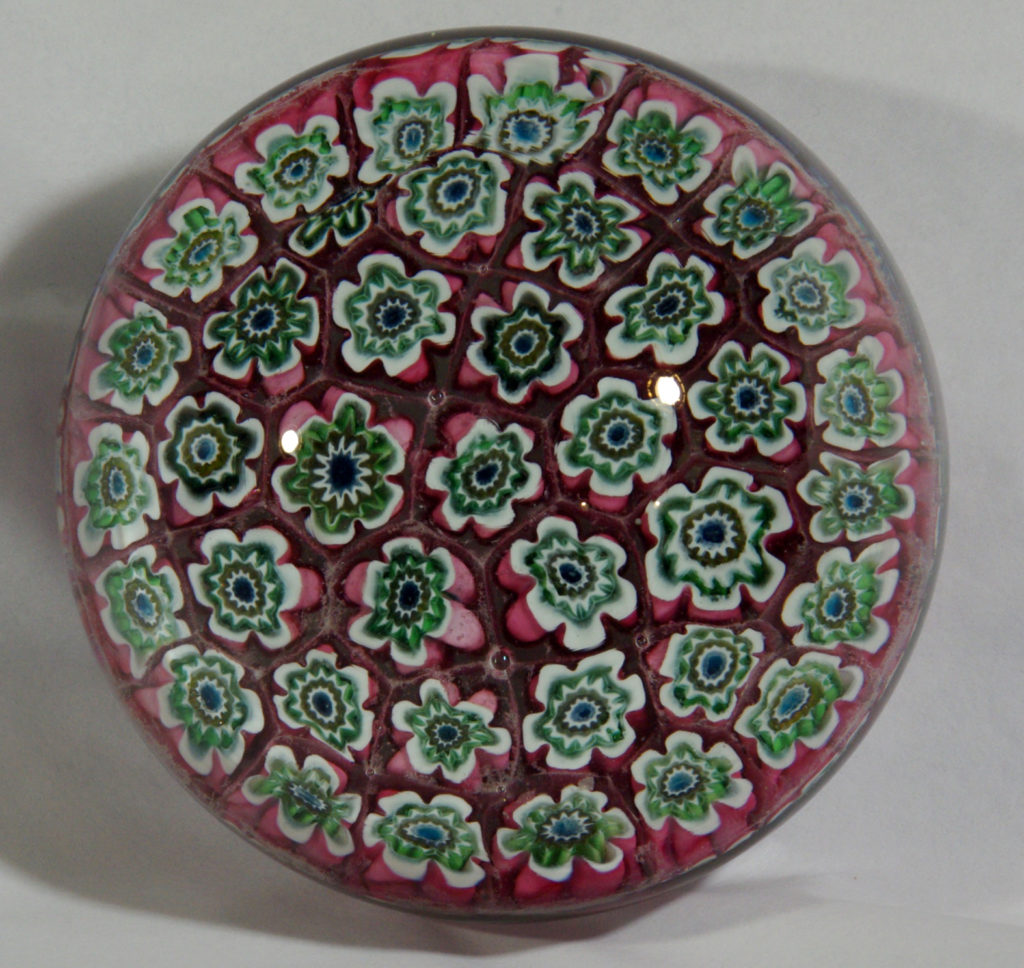 PW141. Magnum Murano Museum Piece. The Murano glassworks of Ferro & Lazzarini sold last century when the owners grew too old to continue operations. In their peak, they produced magnificent paperweights like this one. The new owners produced some beautiful glass items, but not high quality paperweights. The condition and quality of this one is excellent. It is a adeptly made paperweight with beautiful cane work in a simple yet calming understated design. 3 5/8 inches in diameter; 2 inches tall; one pound and three ounces. $65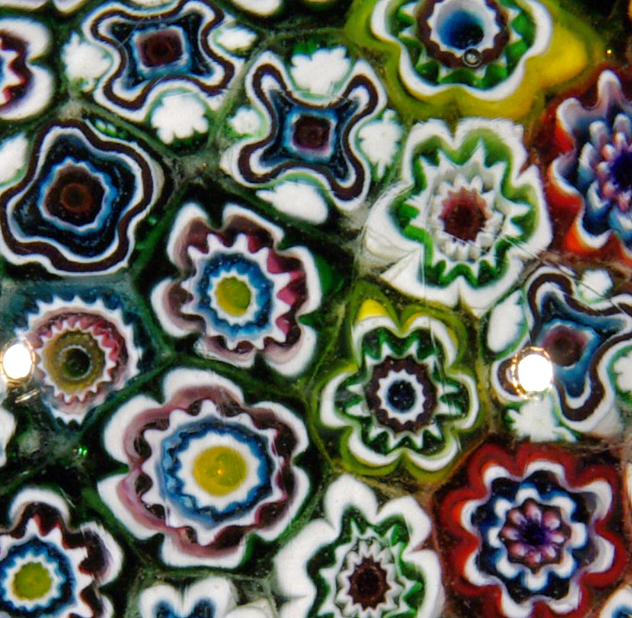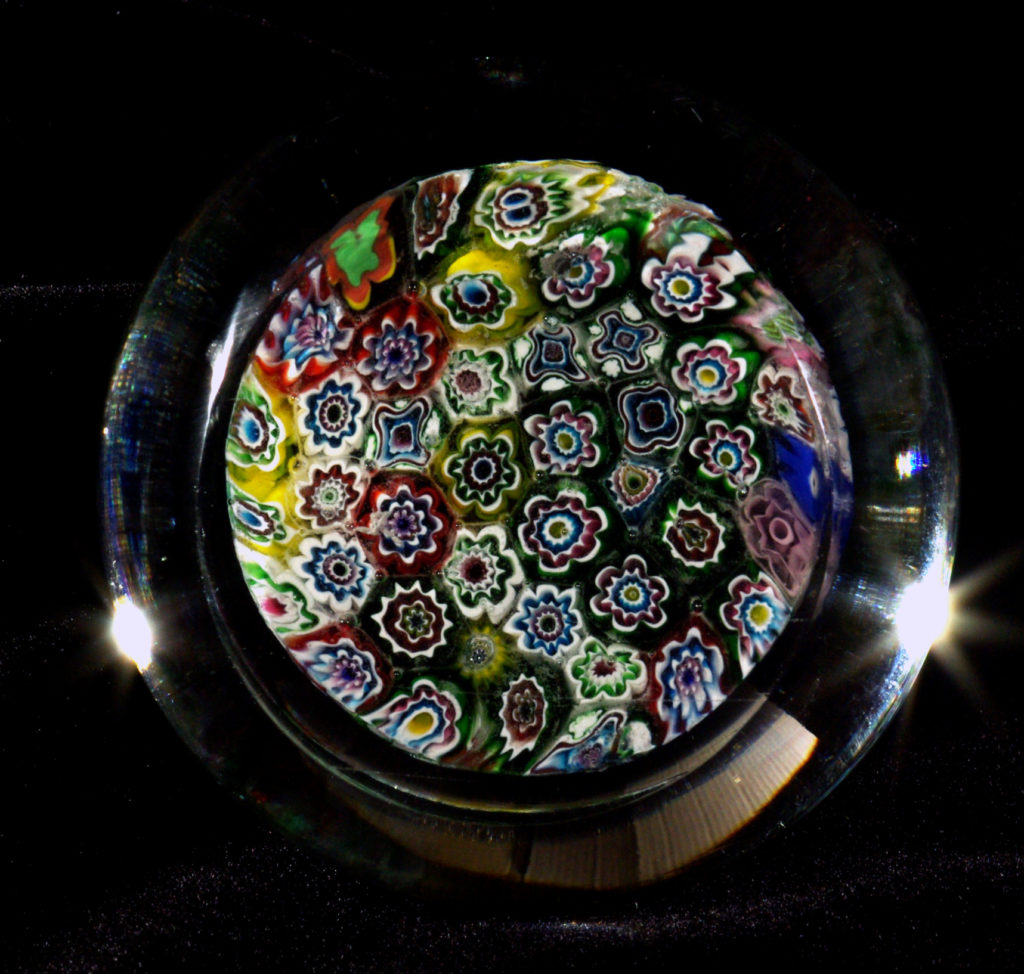 PW2142. Murano Museum Piece. The Murano glassworks of Ferro & Lazzarini sold last century when the owners grew too old to continue operations. In their peak, they produced magnificent paperweights like this one. The new owners produced some beautiful glass items, but not high end paperweights. The condition and quality of this one is excellent. It is a adeptly made paperweight with beautiful cane work and a pleasing combination of colors and shapes.. 3 1/8 inches in diameter; 2 inches tall; one pound. $55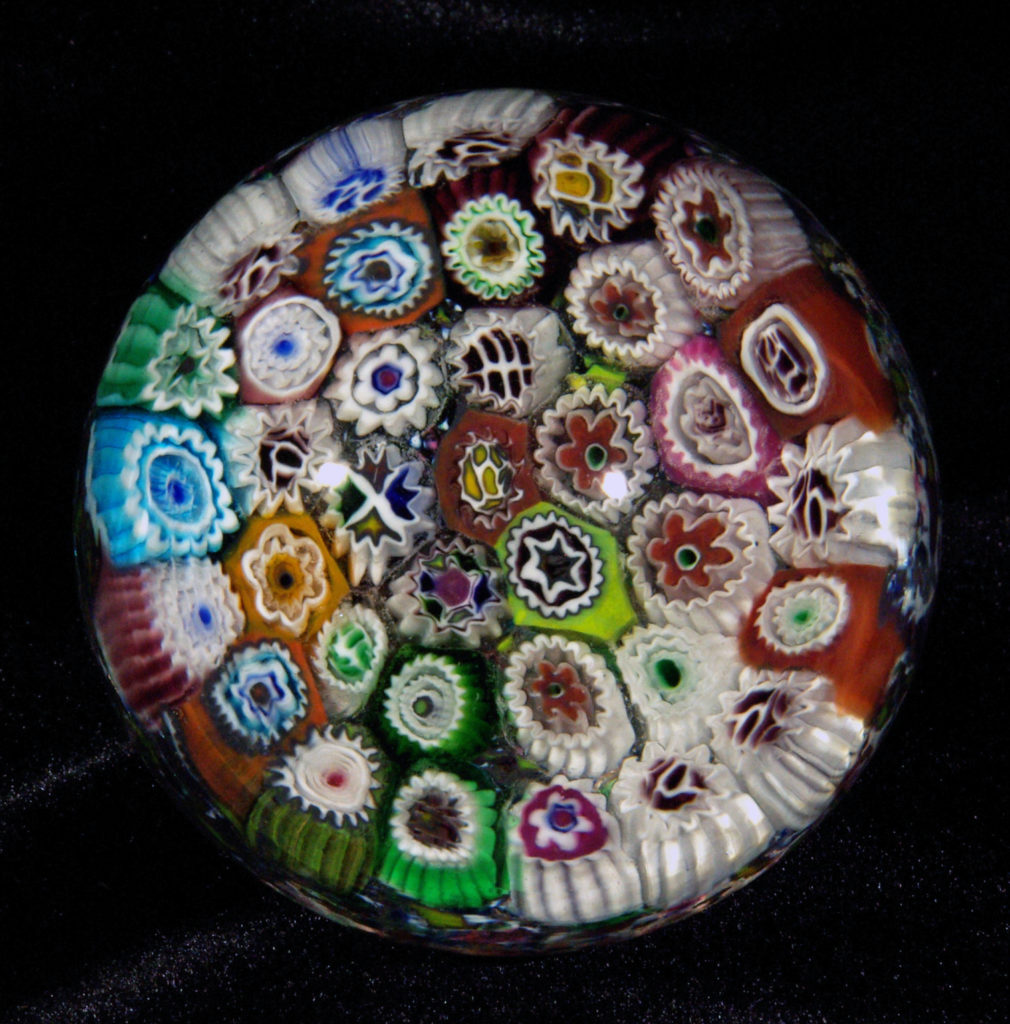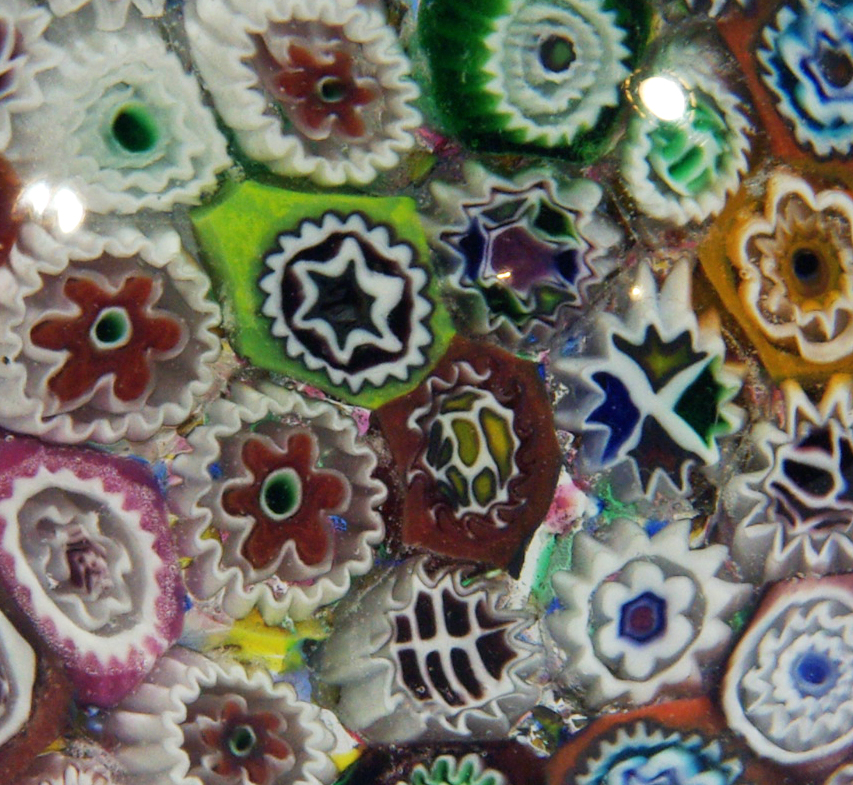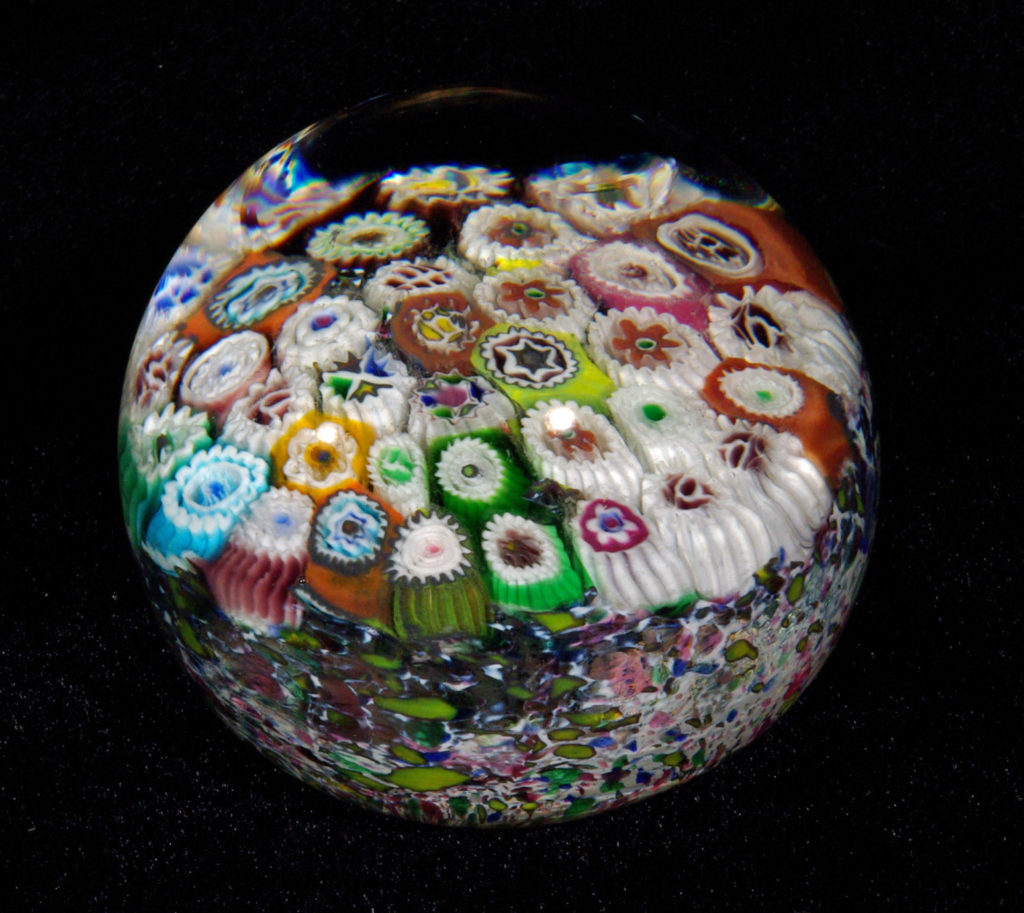 PW2333. Unusual Fratelli Toso Closepack Museum Piece. This is an older Murano weight (circa 1920s-1950s, possibly earlier). Fratelli Toso, one of the greatest old Murano Glass Companies, was in operation from 1854 to 1980. This attractive work comprises a nice set nicely domed, classic Fratelli Toso canes in a great variety of colors and intricate designs over a colorful chip swirl base. It makes a fine reference for early Fratelli Toso canes. Condition is excellent with moderate shelf wear and if you feel along the side you can find a miniscule nibble, but you have to look hard to see it – all original. 2 3/4 inch diameter; 2 5/16 inches tall; fifteen ounces. $110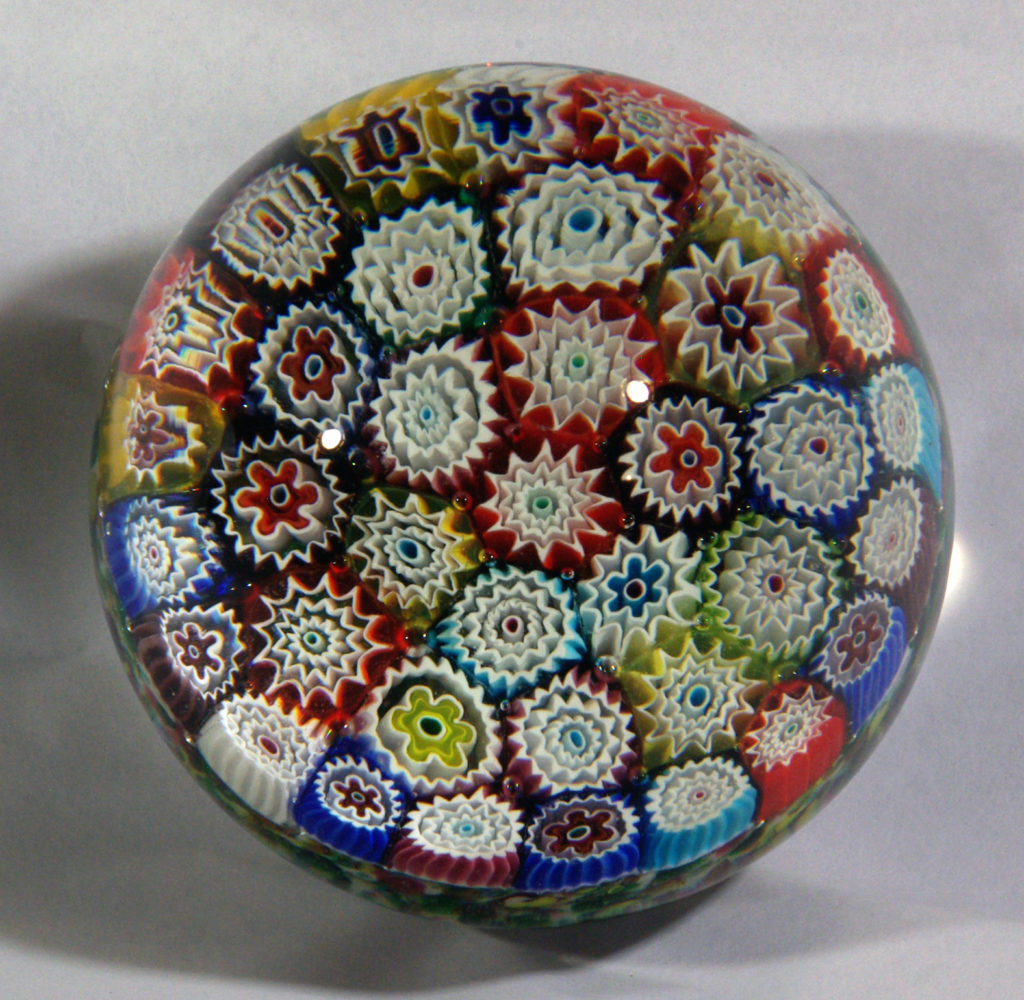 PW2499. Murano Museum quality. Concentric closepack over an colorful ground with aventurine. This is a high dome weight, probably by Fratelli Toso. I estimate it's from the 1950s-1960s. It has a flat base. Condition is excellent with some minor shelfwear. 3 1/8 inch diameter; 2 3/4 inches tall; one pound, six ounces. $70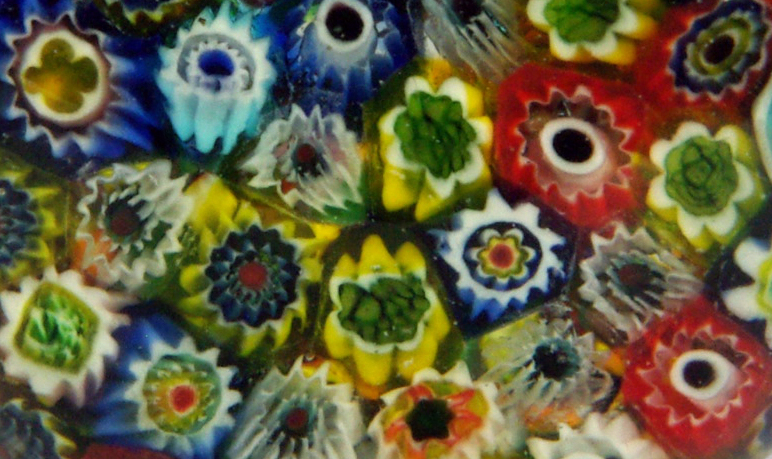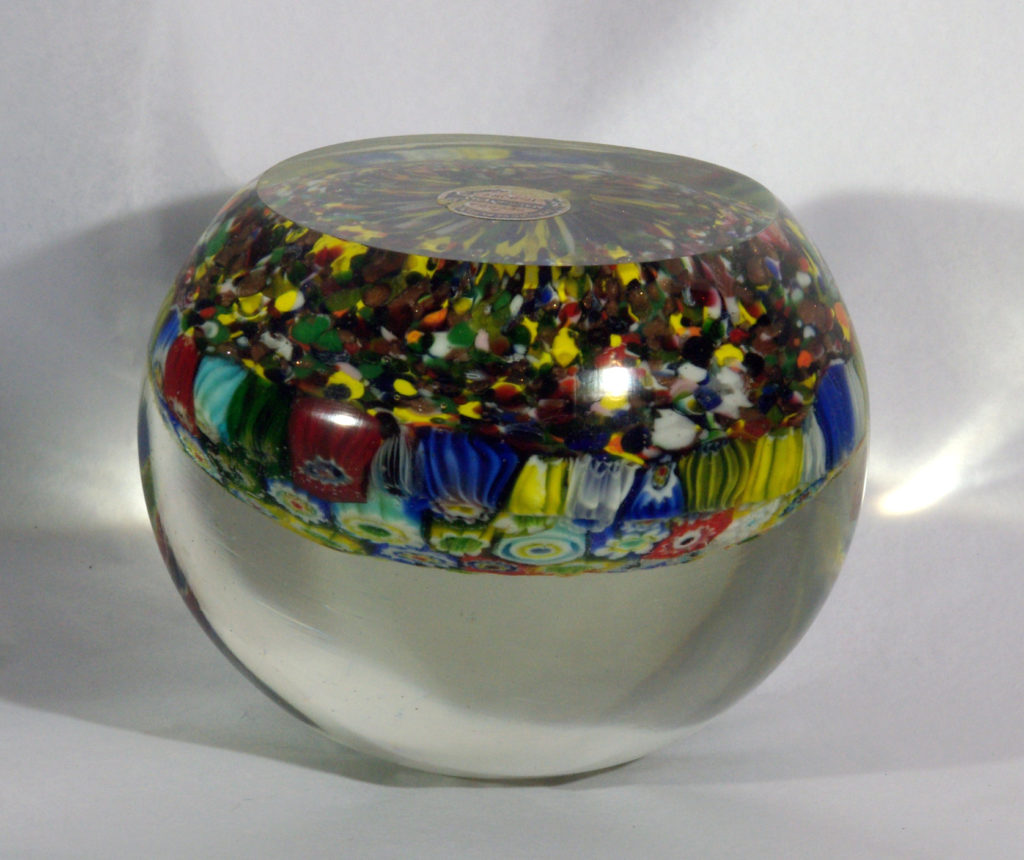 PW1344. Murano Magnum Museum Piece. The closely packed colorful canes sit atop a multicolored, bright and attractive tutti frutti ground. Flat polished base. I believe the maker is AVEM ( Arte Vetraria Muranese) but am not certain. They were in business from 1932-1976. My estimate for this is 1930s-1950s.Condition is excellent with a remarkably scratch-free base and remnants of the original import sticker ( Decora) base. I find it interesting to collect prime examples of these weights from their many different eras. Sometimes we see a color shift from one batch of canes to another. They are excellent weights with artful complex canes. This one has an overall green/blue primary impact. The canes are crisp and colorful, nicely balanced. My estimate for this is 1950s-1960s. In my experience, this is a rare example. 3 9/16 inch diameter; 2 15/16 inches tall; two pounds and one ounce. $140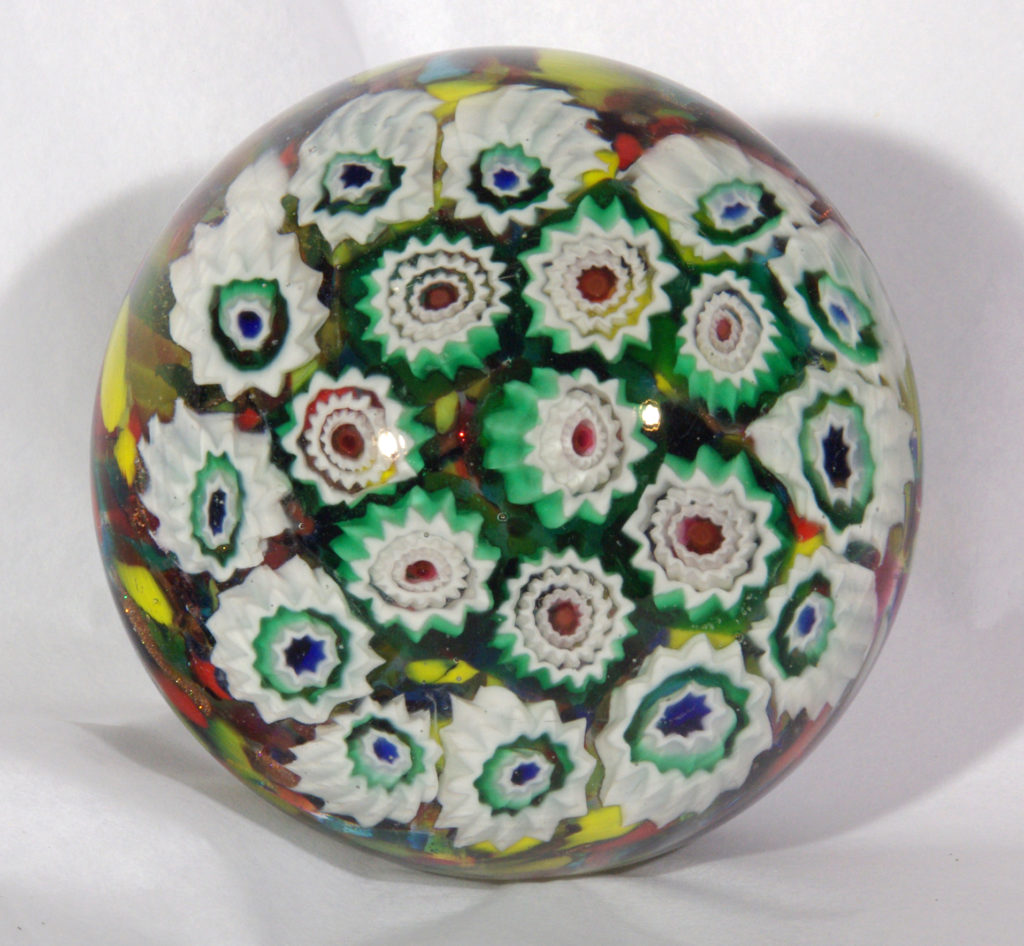 PW2019. Murano Museum Quality. Fat-caned concentric over tutti frutti ground – a rare and attractive piece. The colorful swirl of glass and aventurine is especially attractive. It is consistent with the tutti frutti work from AVEM in the 1950s. Excellent condition with age-appropriate wear to the base. 3 1/8 inches in diameter; 1 15/16 inches tall; one pound and one ounce. $65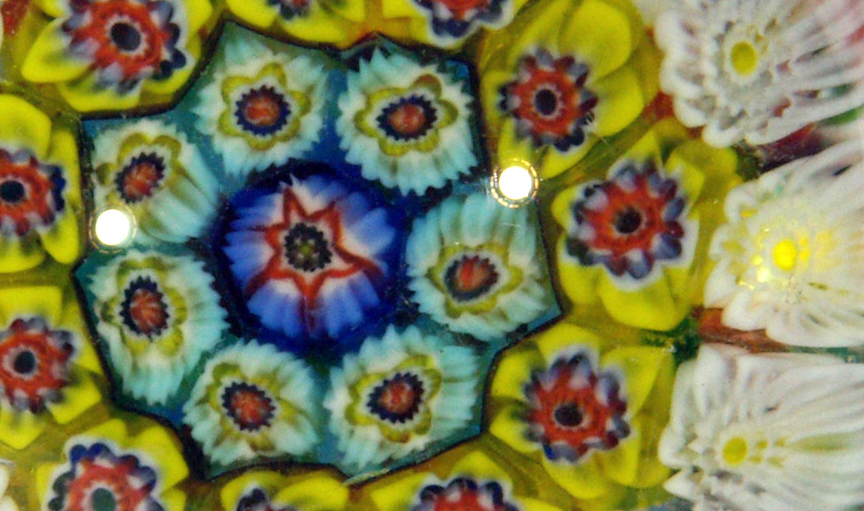 PW2187. Murano Museum Quality. Very nice small AVEM concentric closepack over a colorful chip ground.. Excellent condition. 2 5/8 inches in diameter; 1 15/16 inches tall; eleven ounces. $40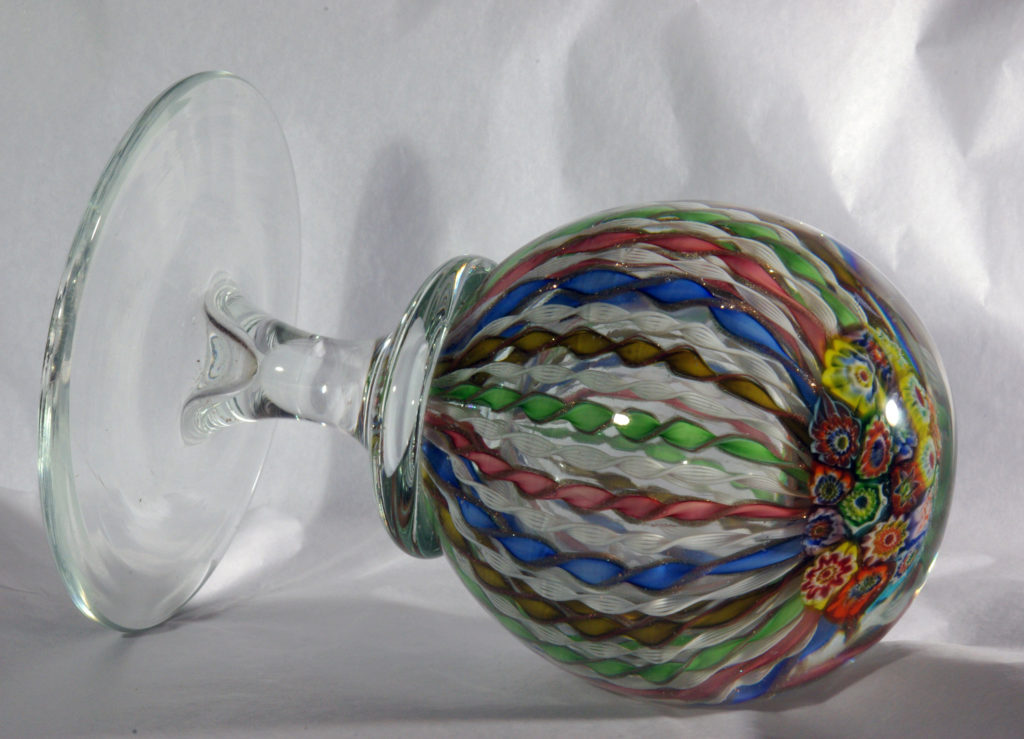 PW3123. Murano Magnum Museum Piece. This pedestal weight was a very top end piece in its day, sold at fine department stores in the 1950s. I believe the maker is AVEM ( Arte Vetraria Muranese) but am not certain. They were in business from 1932-1976. My estimate for this is 1930s-1960s.The design is colorful, eye-catching, and intricate. Each of the colored strands is tipped in sparkling aventurine. Condition is excellent and original – there's a small flat spot on top from the making, which is the norm. 3 1/2 inch diameter at the globe; 4 inches at the base; 5 7/8 inches tall; two pounds and two ounces. $200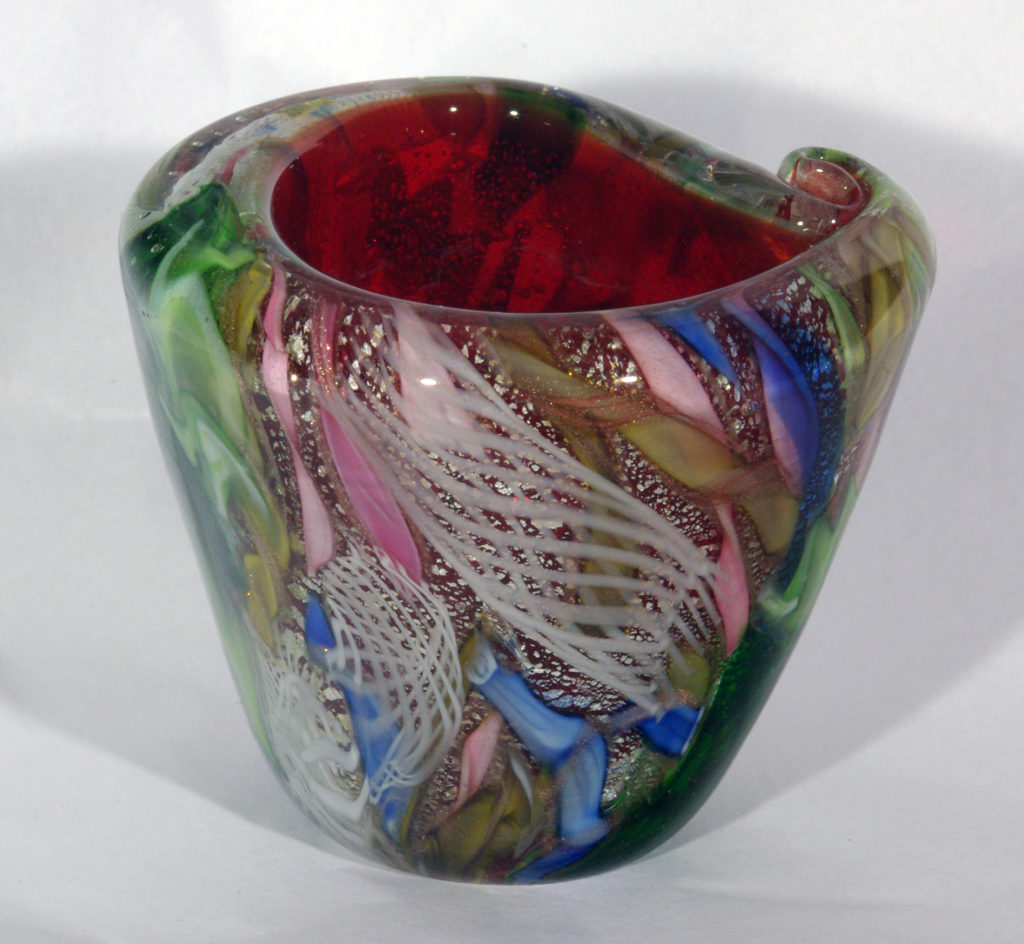 PW3206. Murano AVEM Tutti Frutti small vase. Of the many glass styles employed by the glass artists of Murano over the centuries, my favorite is the AVEM tutti frutti style popularized during the 1950s. It's the most colorful and exciting glass, complete with filigree twists, canes, colorful ribbons, and lots of bright, sparkling aventurine. They used tutti frutti glass in all objects, including paperweights. This is a small vase or toothpick holder. Condition is extra fine – I see one small scratch. Beautiful. 2 ½ inches tall; 3 inches at its widest; 10 ounces. $65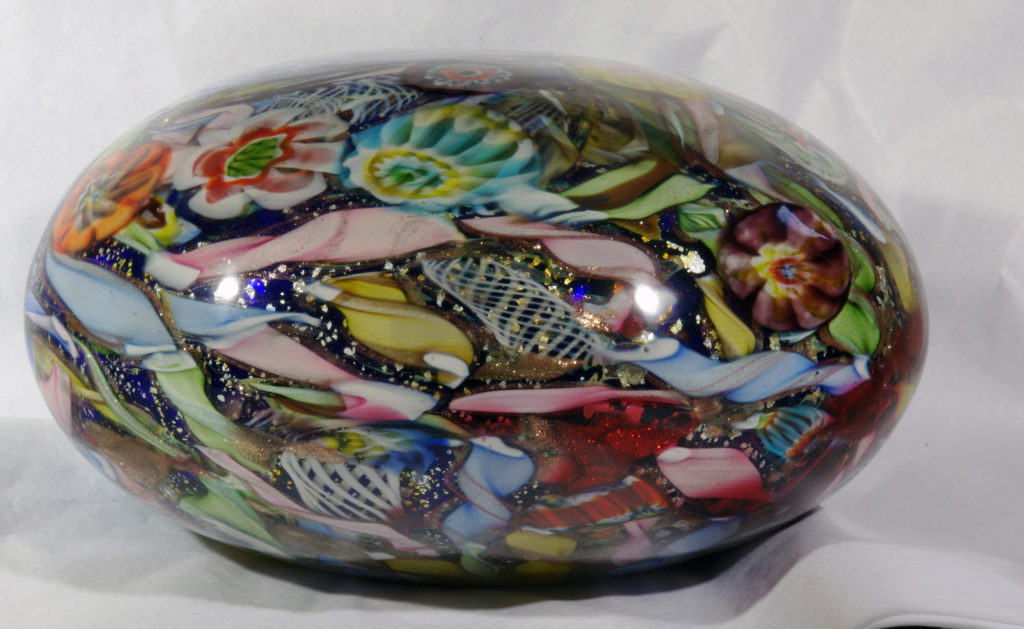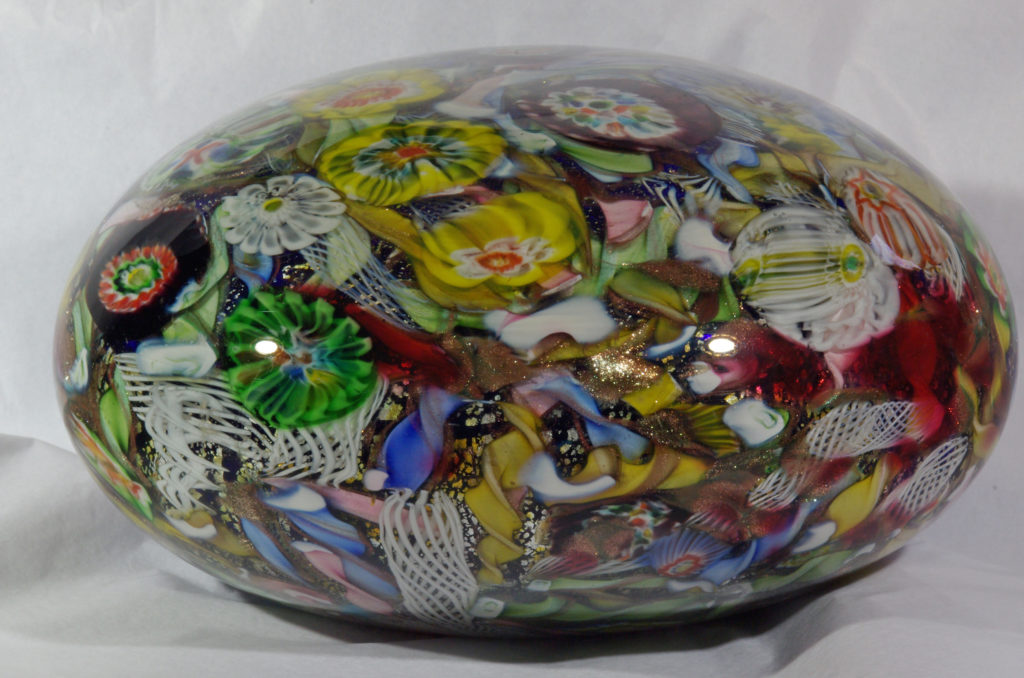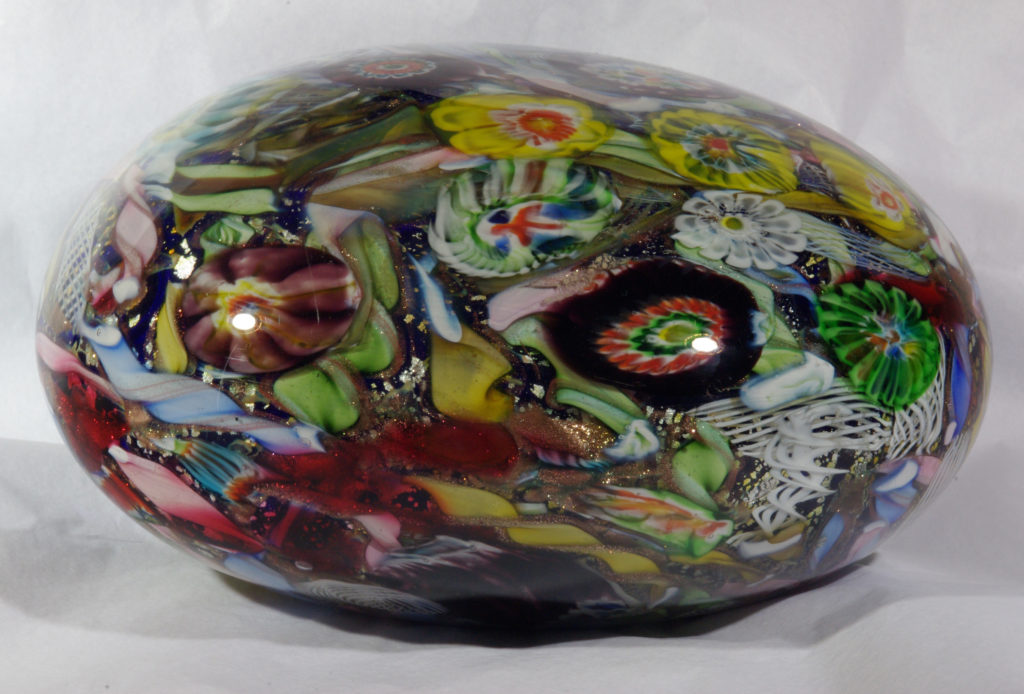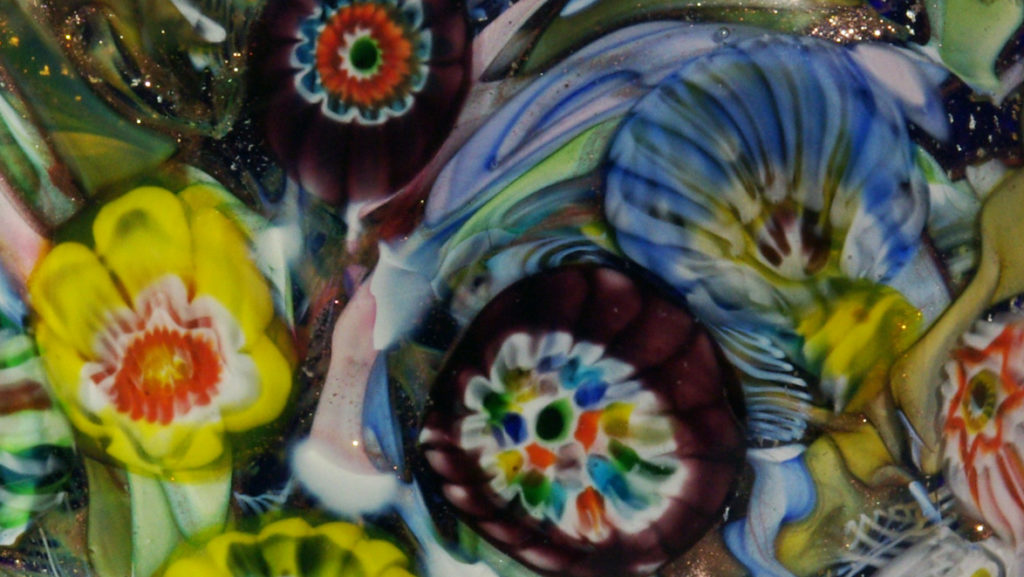 PW3221. 7 1/2 INCH DIAMETER Murano Magnum Hand Blown Tutti Frutti Museum Piece. This is a bit different from the normal Murano weight. For one thing, it's enormous. For another, it was actually blown (most are not). We all have different tastes in art, but to my eye this is one of the most amazing paperweight style glass art pieces I have owned or seen. It's been on display in my living room for years. The pictures tell the story – fabulous canes with abundant aventurine that peeks out from all quarters. It's exciting and always a conversation piece. I believe the maker is AVEM ( Arte Vetraria Muranese) but am not certain. They were in business from 1932-1976. My estimate for this is 1930s-1960s.The design is colorful, eye-catching, and intricate. Condition is excellent and original, which is super rare for these. These are rare and most of the few I have seen have damage – note that it is hollow yet still heavy. The base has a black glass plug with a hole to allow for expansion of the air inside in hot conditions. –7 1/2 inch diameter; 4 inches tall; six pounds and six ounces. $700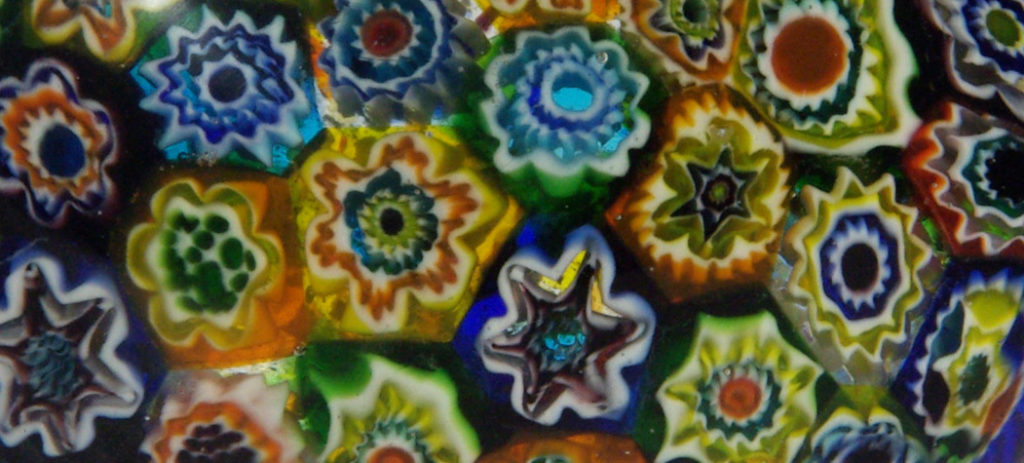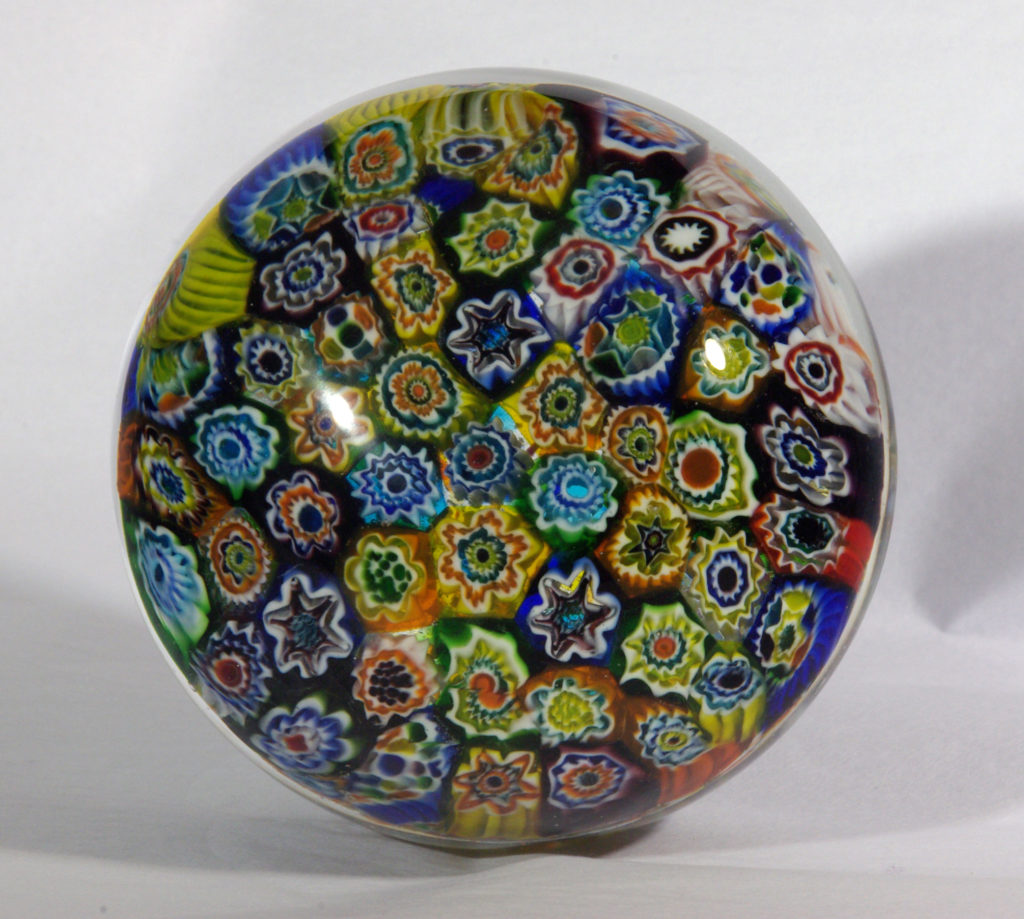 PW2472. Murano Magnum Museum Piece. Stunning closepack in the style of Baccarat and Clichy. The closely packed colorful canes sit atop a multicolored ground. Flat polished base. I have seen these offered for sale as Clichy. I believe the maker is AVEM ( Arte Vetraria Muranese) but am not certain. They were in business from 1932-1976. My estimate for this is 1930s-1950s.Condition is excellent. It is more than a beautiful paperweight – this one is one of the very best I have seen of this maker and period – everything came together to form a nice balanced dome of intricate canes on a colorful ground. 3 3/4 inch diameter; 2 5/8 inches tall; two pounds and two ounces. $150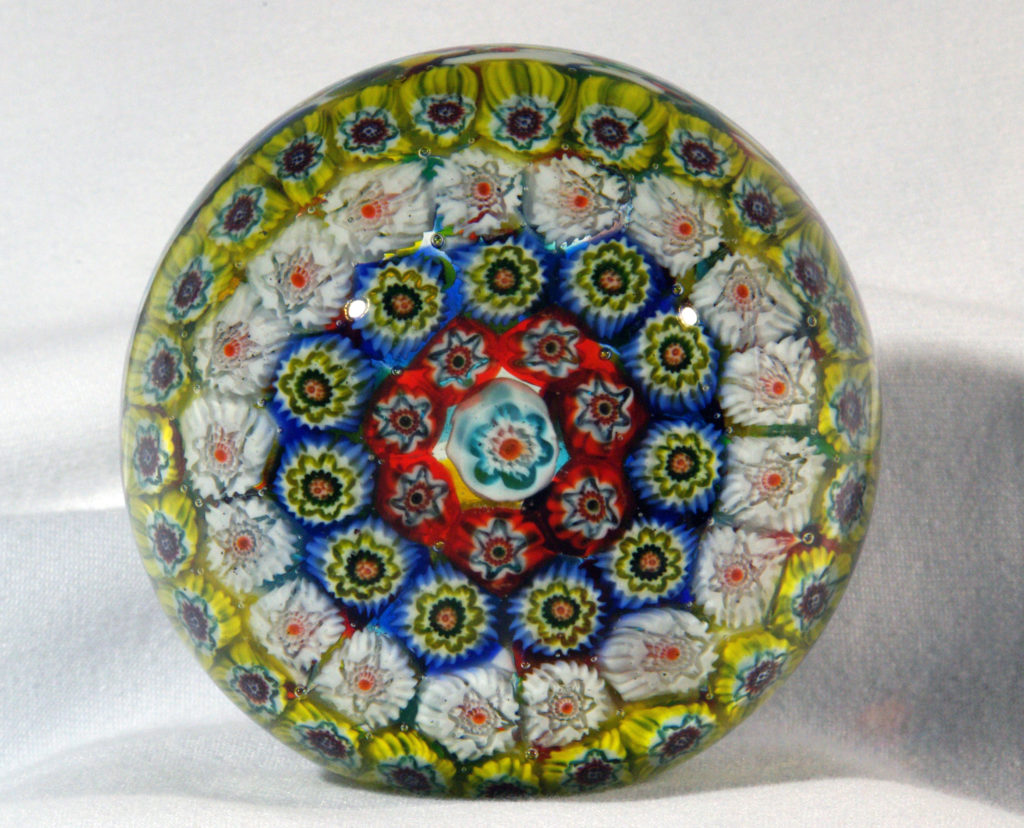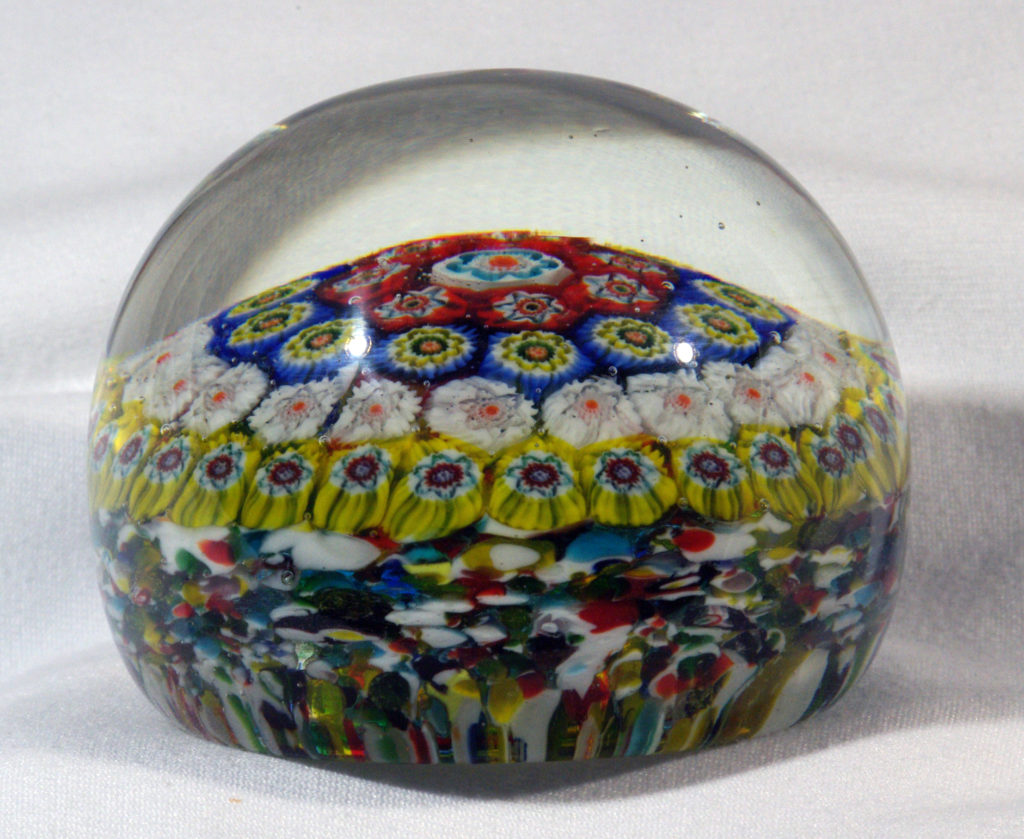 PW2407. Murano Magnum Museum Piece. Stunning concentric closepack in the style of Baccarat and Clichy. The closely packed colorful canes sit atop a multicolored ground. Flat polished base. I believe the maker is either Fratelli Toso or AVEM ( Arte Vetraria Muranese) but am not certain. My estimate for this is 1920s-1950s.Condition is excellent. It is a stunning paperweight. 3 1/4 inch diameter; 2 5/8 inches tall; one pound and nine ounces. $90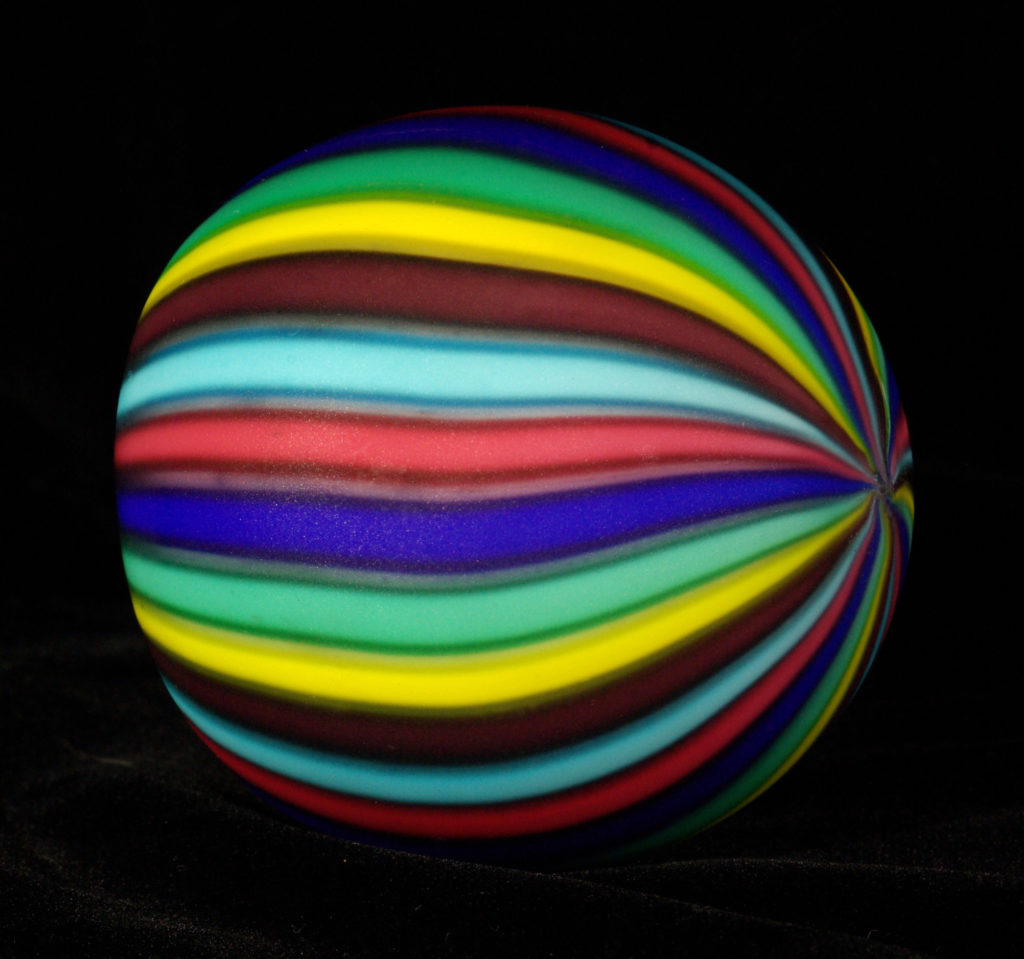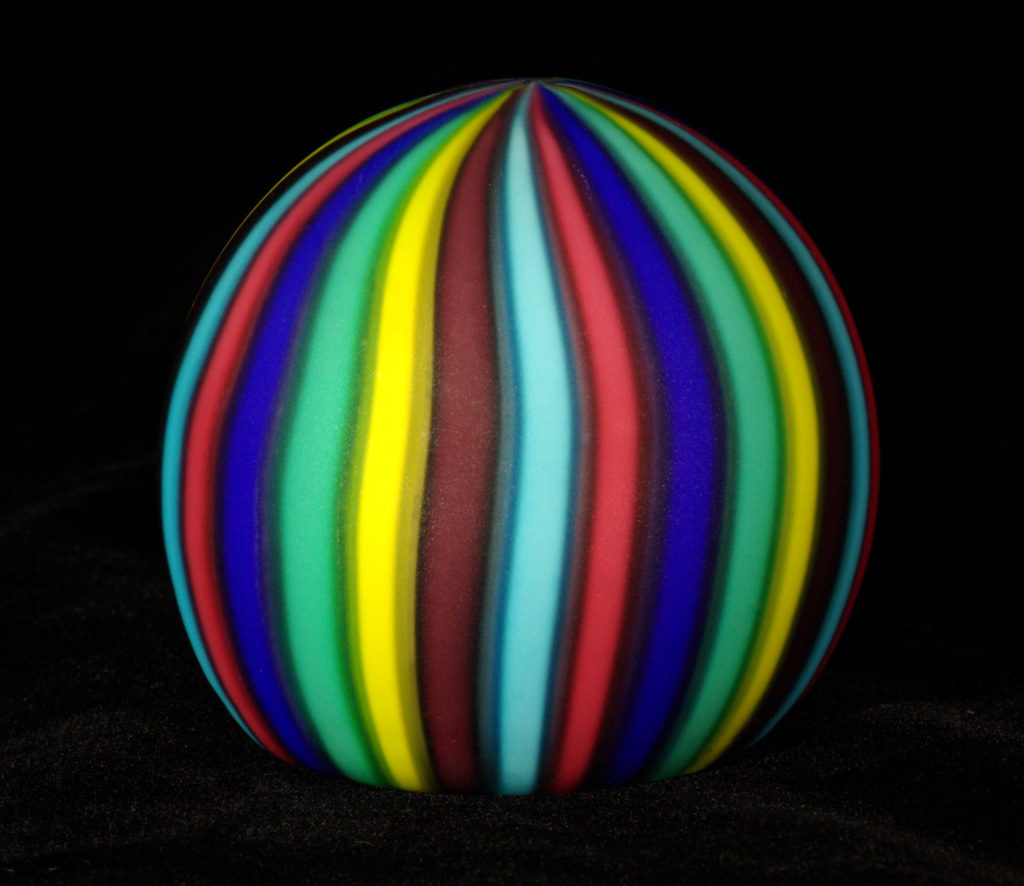 PW3031. Murano Crown Museum Quality Piece. This is a vintage Murano crown weight (circa 1930s-1960s) with a flat polished base. The inner glow of each cane comes from the white center. They did a great job with the colors. Mind blowing color and vibrancy. Condition is excellent. Heavy with smooth flat polished base. It has a filthy sticker on the base that normally I'd remove and discard but when they have some historical information that someone may find of interest I lean toward keeping them. This one has writing I cannot make out and "Murano CA. 1935". The most common usage here is circa 1935 which is possible. 3 1/16 inch diameter; 2 3/4 inches tall; one pound and six ounces. $85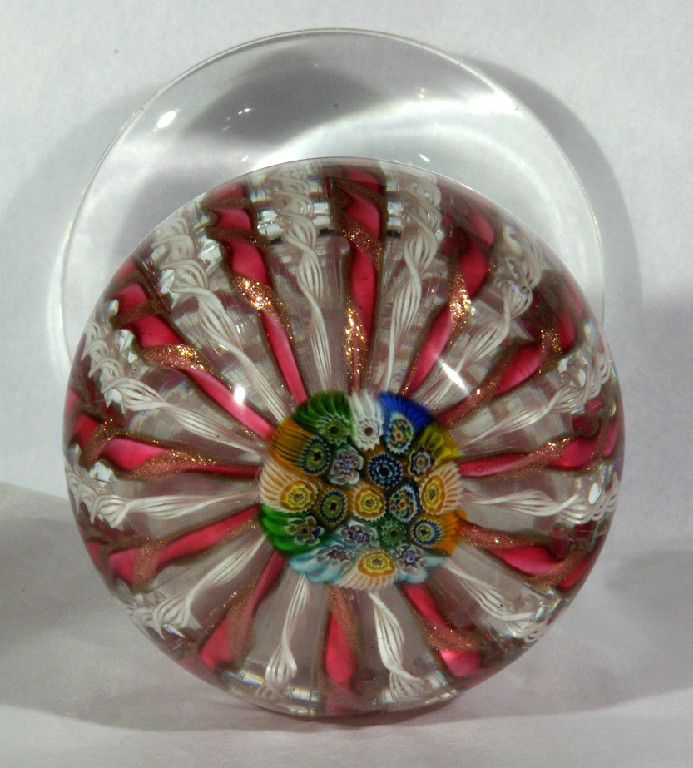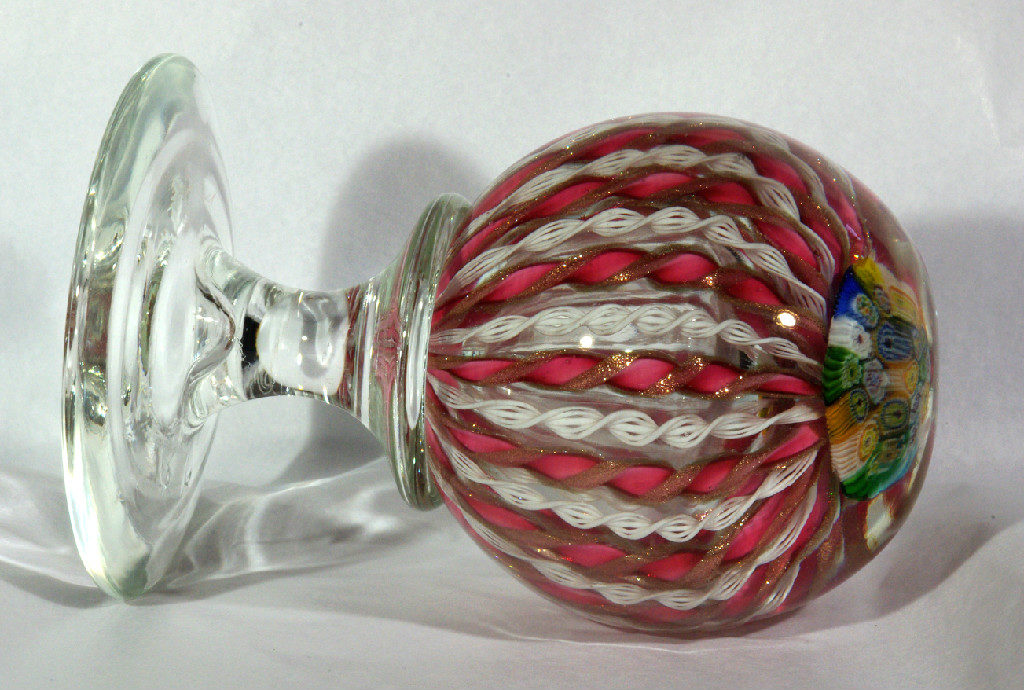 PW2869. Murano Magnum Museum Piece. This pedestal weight was a very top end piece in its day, sold at fine department stores in the 1950s. I believe the maker is AVEM ( Arte Vetraria Muranese) but am not certain. They were in business from 1932-1976. My estimate for this is 1930s-1960s.The design is intricate. Each of the pink strands is tipped in sparkling aventurine. Condition is excellent and original – there's a small flat spot on top from the making, which is the norm. 3 1/2 inch diameter at the globe; 3 7/8 inches at the base; 5 1/2 inches tall; two pounds and three ounces. $175